Why Japanese UV Makeup is Your Missing Protection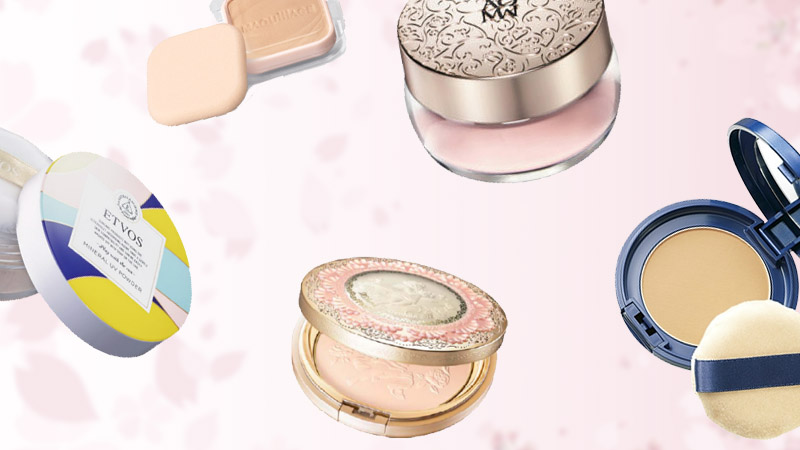 On this fourth week of the sunscreen theme, we are going to look at UV protection makeup. Most people would likely be using sunscreens, however it is UV protection makeup that solves something sunscreens are unable to: UV protection without burden on the skin.
---
The Disadvantage of Sunscreens
Sunscreens are essential to our UV protection, and are items that we can't do without. However, being satisfied with sunscreen cream alone is dangerous.
As we have mentioned in our previous article, we need to apply a suitable amount of sunscreen cream to receive the protection stated by the sunscreen. We also need to reapply sunscreen, which increase our costs. If we don't apply enough, we are not effectively protected. Yet if we apply too much, it is a burden on the skin. Sunscreen effectiveness decreases as time goes by, and the waterproof feature puts additional stress on the skin. These are only some of the problems that come with sunscreens, so it can seem difficult to have proper protection against UV rays.
UV protection makeup solves these problems.
---
UV protection makeup
Sunscreens should be used together with UV protection makeup to strengthen protection against UV rays. The method is simple, apply powder foundation or face powder after applying sunscreen.
In fact, UV ray diffusing substances that are formulated into the sunscreen cream are also present in most powder foundations or face powders. We can get protected from UV rays regardless of whether these is SPF protection or not. If there is a SPF rating, it can be said that the powder foundation or face powder is better at UV ray protection than sunscreen cream.
---
Types of UV protection makeup
Powder Type
You'll want to give attention to the powder-type powder foundation or face powder. Same as UV ray diffusing substances, the powder foundations and face powders reflect UV rays. The powder density is high, and there'll be no crevice through the membrane for UV protection, which in turn reflects UV rays away.
Furthermore, unlike the liquid sunscreen cream, it is easy to reapply. If you do not reapply sunscreens because you think that it is troublesome, then this is recommended for you!
:: The difference between powder foundation and face powder is… ::
Powder foundation: Used to smoothen the surface of the skin. Has high content of oil, leaves a moist feel after applying.
Face powder: Used for finishing touches on makeup. Has low content of oil, leaves a smooth feel after applying. Suitable for oily skin.
Liquid Type, Cream Type
Liquid and cream types foundations can protect against UV rays too, even though the density is lower compared to powder types, so the amount of UV protection is lower.
---
UV protection makeup – Powder foundation
FANCL Airy Touch Foundation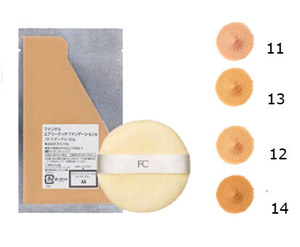 (via fancl.co.jp)
SPF16, PA++
4 shades available
This powder foundation was researched and developed for those of us with dry skin or sensitive skin. This is recommended for you if you itch easily from powder foundation, or troubled by the pressurising feel that comes from foundation. It has an airy feel on the skin, and is rather good as a cover.
---
SHISEIDO Maquillage Dramatic Powdery UV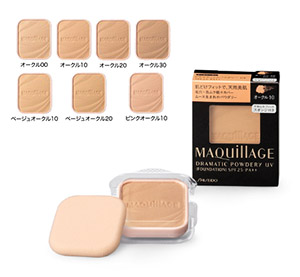 (via shiseido.co.jp)
SPF 25, PA++
6 shades available
This mousse-like powder foundation is the result of a combination of powder and beauty lotion (that is formulated with super hyaluronic acid). You will feel it really sticking to the skin precisely because it is close to a mousse texture.
---
Face Powder
KANEBO Face Up Powder <Milano Collection 2017>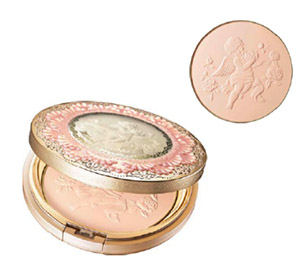 (via kanebo-cosmetics.jp)
SPF14, SPF++
1 shade available
Light floral scent
Once-a-year Premium Sense
KANEBO Face Up Powder gets a redesign once annually. This is a very popular item that has taken the top spot in the face powder category for 8 straight years in a row. The elegant pink and gold design will leave you spell-bounded.
The very fine powder sets for a long time on the skin, giving your makeup a better finish than usual.
---
COSME DECORTÉ AQ MW Face Powder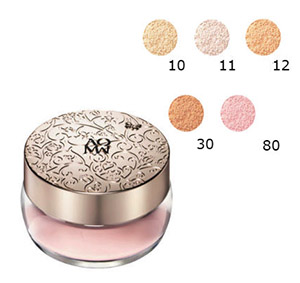 (via cosmedecorte.com)
Amount of UV protection not shown
5 shades available
Floral scent
The lure of this face powder is how smooth it feels when applying, and its colour development! The AQ MW Face Powder is recommended by the COSME DECORTÉ R&D department. It is formulated with organic silk powder of the highest quality.
Furthermore, the AQ MW Face Powder is often chosen because rarely is there a rich colour variation for a face powder. You'd be able to find a suitable colour for your skin.
---
FANCL Finish Powder Excellent Rich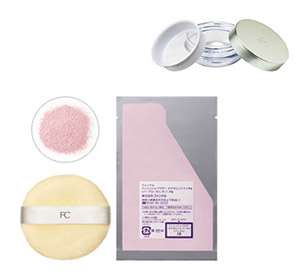 (via fancl.co.jp)
Amount of UV protection not shown
1 shade available
The FANCL Finish Powder Excellent Rich is a face powder made for anti-aging care, and helps to get rid of dullness in skin. As a person age, the dullness gets an orange tint. The purple powder is thus able to cover it up, and it'll be able to set for the whole day.
---
ETVOS Mineral UV Powder 2017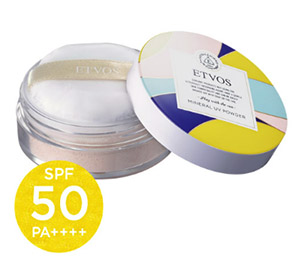 (via etvos.com)
SPF50, PA++++
1 shade available
ETVOS' Mineral UV Powder is sold in limited numbers every year, and this year the package portrays a beach parasol motif. It has strong protection against UV rays, and is easy to remove properly with normal soap. The 5 different types of ceramides formulated into the product also provide moisture to the skin. In fact, not only UV rays, it also cuts blue light by more than 65%.
---
ORBIS Sunscreen Powder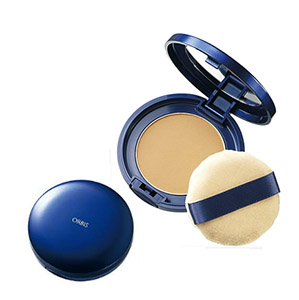 (via orbis.co.jp)
SPF50, PA++++
1 shade available
The ORBIS Sunscreen Powder is a compact type that cause the powder to scatter around easily, therefore reapplying it is very convenient. The rosemary essence formulated in it protects the skin from drying up. Power types usually dry the skin up easily, so do check this item out if you are concerned about dehydrating skin. Also suitable for people who have sensitive, especially from using UV absorbing items.
---
Some Tips!
1) If you want a firm makeup, it is recommended to use the puff. Use the brush if you want a natural look instead.
2) If you have sebum on the face, the powder will not layer properly. Before reapplying, use a piece of tissue to remove any sebum. (Oil blotting sheets will help removing excess sebum.)
Powder foundation and face powder dries easily, tissue is just right.
---
In Conclusion
Powder foundation and face powder are the ideal items for UV protection, and are highly recommended for anyone who:
1) has oily or sensitive skin;
2) skips reapplying sunscreens because it is troublesome; and
3) wants to a natural makeup finish.
Low burden on the skin, protection against UV ray, and easy reapplication are just some of the merits of UV protection makeup. Please give yourself a full protection by using sunscreens and powder foundation/face powder.
---
Japanese Sunscreens Series:
Japanese Sunscreen 2017: Basics and Recommendations!
Anessa Sunscreen Gold vs Silver! 2017 version
KAO love! Biore Sunscreen and Nivea Sunscreen 2017 version
Why UV Protection Makeup is Your Missing Protection (Current article)
---

---