KAO love! Biore Sunscreen and Nivea Sunscreen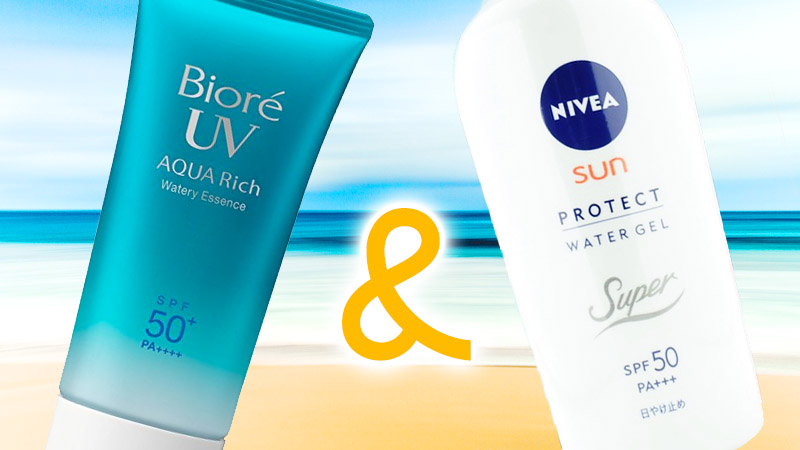 Today we bring you another two sunscreens that are representative of Japan, and that is the KAO's Biore sunscreen and Nivea sunscreen!
Why is Biore and Nivea so popular? You can say that the reason lies in their prices!
In our article two weeks ago, we mentioned that we need to apply a certain amount of sunscreen for it to work as intended, and that we need to reapply sunscreen when needed. This means that the sunscreen is a highly used item.
Suppose we get an effective sunscreen, the price might be a little dear, which causes us to use only a little by little. Instead, maybe we should be going for affordable price so that we won't be concerned about using more.
This is when we look for sunscreens that are affordable and can be used often, and that is where Biore and Nivea comes in.
---
BIORE sunscreen
We introduced the Biore sunscreen last year, and you can find the article here. This year, the Aqua Rich Watery Essence and the Aqua Rich Watery Gel got a reformulation, and we shall talk about them.
SPF50+/PA++++ (for face and body use)
With fresh fruit aroma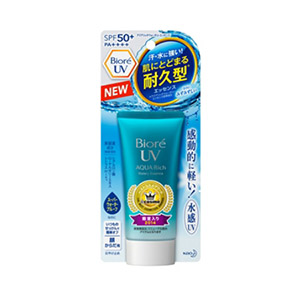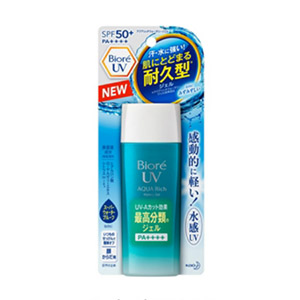 Even within the Biore sunscreens, the Aqua Rich Watery Series is highly rated of how light is is on the skin. In 2017, this has received a new feature: strong against sweat and water, and remains on the skin for a long period of time!
The watery feel you get when you apply these sunscreens remain, and they get a Super Waterproof function! "Super Waterproof" is a term given to products that have been tested for water resistance of more than 80 minutes.
It is formulated with moisture retaining ingredients such as hyaluronic acid and royal jelly.
---
NIVEA Sunscreen
NIVEA Sunscreen is another recommended sunscreen brand that is popular. Like BIORE, NIVEA also belongs to KAO, so you may be wondering what the differences are. Let's take a closer look at NIVEA sunscreen.
High Moisturising effect
Both BIORE sunscreen and NIVEA sunscreen are praised for how light they feel on the skin. Furthermore, Nivea is famous for their "Blue Cans" of NIVEA Creme, and have always been highly reviewed for their high moisturising products. NIVEA sunscreen is thus loved by people who are looking for the moisturising effect along with their sunscreens.
Fragrance-free
There are many brands that include scents in their sunscreens. However, most of NIVEA's products are without scents, therefore recommended for anyone who are concerned about scents.
NIVEA sunscreen products are non-chemical
Unlike many sunscreens, the NIVEA sunscreen does not use chemicals that absorb UV rays. These chemcials are needed to prevent the skin from absorbing the UV rays, but are a big burden on the skin, and people with sensitive skin would avoid using it.
As such, some of NIVEA's sunscreens use UV ray diffusion substance in replacement of UV ray absorbents.
NIVEA sunscreen for men
NIVEA also has sunscreens for men under its NIVEA MEN line. Since men produce more sebum and sweat more easily than women, the sunscreen is recommended for men or anyone who sweats easily.
---
Introduction for NIVEA sunscreen
NIVEA Sun Creme Care UV Cream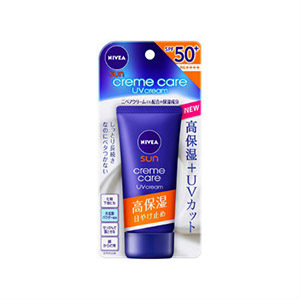 SPF50+/PA+++ (For face and body use)
Slight scent
This UV cream was released a few weeks ago on 18 February. The received a lot of attention because it has the same ingredients as the national skincare product "Nivea Cream (Blue can)", including jojoba oil, squalane, and moisture retaining hyaluronic acid.
The sunscreen is also formulated with light diffusing powder, which helps to smoothen the bumps between the pores and skin.
This series is recommended for anyone who is interested in moisture retention.
---
NIVEA Sun Protect Water Gel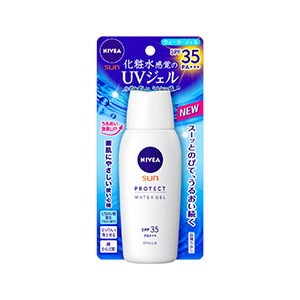 SPF35+/PA+++ (For face and body use)
Scent-free
This UV cream was also released this year on 18 February. The gel is absorbed by the skin the moment it comes in contact with the skin.
It is formulated with smooth powder, and would make anyone who loves a smooth application happy. Of course, it includes moisture retaining hyaluronic acid.
A voluminous pump bottle is available.
---
NIVEA Sun Protect Milk Mild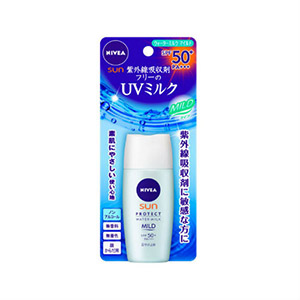 SPF50+/PA+++ (for face and body use)
Without scent
This is the sunscreen we mentioned before that does not have UV ray absorbing chemicals. This is suitable for anyone with sensitive skin because it is alcohol-free and the aforementioned chemical is absent, allowing less burden on the skin.
The sunscreen is formulated with moisture retaining hyaluronic acid which prevents the skin from drying up.
---
NIVEA Sun Protect Plus Waterproof UV Milk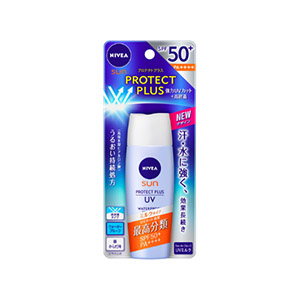 SPF50+/PA+++ (for face and body use)
Scent-free
This sunscreen is suitable for anyone who has high sebum production or sweats easily. It is the only waterproof NIVEA sunscreen, and can be used for sports or leisure activities. Furthermore, the sunscreen is formulated with sebum absorbing powder, so you will still feel refreshed even when you sweat.
---
NIVEA MEN UV Protector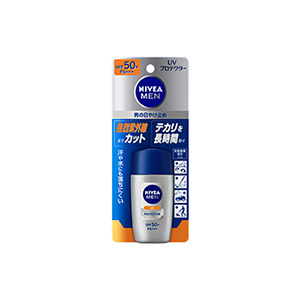 SPF50+/PA+++ (for face and body use)
Cool Citrus scent
A milk-type sunscreen for men use. The UV Protector is formulated with sebum absorbing silica, and helps control the production of melanin and gleam, and has no sticky feeling. It will protect the skin even while sweating during sports or leisure activities.
---
So Biore and Nivea are quite different!
It may be different to point out the differences between Biore and Nivea sunscreens. However, we can view Biore sunscreen as "sensation when applying + does not thin easily", and Nivea sunscreen as "sensation when applying + retains moisture".
Generally speaking, you can remember Biore for sports or leisure activities, and Nivea for office or nearby outings. They may seem similar at first sight, but the sunscreens from the two brands are quite different, so be sure to scrutinise before buying them.
Biore Aqua Rich Watery Essence/Watery Gel and Nivea Creme Care UV Cream got renewed this year, so why not try them out!
---
Japanese Sunscreens Series:
Japanese Sunscreen 2017: Basics and Recommendations!
Anessa Sunscreen Gold vs Silver! 2017 version
KAO love! Biore Sunscreen and Nivea Sunscreen 2017 version (Current article)
Why UV Protection Makeup is Your Missing Protection
---