Japanese Sunscreen 2017: Basics and Recommendations!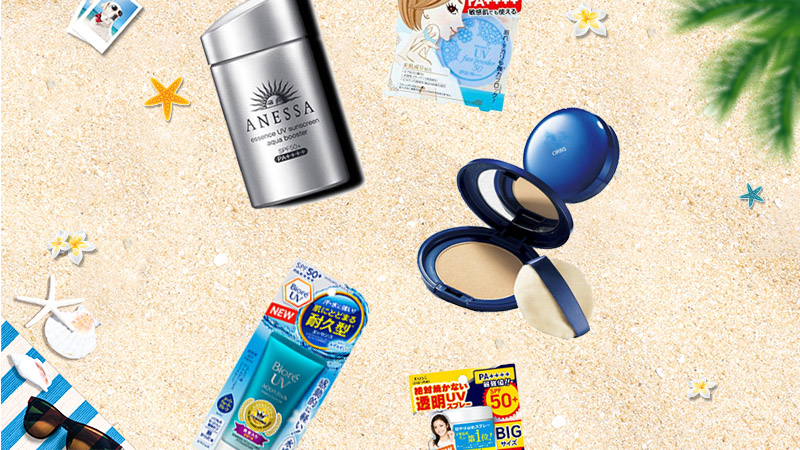 A lot of eyebrows are raised too as Japan is releasing a series of new Japanese sunscreen this 2017. This article will be your guide to find the best Japanese sunscreen for yourself!
The ultimate method to UV ray protection is by choosing accordingly to the "strength of the sunscreen" and "compatibility to your skin type". Choosing the right sunscreen for your skin and purpose will prevent troubled skin like dryness or acne from occurring.
Have you ever had the experience of applying sunscreen, but still get sun burnt? You might think after that, "I should use a sunscreen with a higher SPF/PA protection." However, the key to unlocking the effectiveness of the sunscreen may lie in the way we apply sunscreen. Let's take a look at the right method to apply sunscreen.
---
Apply more than what you think is enough
To get the protection that is written on the sunscreen package, it is sad that you need to apply about 2mg over a 1cm2 area. In other words, for our faces, the amount we'd need is about the size of a 500 yen coin (diameter about 22mm).
Even so, most people use only about 1/4 of the recommended amount of sunscreen. As such, we'd only got a fraction of the intended effectiveness of SPF/PA from the sunscreen.
Basically, go for 2- or 3-layers
Are you apply sunscreens quickly with only one layer? After the first application, we need to go for a second layer. Even if you don't apply sunscreen to the whole face, even while using a mirror and you feel that you have applied enough, it's exactly the right time to apply a second layer.
In addition, sunscreen often thins out as time goes by due to sweat and water, please bear in mind to reapply it. It is ideal to reapply once every 2-3 hours, but for females who apply makeup on top of their sunscreen, you might want to consider using the spray or powder type to reapply.
Do not apply direct to dry skin
Especially if you are going to apply sunscreen to your face, do it only if you already have something applied. If you use moisturisers before applying sunscreen, it protects your skin from the stimulation from the ingredients in the sunscreen, making the sunscreen easily acceptable for the skin.
Guys should apply sunscreens too
Sunscreens can be used by guys and girls similarly. But since guys have more sebum than gals, they should consider using sweat-resistant types of sunscreens, or sunscreens that don't feel sticky.
There are plenty of female-use sunscreens however, like those for skin whitening that is used as a makeup base, and those that need makeup removals to remove. So be sure to pay attention to such multipurpose sunscreens when choosing a suitable sunscreen.
---
Choosing a Japanese Sunscreen according to skin type
Sunscreen may just be a word, but there are numerous types of sunscreens, including the applicable cream and lotion types, the quick-and-easy spray type, the powder type that uses a sponge etc. While many of us are concerned about SPF and PA, we should also think about the type of sunscreen we should use.
Now to explore our options for Japanese sunscreen. We shall look at the features of each type of sunscreens, and introduce some recommended products. There is a Japanese sunscreen for the each of us, so let's find a match!
---
Cream Sunscreens
Cream sunscreens are the most common type of sunscreen on the market, with a wide variety for either facial use or body. Most of them have moisturising ingredients formulated into them, so it is recommend for anyone with dry skin. On the other hand, anyone with acne prone skin or oily skin, you'd need to pay a little attention to avoid applying in high sebum areas.
Cream sunscreens also have a high viscosity, thus has a merit of not thinning out easily. This is why many famed waterproof sunscreens are cream sunscreens. At the same time, they are often hard to come off, so it's important to use a remover to remove these sunscreens.
For the ladies, it's quite advantageous as a replacement for makeup base too.
Curel UV Cream SPF30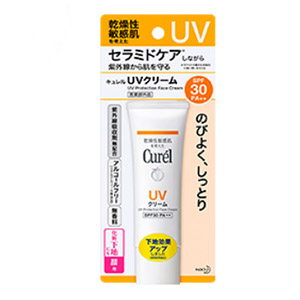 SPF 30, PA++, For face
The Curel UV Cream was newly released recently on 18 February. It is a UV care product that is formulated for dry skin with moisturising ingredient ceramide. It is excellent in moisturising and as a cover, and can be used as a makeup base. Other than the UV Cream, Curel also has sunscreen lotion, sunscreen essence and sunscreen milk in their product line.
---
Milk Sunscreens/Lotion Sunscreens
Milk sunscreens and lotion sunscreens are gentle on the skin, and are recommended for users with sensitive skin. They have a smoother texture compared to cream sunscreens, so are easier to use on the skin. It also spreads easily over a larger surface, making it more favourable for use on the body when compared to cream sunscreens. It has a certain extent of oil content too, so you can expect it to help with moisture retention.
Note however that milk sunscreens and lotion sunscreens thins more easily than cream sunscreens, so they are more suited for daily use, rather than for sports or outdoor.
ANESSA Essence UV Aqua Booster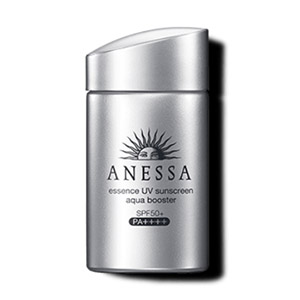 SPF 50+, PA++++, For face and body
Within the sunscreen is Anessa's Aqua Booster technology that heightens the UV protection when it comes in contact with water or sweat. Essence, which is represented by the silver colour, is formulated with hyaluronic acid and glycerin, and keeps our skin from drying up. It's milky texture makes it easy to spread over the skin, and can be washed off with normal soap.
NIVEA SUN Protect Water Milk Mild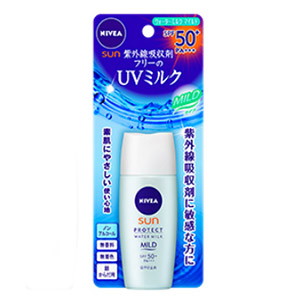 SPF50+, PA+++, For face and body
This is mild milk sunscreen, created with the skin in mind. The hyaluronic acid that is in the sunscreen protects the skin from drying due to UV rays. When removing the sunscreen, please use a makeup removal or body wash.
NIVEA for men UV Protector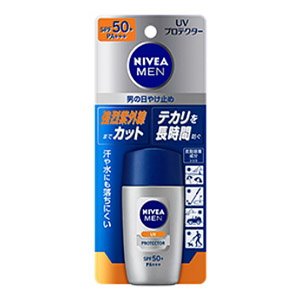 SPF50+, PA+++, For face and body
A sunscreen that is strong against water and sweat, and well-suited for sports and leisure. It has sebum absorbing ingredients that hold back any stickiness or gleam in the skin. There is no concern of a white cast left behind. Please use a facial wash to gently remove the sunscreen.
---
Gel sunscreens
Gel sunscreens are recommended for anyone who is concerned about the sensation, who places the feel of the sunscreen above other factors. They are transparent, spread easily, and does not have the stickiness that comes with some of the other sunscreens. In fact, gel sunscreens have less oil content when compared to the other sunscreens, so it is suitable for acne prone skins that are easily clogged by sebum.
Now, gel sunscreens may be light, but that doesn't affect its SPF/PA capabilities. However, since there is less oil content and more water content, they are prone to thinning to sweat or as time passes. You'll want to remember to reapply this sunscreen.
KOSE Sekkisei Sun Protect Essence Gel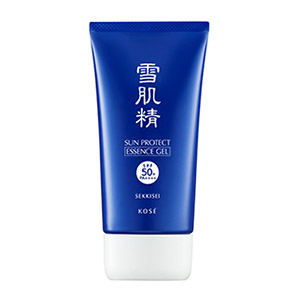 SPF50+, PA++++, For face and body
It doesn't only protect the skin from stress from UV rays, but also pollutants such as tobacco smoke. The gel is like a moisturiser that keeps the skin moist, and the peony root bark essence within helps deal with the dullness in the skin.
BIORE UV Aqua Rich Watery Essence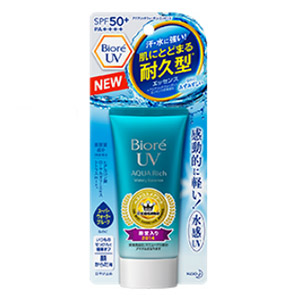 SPF50+, PA++++, For face and body
The highly popular Biore UV Aqua Rich Series is receiving a renewal this year 2017. The sunscreens can last long even if it is exposed to water or sweat. Don't forget: it is formulated with moisturising ingredients such as hyaluronic acid and royal jelly.
---
Spray Sunscreens
What is different from other sunscreens is that these sunscreens comes in a spray can. As a way to apply sunscreen on the often forgotten hair and scalp, it also serves as a sunscreen for reapplying.
SUNCUT Transparent Sunscreen Spray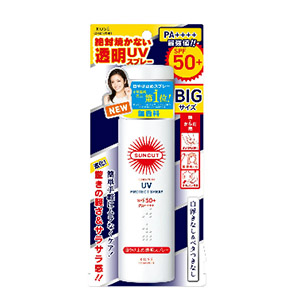 SPF50+, PA++++, For face, body and hair
For five years, it has been the number one bestseller for spray sunscreens. Since it can be aimed at any angle and direction, it can reach places where it's hard for just hands. The SUNCUT spray is fragrance-free, cooling and comes in a big volume.
---
Powder Sunscreens
As you can tell from the name, these sunscreens are in powder form, and are attractive in the sensation of suing them. They can be easily applied on top of makeup easily, they don't leave a white cast behind, and are not stickiness since they are not liquids. Powder sunscreens also doesn't put burden on the skin and is easily removed while removing makeup, so it's recommended for users with sensitive skin.
Powder sunscreens are good as a cover for pores since they are in powder form. This makes these sunscreens convenient for the makeup finishes, or for reapplying makeup.
ORBIS Sunscreen Powder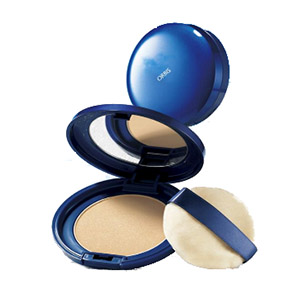 SPF50+, PA++++, For face and body
This is a compact powder sunscreen, and is formulated with Sebum Fresh Powder, which absorbs sebum and sweat. This will allow you to feel that your skin is smooth and dry. Recommended sunscreen since the fine powder is able to cover the skin without missing a spot.
PRIVACY UV Face Powder 50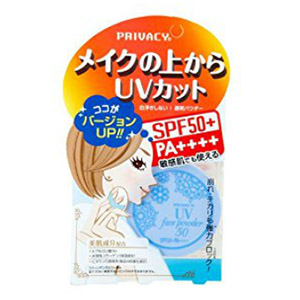 SPF50+, PA++++, For face and body
The pinkish hue of this powder sunscreen is able to give the face a brighter look. This sunscreen is formulated with sebum absorbing powder, which helps prevent makeup from thinning from sweat.
---
Now, you know what kind of japanese sunscreen is available…
So, which sunscreen would you choose? With so many types of Japanese sunscreens, choosing based only the SPF/PA levels is not enough. Please choose a Japanese sunscreen according to your skin type too!
---
Japanese Sunscreen Series:
Japanese Sunscreen 2017: Basics and Recommendations! (Current article)
Anessa Sunscreen Gold vs Silver! 2017 version
KAO love! Biore Sunscreen and Nivea Sunscreen 2017 version
Why UV Protection Makeup is Your Missing Protection
---