Japanese Cleansing Gels and Creams Perfect for Natural Makeup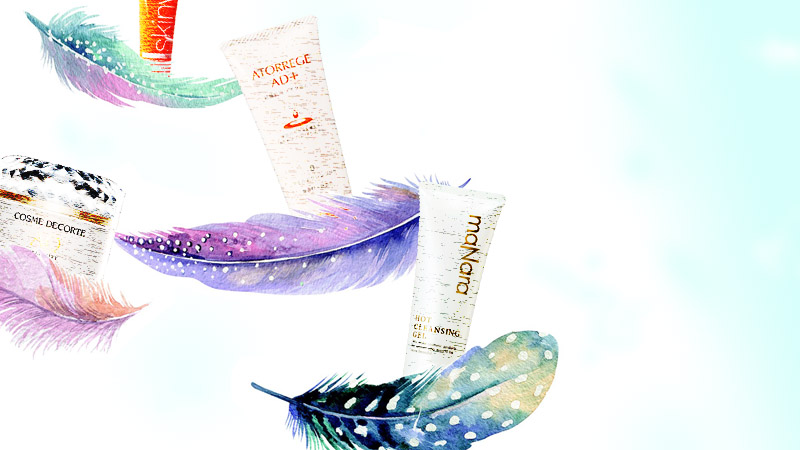 We are going to look at Cleansing Gel and Cleansing Cream in this last part of the makeup removal series. Gel-types and Cream-types are often thought to have weaker makeup removal strength when compared to their oil and liquid counterparts.
However, that could be because some of us put on really thick makeup, and feel the need to get a thorough cleanse off our makeup? For me, that's a no. Depending on the day's schedule or how the mood I'm in, there are times when the heaviest makeup I would go for is only powder foundation and drawn eyebrows. To match the enjoyment of each day's makeup, I have been using different makeup removal products.
We have prepared this week's fourth part for makeup removal specially for anyone who usually doesn't wear makeup, or who use powder foundation or mineral foundation for base makeup. It shall introduce the method to remove makeup without putting burden on your skin, and recommended products for you!
---
Cleansing Gel
Cleansing gels have a light texture to them, so it feels light on the skin, and is more easily washed off. The feel after washing off is somewhere between cleansing oil and cleansing cream (which we will introduce later). It has less oil content than the oil-type and cream-type, so it's recommended for anyone who doesn't like the stickiness, or has oily skin.
One of the good things about cleansing gels is that they contain little surfactants. Even if we leave it on our skin while massaging, the burden placed on our skin is reduced too. In recent years, gradual massaging has becomed a thing, and along with it an increase in the number of gel-type products that warms up upon on the skin.
Right method to use Cleansing Gel
Last week, we learnt that emulsification was important for cleansing oils. It is the same for both cleansing gel and cleansing cream.
There are two points to take note of:
1) Take the gel with dry hands, and warm it with the palms of your hands. 
The cleansing gel at this point is in a water state (oil-in-water state), so we need to convert it into an oil state in order to remove our makeup. Originally, the cleansing gel will convert into oil state when we blend it on our skin, warming the gel with the heat from our hands beforehand, decreases the time the gel be on skin, and thus further reducing the burden on our skin.
Note: If the makeup removal you are using is oil-free, there is no need to warm it.
2) Wash off bit by bit with warm water. 
After the makeup has be lifted, we need to re-emulsifying the cleansing gel from oil state to water state. Mix the gel with a little warm water each time, this will allow you to wash the makeup and cleansing gel off cleanly without residue.
---
Recommended Cleansing Gel
Skinvill Hot Cleansing Gel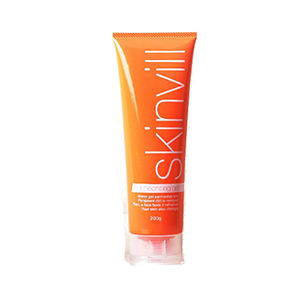 (via rakuten.ne.jp)
The Skinvill Hot Cleansing Gel is a comfortably warm gel that is gentle on the skin, while washing the dirt from pores. Many who loved this item are in their 20-30s, reviewing this as effective in tightening pores. This gel is formulated with moisturising ingredients like collagen and hyaluronic acid. Recommended for anyone with oily skin too as it gives the feel of a complete wash.
---
MaNara Hot Cleansing Gel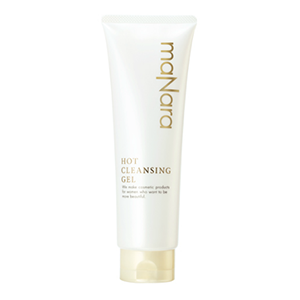 (via www.manara.jp)
The orange MaNara Hot Cleansing Gel makes us excited to use it, filling our noses with its grapefruit scent! The gel is a little harder, so do take note when you are warming it in your palms.
It is formulated with plenty of beauty ingredients, such as hyaluronic acid, collagen, ceramide, squalene etc. The main followers include users between 30-50 years old. It is said to said to be good against black heads, dullness and wrinkles.
---
Atorrege AD+ Mild Cleansing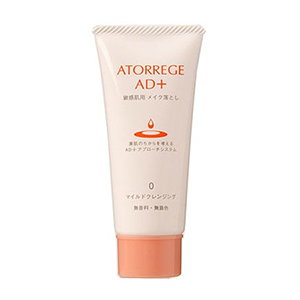 (via atorrege.jp)
From Atorrege AD+ comes this cleansing gel for sensitive skin care.
No matter what makeup is used for sensitive skin, rubbing on the skin (while removing makeup) could lead to troubled skin or pigmentation. In that sense, cleansing gels have elasticity, and can lift makeup off the skin without requiring rubbing, making it great for people with sensitive skin.
---
Cleansing Cream
Among the makeup removal products, Cleansing Creams are considered to be the "makeup removal that is gentle on the skin". As the name suggests, the cream-type will be gentle on the skin, be easily and smoothly applied, and be able to remove makeup without placing burden on the skin. Cleansing cream is also excellent in moisturising, supporting anyone to wants to start approaching skin troubles resulting from age.
Your skin will feel moist after using these makeup removals. They are suitable for dry skin, sensitive skin and normal skin. Which means anyone with oily skin using them could feel some stickiness afterwards. There are various cleansing creams types, including "wash off only", "wipe off only", and "can be washed or wiped off", so be sure to confirm its use before doing so.
---
Recommended Cleansing Cream
KOSE Sekkisei Supreme Cleansing Cream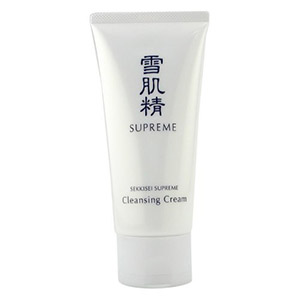 (via sekkiseisupreme.jp)
KOSE's Sekkisei is the skin care line that focuses on skin whitening, and also has a cleansing cream. It is formulated with five different types of plants, which encourages the turnover of our skin, improves skin dullness, and to recover clear looking skin.
This can be used for wiping or washed off. Users with sensitive skins would probably want to choose to wash off instead.
---
KOSE Cosme Decorte AQ Meliority Repair Cleansing Cream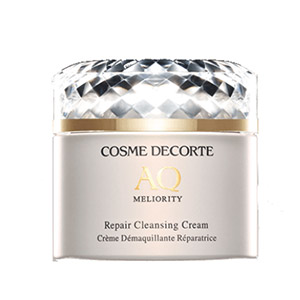 (via cosmedecorte.com)
This cleansing cream is formulated with high contents of double peptide and emollient. It is an outstanding item that has received an award from almost every cosmetics ranking in magazines or websites. We learnt from reviews that many users do not use it daily because it is high grade brand. Instead, these users use it once or twice a week for as special care. Well, since there are special care for the skin, surely it deserves a special makeup removal for the sake of our skin!
This cleansing cream can also be used for wiping or washed off. When the cream is firm on the skin, it is recommended that you wipe off the excess cream, and then wash off.
---
BIORE Koku Rich Make-Off Cream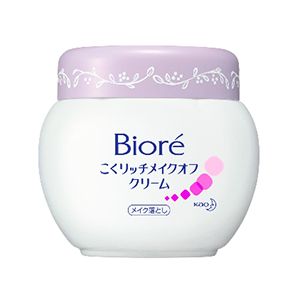 (via kao.co.jp)
If you are thinking about using cleansing cream on a regular basis, and are sensitive to pricing, how about taking a look at BIORE's Koku Rich Make-Off Cream? It has a thickness like syrup, covers your face well to gently remove your makeup. Formulated with naturally-derived shea butter, your skin will feel moist after washing.
This is wash only, and will require foam washing after rinsing.
---
In Conclusion
When we have troubled skin, we often think about using lotions or mask packs to place on our skin for skincare. The most important part of skincare however, is probably the makeup removal step.
In the past, I used to think that "In any case, the makeup has been removed. There are no visible makeup residues, so I'm done." However, the method and processes are keys to proper makeup removal, especially since it'll affect the age and condition of our skin.
We hope we conveyed the importance of choosing the right makeup removal for yourself in the past four weeks of the makeup removal series. Do give your own makeup removal routine a small checkup!
---
Japanese Makeup Removal Series:
Japanese Cleansing Sheets: Easy Makeup Removal Before Bed
Selecting the Right Japanese Cleansing Water for Yourself!
Leading Japanese Cleansing Oil To Use (Other Than FANCL!)
Cleansing Gel and Cleansing Cream Perfect for Natural Makeup (Current article)
---

---
| | |
| --- | --- |
| Looking for info about makeup removal? | Articles for our skin health! |