How to Choose the Right Japanese Cleansing Water for Your Skin Type!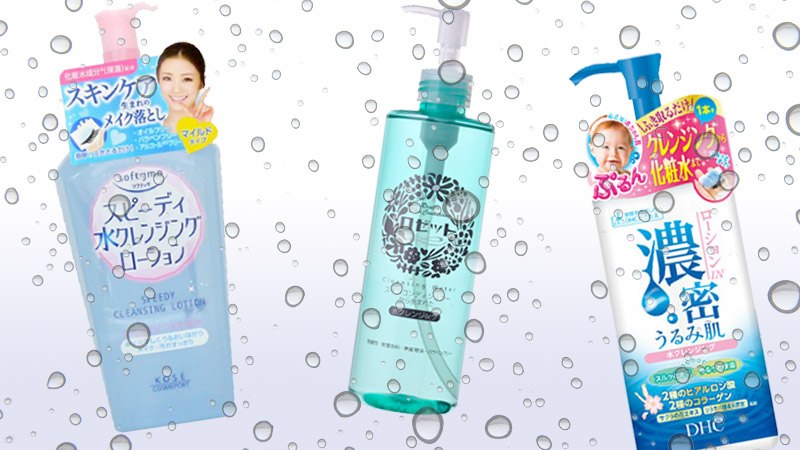 Last week we introduced Japanese cleansing sheets as part of our Makeup Removal series, including the basics and some suggestions. In this part two of the series, we're going to look at Japanese Cleansing Waters! If you are wondering if cleansing water products are suitable for you, or how to choose a one, then this article is for you!
The Europe-originated Cleansing Water
When Asians talk about makeup removals, we think about the oil type makeup removals. However, when we think about water type makeup removals which is quite different from oil type, there might be a lot of people wondering how water is able to remove makeup.
How Cleansing Water Works
Cleansing water is a liquid type makeup removal, and is called so because it is formulated with a high content of fluids.
Most of them are oil-free. So how do they remove makeup? Well, cleansing water is not just water, but is formulated with surfactants, which plays its role to remove makeup easily.
With Japanese cleansing water products, most do not require you to apply face lotion after cleansing, rinsing the face etc. The reason lies behind the fact that when you wipe with a cotton holding the solution, the moisturising content in the cleansing water is left on the skin to do its work. Makeup can be promptly removed, and you can save on using basic skincare. These make these makeup removals very attractive to use. Plus, they make good moisturisers for dry skin and oily skin.
How to Use Cleansing Water
For anyone not familiar with using cleansing water, here is a simple introduction:
1) Soak a piece of cotton with the suitable amount of liquid;
2) First areas to go for are the eye and lip makeups. Place the cotton on the makeup for a few seconds, and wipe off; and
3) For the rest of the face, wipe gently with a cotton well soaked with cleansing water.
---
Popular Cleansing Water Products in Japan
For anyone who wants to use cleansing water products, but are unsure which to choose, we shall introduce some that are popular in Japan right now.
Bifesta Uruochi Cleansing Water
Within the Bifesta Uruochi series, which we talked about its cleansing sheet last week, the cleansing water version is just as popular. There are a number of versions to this series, included types for moisturising and corrections for dull skin.
These are oil-free, and doesn't require you to wash or double cleanse. You may also use it even if you have eyebrow extentions.
:: Bifesta Uruochi Cleansing Lotion BRIGHTUP ::
For black heads, pores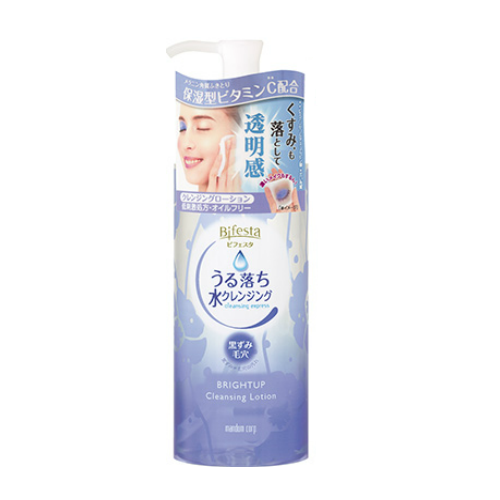 :: Bifesta Uruochi Cleansing Lotion MOIST ::
Moisturising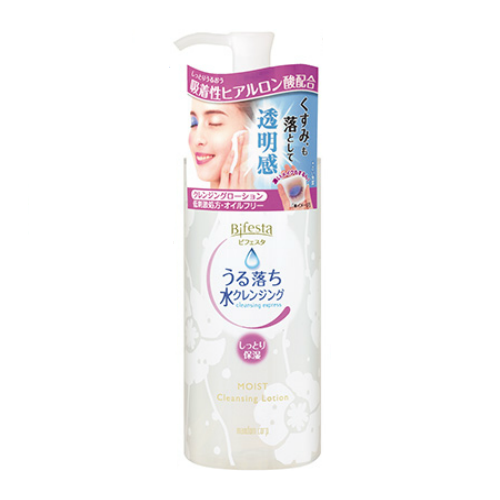 :: Bifesta Uruochi Cleansing Lotion ENRICH ::
For bouncy skin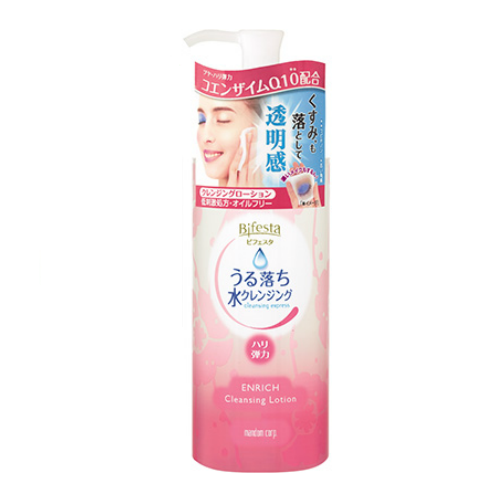 :: Bifesta Uruochi Cleansing Lotion CONTROL CARE ::
For troubled skin, adult acne.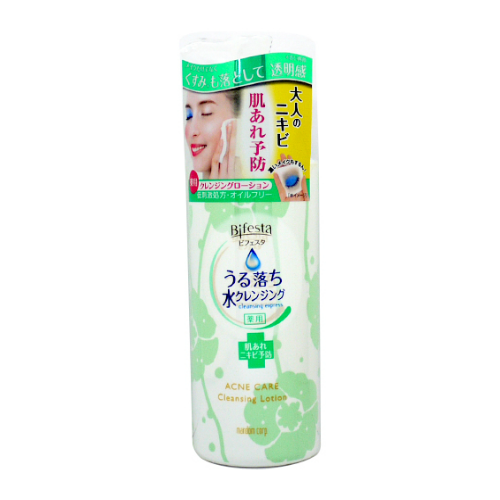 ---
BIORE Tsururun Cleansing Water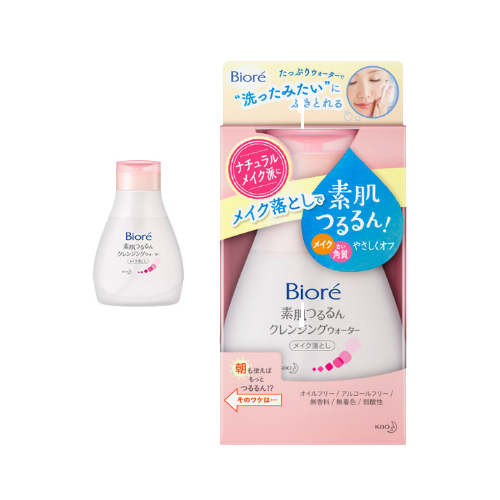 BIORE's cleasning water is formulated with plenty of moisturising ingredients. That is why we see a lot of reviewers sharing how they not only use it for makeup removal, but also as a lotion for wiping in the mornings.
This is able to remove normal makeup thoroughly. Even though the package writes "unable to remove waterproof mascara", its honesty still gives us good vibes.
This item is oil-free, alcohol-free, scent-free, colourant-free, and has slight acidity. No washing or double cleansing required, and can be used even if you have eyebrow extensions.
---
Rosette Skin Conditioner Cleansing Water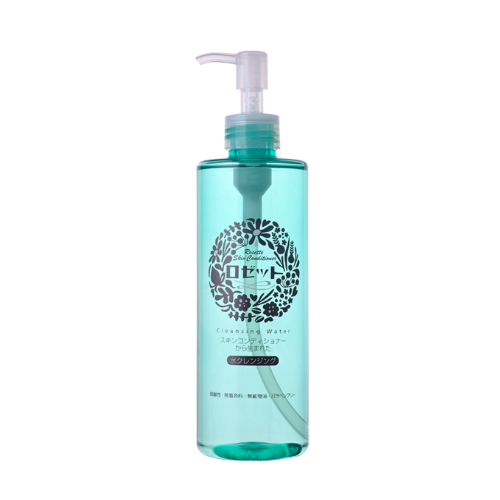 This is formulated with hot spring water that has an abundance of mineral, and five types of plant essences. Its main purpose is to tackle skin troubles, paving the way to a healthier looking skin. This item is recommended for tightening pores, or anyone who is worried about acne scars.
This cleansing water is oil-free, paraben-free, colourant-free, mineral oil-free and slightly acidic. It has a scent of fresh herb. No washing or double cleansing required, and has no problems when used with eyebrow extensions.
---
KOSE Softymo Speedy Cleansing Water Lotion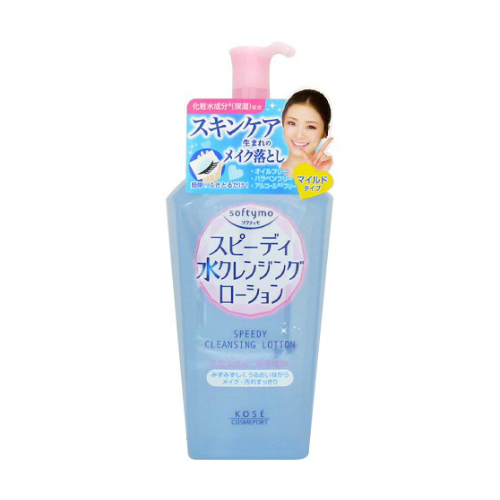 The Softymo Speedy Cleansing Water Lotion removes makeup promptly, and takes care of your skin because it is formulated with plenty of face lotion content (hyaluronic acid, apple essence etc). Again, it is not just a makeup removal, but doubles sufficiently as a replacement for facial wash and as a facial lotion for wiping. Since it is also mild and does not put much burden on the skin, it is suitable for anyone with sensitive skin too.
This is oil-free, alcohol-free, paraben-free, scent-free, colourant-free, has slight acidity and is non-silicon. Same as the previous products, no washing or double cleansing is required, and can be used even if you have eyebrow extensions.
---
DHC Deep Moistening Water Cleansing Lotion IN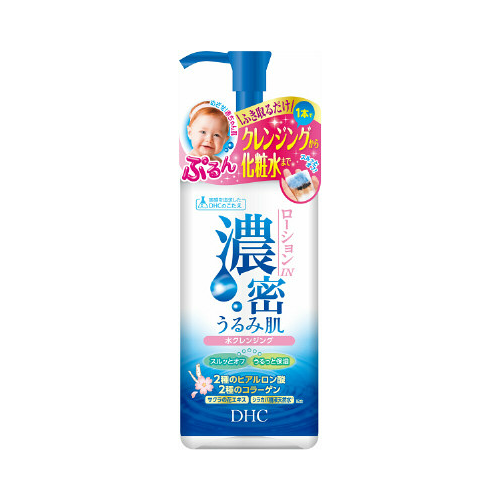 The DHC cleansing water lotion is formulated with two types each of hyaluronic acid and collagen. Since it serves as both makeup removal and a face lotion, these beauty ingredients are highly welcomed.
This product is oil-free, double cleansing is not required, and can be used if you have eyebrow extensions.
---
Here's a Tip!
When using cleansing water, much like cleansing sheets, be sure not to wipe too hard on your skin with the piece of cotton you'd be using with. It may put a big burden on your skin, which may lead to skin trouble. Just make sure the cotton is well-soaked with the cleansing water you are using, and wipe gently across your skin.
---
In Conclusion
Cleansing water gives you a sense of ease, since the makeup will be able to come of easily and smoothly. This makes it suitable for busy people, or any one who dislike the stickiness that comes with cleansing oils. Furthermore, it is overall cheaper for people with eyelash extensions to use these makeup removals! Top it off with an additional role as a face lotion, you won't lose a thing from having one bottle of cleansing water!!
---
Japanese Makeup Removal Series:
Japanese Cleansing Sheets: Easy Makeup Removal Before Bed
Selecting the Right Japanese Cleansing Water for Yourself! (Current article)
Leading Japanese Cleansing Oil To Use (Other Than FANCL!)
Cleansing Gel and Cleansing Cream Perfect for Natural Makeup
---