Japanese Cleansing Sheets: Easy Makeup Removal Before Bed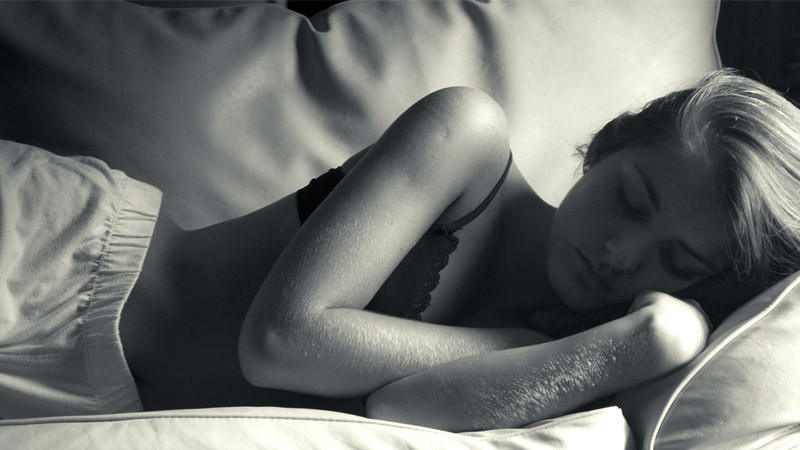 Are you using the right makeup removal product? In the next few weeks, we are going to look at the various makeup removal products and their unique characteristics. And this week, we are going to look at cleansing sheets!
Knowing about "Cleansing"
The word "cleansing" is often used in Japanese to refer to the removal of makeup. To choose a right makeup removal, it is preferable that we choose right according to our skin type and the thickness of our makeup. Basically, the burden on skin is proportionate to the cleansing strength of the makeup removal. It is recommended to have separate makeup removals for thick an thin makeup days.
Cleansing Sheets – a Convenience for Any Situation
The makeup removals we are looking at this week are sheet types. We shouldn't be using cleansing sheets everyday, but they are very reassuring items to have at hand. We've all been there, repeatedly telling ourselves, "It's so troublesome to remove my makeup! I'll just go to sleep with it on. One day is alright…"!!!!
But it seems like general knowledge already, that sleeping with makeup on puts burden on the skin, the skin gets troubled, pores get clogged, acne follows, skin blemish might occur etc etc. It is certainly frightful. We should be thorough in using makeup removals, and take time to thoroughly remove whatever makeup is applied. Still, it is still troublesome.
So for those days when you'd like to be lazy, why not prepare these convenient cleansing sheets use? We shall introduce these cleansing sheets that are being sold here in Japan.
---
For anyone looking for a quick removal to get on with cleansing
To quickly remove makeup, oil-type cleansing sheets are recommended. And even though they remove makeup quickly, we will still need to wash or rinse off.
Biore Cleansing Oil Cotton Facial Sheets Moisture Rich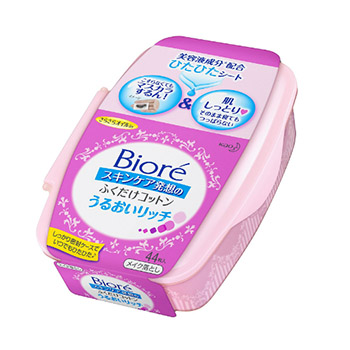 The Biore Cleansing Oil Cotton Facial Sheets are able to remove even waterproof mascara. It's made more like a cushion cotton than a sheet, and is characterised by the gentleness on the touch on the skin.
Kose Softymo Makeup Remover Oil in Cleansing Sheet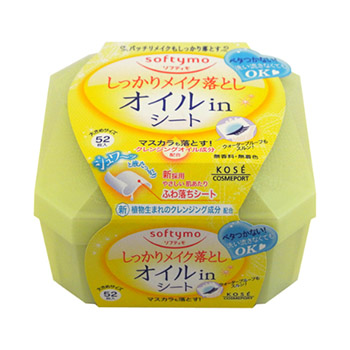 The sheet is made up of 3 layers to effectively remove makeup stains. There is no worry about tearing the sheet when using.
Shiseido TISS Deep Off Cloth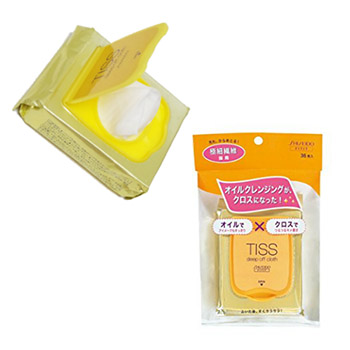 The fibre of the TISS Cleansing sheet is very fine. Not only does it remove dirt, it also catches dead cells and deposits in the pores properly. The skin gets smooth and sleek just by wiping with this.
---
For anyone who just wants to remove makeup and go to sleep
We don't want to neglect washing our face, so for those times when we can't, we should choose the oil-free types. We'd want cleansing sheets that are not going to put an extra burden on our skins.
Biore Cleansing Oil Cotton Facial Sheets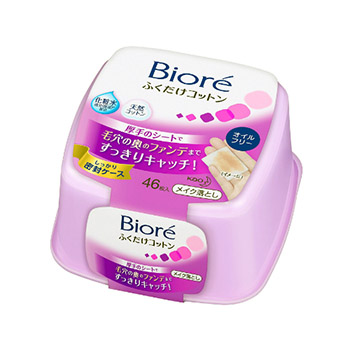 We have introduced Biore's cleansing sheets earlier which was a moisture version. This is different in that it is an oil-free type. It has the same thickness as the former, and is able to properly remove the dirt in the pores.
Kose Softymo Makeup Remover Cleansing Sheet (Collagen, White, Hyaluronic Acid versions)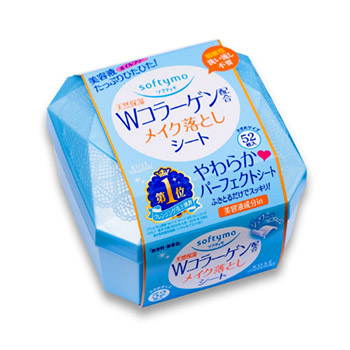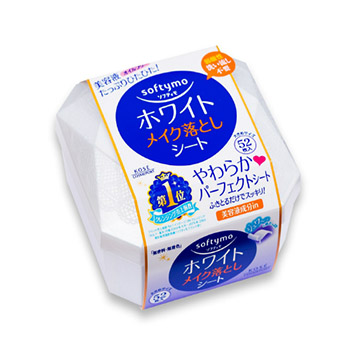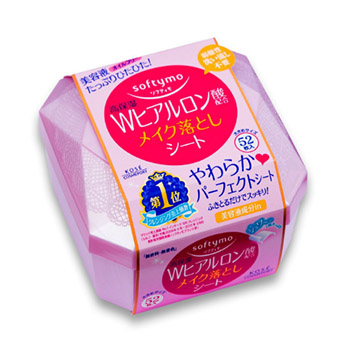 Both makeup removal and beauty ingredients are formulated in this sheet. This product not only removes your makeup, but also takes care of your skin while you do it!
Bifesta Cleansing Sheet (Brightup, Moist, Enriched versions)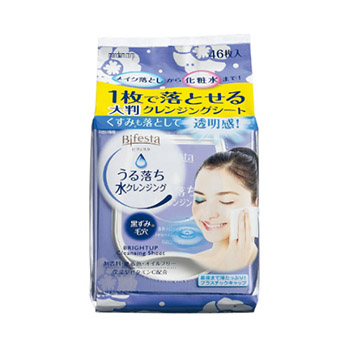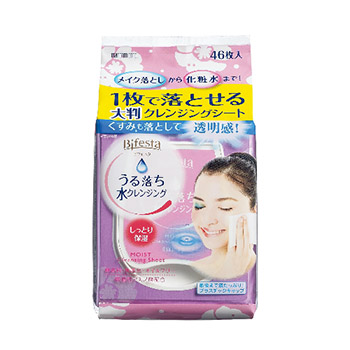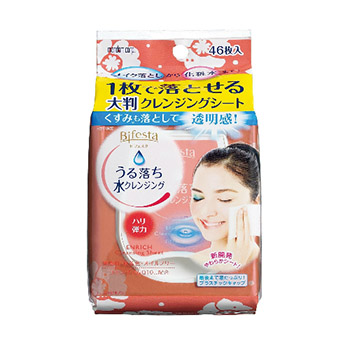 The makeup removal ingredients used are derived from lotion and is oil free, allowing each sheet to cover makeup removal to face lotion for our beauty routines. Furthermore, Bifesta's Cleansing Sheet is a big size of 150mm x 200mm, so you're not going to have to be worried about missing a spot!
Pure Purevivi Cleansing Sheet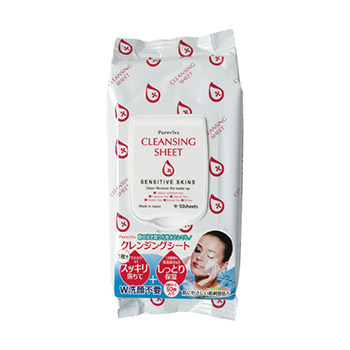 Purevivi Cleansing Sheet is recommended for anyone with sensitive skin. The cleansing sheets are preservative-free, colourant-free, scent-free, non-alcoholic, and non-oil. They were developed with our skin in mind, to ensure it will not be too stimulating for the skin. In addition, there are 12 different types of moisturising ingredients to protect our skin from drying. This is an excellent and practical item, even as a morning facial lotion that wipes off dirt.
---
Tips and Tricks
It's easy to think that the sheet type makeup removals doesn't require you to wash your wash after use. While sometimes the products say "洗顔要らず (facial wash not needed)" or "ふき取って終わり (wipe and finish)", that is not the case. These is written so to communicate the ease of the use of the cleansing sheets, so there is a need to recognise the differences. (That is partly due to the nuances found in the Japanese language.)
1) "洗顔はいりません (No facial wash needed)" "洗顔不要 (Facial wash not needed)"
If these are on the packaging, you will need to wash your face!
Most of the time, "facial wash" here refers to the use of facial foam or soap to wash. Do wash or rinse your face with water still if the above phrases are used.
If the formulation includes oil, it'll become a burden on your face if you do not wash properly. Best to wash with water or warm water, and then follow-up with a moisturiser.
2) "洗い流さなくてもOK (Ok without needing to wash over)"
When this is on the packaging, the product usually does not contain oil, and includes moisturising ingredients. If you are looking for a makeup removal product that you can go to sleep straight after using, you might want to go for these.
---
In Conclusion
Among makeup removals, sheet types puts burden on the skin most easily. Be careful to avoid rubbing the sheet roughly against your skin, or wiping your skin with it when it has dried up.
If you often fall asleep with your makeup on, do consider preparing these cleansing sheets for yourself!
---
Japanese Makeup Removal Series:
Japanese Cleansing Sheets: Easy Makeup Removal Before Bed (Current article)
Selecting the Right Japanese Cleansing Water for Yourself!
Leading Japanese Cleansing Oil To Use (Other Than FANCL!)
Cleansing Gel and Cleansing Cream Perfect for Natural Makeup
---

---
| | |
| --- | --- |
| Looking for info about collagen for skin? | Find out more about makeup! |