The Best Japanese Moisturizers for Combination Skin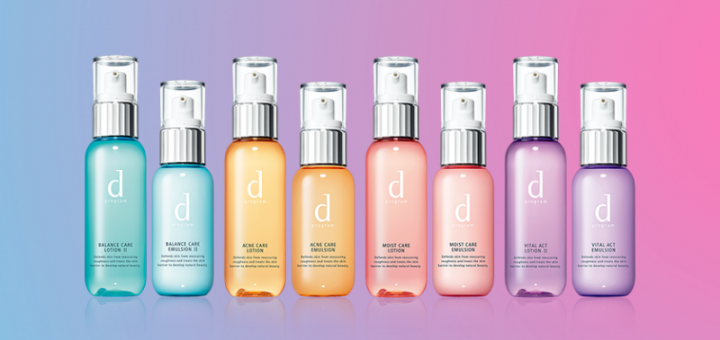 Combination skin is not easy to deal with! Between dealing with both oiliness and dryness, you can end up dividing up the zones in your face like a battle map. Luckily, Japan's extensive skincare industry has delivered some products that work great with combination type skin!
---
Shiseido D Force Balance
I recommended this product for sensitive, oily skin types in a previous article, but Shiseido's D Force Balance is a rare product that is not only designed expressly for combination skin, but is safe for sensitive skin as well! Designed to restore the balance to combination skin, this is an easy to choice for anyone who wants to simplify their routine. 
The Shiseido D Program Balance Care line provides deep hydration to the skin in order to repair its moisture barrier. As the name implies, it restores the balance between the oily and dryer parts of your face. The result is healthy skin with a strong barrier against bacteria and sebum.
Shiseido's D Program line is alcohol, paraben, and fragrance free. In addition, every ingredient is carefully selected to be gentle on sensitive skin. If your skin is sensitive but you're also are dealing with oily or combination skin, the Balance Care products in this line could work well for you.
---
Sofina Jenne Series
The Kao Sofina Jenne series is another range of Japanese skincare for combination skin. It is designed around the needs of those with combination skin: extremely moisturizing products that feel light and fresh on the skin. The line is simple to use, with four products available: the Jennie Moisturizing Lotion to be used day and night, a Moisturizing UV Milk for the day, and a Gel Milk night cream. There is also a hydrating face mist that can be used whenever you need it!
What's more, all four products also come in a skin whitening (brightening) version, which is a bit of a rare find!
All four products are alcohol free and tested to be non-comedogenic, which is great for those with combination skin who tend to break out too.
---
HABA Squalane Series
The reason I want to recommend the HABA Squalane series to those with combination skin is simple: layering. This moisturizer is 99.9% squalane. This means that it will hydrate even the driest areas of your face without adding extra occlusive ingredients that can clog pores. What's more, it absorbs quickly into the skin, so you can simply layer on a little more where you need it without residual stickiness.
I recommend HABA Squalane II (pictured above) if you're not sure what version to get. It's the same as the original, but entirely plant derived. 
---
Orbis Aqua Force
The Orbis Aqua Force series is a long seller, having been first released in 2000. It holds moisture in the outermost layer of the skin where it tends to dry out most. Made from ingredients similar to the skin itself, this lotion sinks in easily and fits to the skin's outer layer. There, it attracts and maintains moisture for a plump, hydrated look. 
This ability to retain moisture is a great feature for combination skin. This is because skin dehydration can lead to both excess moisture in your t-zone and dryness in other areas. Another selling point for those looking for moisturizers for combination skin is that this product is oil free. Although having oily areas of your face doesn't mean you have avoid oil entirely, some people prefer a fresher feel!
---
 Thanks for reading!
I hope this article has helped you pick your next Japanese moisturizer for combination skin. If you have any questions about these products or any other Japanese skincare issues, you can always leave us a comment here or come and chat with us at Wonect.com!
---