Fancl Aging Care Facial Cleansing Cream Review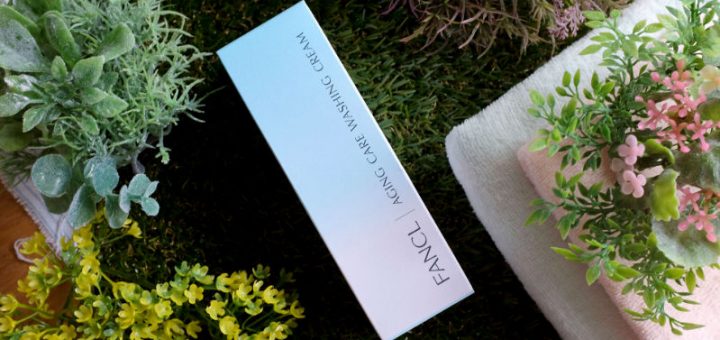 Hi everyone! This is Rebecca with my first product review for Wonect.life! Today I'll be talking about Fancl Aging Care Facial Cleansing Cream.
---
Product information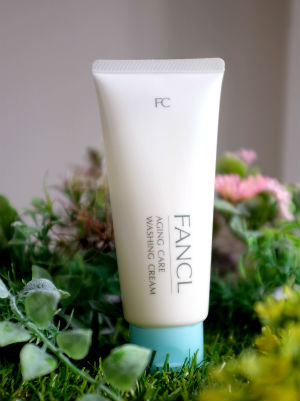 Fancl Aging Care Facial Cleansing Cream is, as you may have guessed, a cream cleanser that is designed to be gentle on mature skin. I'm in my early thirties, so I'm actually not sure when I cross the threshold to requiring aging care (I'd actually like to graduate from acne care first…) In this case, even if anti-aging isn't your first priority but you're still interested in a gentle, moisturizing cleanser, I wouldn't let this product's marketing put you off.
Speaking of marketing, I'll start with a quick translation of the official product description:
This cream type facial cleanser quickly lathers to a fluffy foam for clear skin. Fruit enzyme extract removes long built-up dullness caused by tiredness, lack of sleep, or dehydration. Maintains the skin's moisture while giving skin a fresh and perfectly clear finish. Also improves application of makeup. (Source: fancl.co.jp)
So far so good! The ingredients list is as follows:
Potassium Cocoyl Glycinate, Glycerol,Aqua, Sorbitol, Citric Acid, Methyl gluceth-10, CAPB, Hydrogenated starch hydrolysate, Glycol Distearate, Hydrogenated starch hydrolysate, Lactobacillus/Pear Juice Ferment Filtrate, Hydrolyzed Prunus Domestica, Sodium chloride, Sodium Methyl Cocoyl Taurate, Sodium myristoyl glutamate (Source: cosdna.com)
The ingredients list is fairly clean according to CosDNA analysis. There are no ingredients that raise flags as irritants or acne triggers. As typical for Fancl products, this cleanser is low pH, and there are also no preservatives, fragrances, synthetic dyes, petroleum surfactants, or UV absorbers.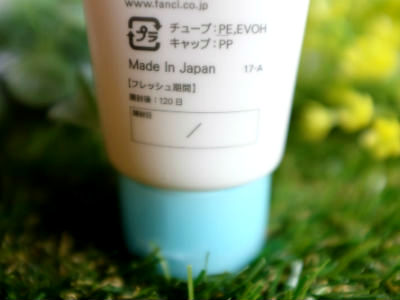 The lack of preservatives mean that you do need to keep an eye on product freshness. The Fancl website states that the product is fresh for three years unopened, and 120 days once opened. The 90g bottle is said to last 30 days if using the recommended 2cm of product (presumably twice a day). If you're not planning to use this cleanser every day, the bottle includes a small area where you can write the date you opened the bottle, which you can see in the picture above.
---
Packaging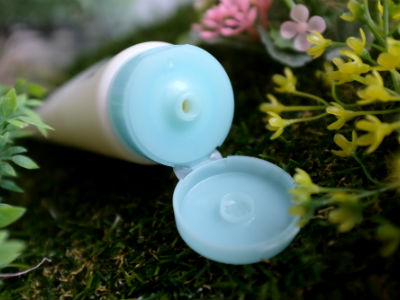 This cleanser comes packaged in a blue and white, satin finish box, which I think looks very nice in person! The packaging of the product itself is simple– a regular squeeze type bottle in Fancl's typical minimalist design style. While not particularly innovative, I had no issues with any of the packaging. The nozzle cleanly dispenses the recommended 2cm of product, and the bottle stands cap-down, which is good!
---
How to use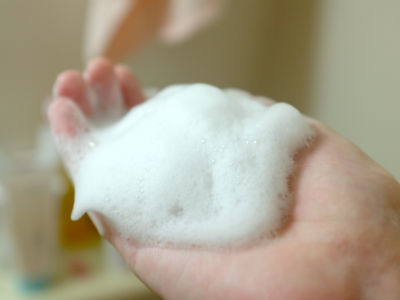 According to Fancl's own materials, this product should be used after a regular cleanser. So, to test this product I used Fancl Aging Care Facial Cleansing Cream after an oil cleanser at night. In the mornings, I just used it on its own. The cleanser itself is creamy both in color and consistency, and has a faintly medicinal scent.
The marketing copy mentions its foaming prowess, but to really take advantage of this you'll need a foaming net. Simply foaming using my hands resulted in a perfectly usable but not exactly fluffy lather. With a foaming net, the product whips up into a great dense, creamy foam that holds up as you cleanse. I don't usually bother with this step, but if you like foaming cleansers you'll be happy with this. It feels great, and does seems to speed up the washing-off process.
---
But what's the pH?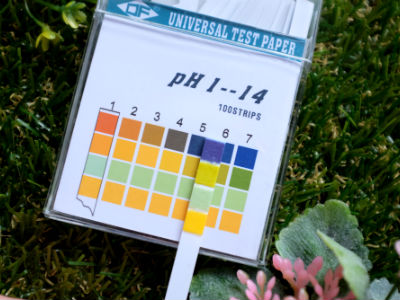 I know that the pH of cleansers is a big point of concern for many, so the first thing I did when opening the bottle was test Fancl's pH claims. All good! These are just basic paper pH sticks, but I think it's safe to say this cleanser is around a pH 5.5, which is ideal.
The upside to using a low pH cleanser is that it maintains the skin's natural slight acidity, or acid mantle. This is said to protect the skin against bacteria and potentially help prevent acne and other skin problems. The downside is that many low pH cleansers lack that satisfying "squeaky clean" feeling that more alkali cleansers often have. Fancl Aging Care Facial Cleanser Cream is no exception. This product does leave you with a smooth and moist feel to the skin, the point where at first I found it hard to know whether I had actually got all my makeup and cleanser off. For those with more dry or mature skin, a moisturized finish like this could be exactly what you need. For this oily reviewer testing during the humid end of summer, I spent a bit of extra time finishing up with a microfiber cloth.
---
Makeup Removal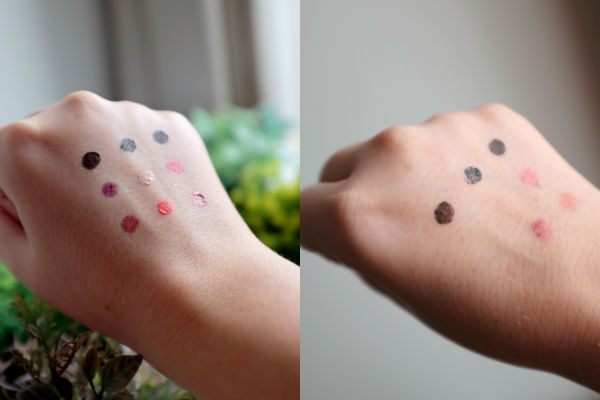 Types of makeup left to right, top to bottom: eyebrow pencil, mascara, eyeliner, powder eyeshadow, foundation, cream blush, matte lipstick, cream lipstick, lip stain.
I did a quick back of the palm test to see how it performs against different types of makeup. As you can see, Fancl wasn't joking about needing a first step cleanser!
I used a foaming net for this test, but I have noticed using this product un-foamed improves makeup removal. For my fairly standard makeup (not waterproof, highly pigmented, or full coverage), an oil cleanser followed by this cleansing cream worked perfectly. The cleansing oil dissolved my makeup, and the Fancl Aging Care Facial Cleansing Cream removed all residue. I actually found it a very gentle and non-stripping way to cleanse at the end of the day.
That said, if you wear dark or heavy makeup and want to use this cleanser as your second step, consider a first step cleanser that's specifically designed for makeup removal. This product isn't designed for that purpose!
---
Results and recommendations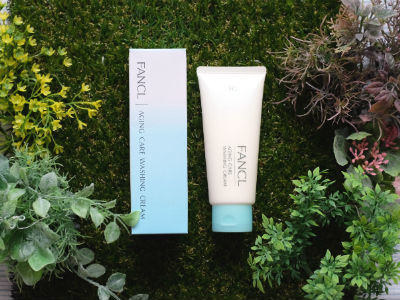 While I didn't expect to see remarkable changes from simply switching my cleanser, I did find that my skin felt extra soft and moisturised while using the Fancl Aging Care Facial Cleansing Cream. In summary, I would highly recommend this product for anyone with dry skin. While I've seen a lot of products make claims to this effect, I'm not sure I've used a cleanser that actually does leave the skin feeling as moisturized as this one. In fact, I've mentally bookmarked this as an ideal winter cleanser to come back to in a few months. Its low pH and lack of common irritants also make this a great choice for those with dry, sensitive skin.
In terms of claims of improving dullness, I suspect that the fruit enzymes in the ingredients are intended to perform as exfoliating agents to encourage cell turnover and improve brightness. I would need to test this product for longer to say how well that works.
I didn't notice any reactions from the cleanser, which is to be expected for a gentle product like this. In fact, during the time I tested this product, an acne breakout I was dealing with cleared up. This product doesn't claim to help with acne, but I can say that it didn't worsen my breakout, and potentially helped it heal.
The one downside would be makeup removal. If you're looking for an all-in-one makeup removing cleanser, this is not the product for you. On the other hand, if you're looking to remove your makeup as gently as possible, this product plus an oil cleanser is a great choice!
More details on FANCL Aging Care Cleansing Cream here