Pore Problems? No More!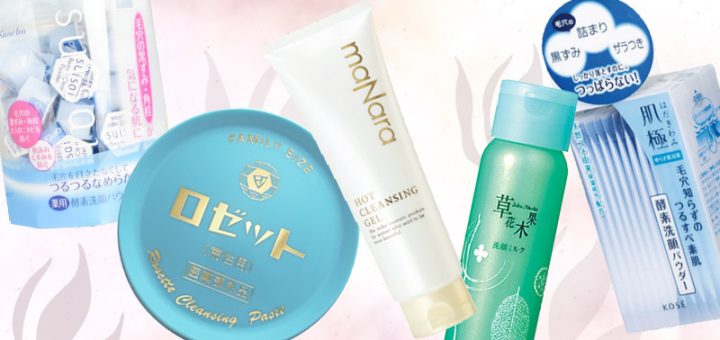 Skin pore problems for females usually stem from skin pore problems. The pores around the nose and cheeks are where we are most concerned about, regardless of our age. It is the eternal dream of females being free from skin pore problems, since it is no exaggeration to say that the condition of skin pores will affect our beauty.
The causes of skin pore problems are intrinsically connected to our daily skincare routines. What this also means is that we can improve these skin pore problems by relooking at our skincare methods.
We shall first look at what kind of skin pore type you have, then pick a suitable skincare for it.
Skin Pore Problem Types
Skin pore problems can generally be divided into three types, and the ways to deal with them are different.
1) Clogged / Darkened Type
In many cases, these white-/blackheads are a result of not properly washing the dead skin cells or sebum off, resulting in a clogged pore, oxidised in that state. In Japan, we call it a "strawberry nose", where the texture feels just the surface of a strawberry.
A clogged pore is usually the first step to skin pore problems. The pore will memorise its shape if left untouched, which means there is a danger of the pore remaining in that open shape even if we managed to cleanse the pore.
Solution
It is important to ensure that anyone who has blackheads use a good facial wash for the skin.
To put it briefly, an enzyme facial wash is recommended. This is because the clog that is made up of keratin contains about 70% of proteins, which could be hard to wash off using normal facial wash. An enzyme facial wash, on the other hand, will be able to break down the protein make up, and offer an essential and thorough wash of the skin pores.
Should the clogged or darkened pores get stubborn, "warming up" our skin before cleansing is known to be effective. Recently, there's been an increase in the number of hot cleansing products. This is because by using the heat from these products, the pores get softened, thus easing the removal of clogs and keratin.
2) Open Type
This is another type of pore trouble, where "my pore is not clogged, but it is open for one reason or another". We usually call it the "orange skin" type, which makes it difficult to put foundation on, consequently ending up with a less than ideal finish for our makeup.
And yet there can be many reasons to why this type of pore occurs, so it might be a little more difficult to improve than clogged pores. It is possible that anyone who are concerned about their pores, have impurities left even though they should have washed them off already, which keratin grow thicker.
Solution
Even though we said that there are many possibilities leading to open pore problems, dry skin is the representative cause. Therefore the key approach is none other than moisturising care.
Since moisturising care involves "retaining moisture", we should pay more attention to lotions or beauty serums (that have the benefit of tighten pores). That is because if we use milk lotions or creams on open pores, this could instead clog the pores and lead to blackheads or acne.
3) Sagging Type
Sagging pores can occur as we grow older, where the collagen and elastin in our skin breaks down, moisture in the skin decreases, and our skin begin to slacken. On the surface, it looks as like an open pore, but instead of circular shape, it is an elongated one.
The cause of sagging pores come from an accumulation of the years of skin damage, so we're going to need to care with some tenacity to improve this type of problems.
Solution
The solution involves recommended two approaches. Firstly, the tightening of the pores, and secondly, lifting the slackening of our skin.
The most effective method is probably through the three steps of "face lotion", "moisturising serum" and "cream".
Giving the skin moisture with face lotion for turnover support
Moisture retention with serum
Cream or milk lotion to prevent loss of moisture.
By giving enough moisture to the skin, we can attain a full and soft skin where the pores are hard to see.
In addition, let's get full protection from UV rays to protect the skin's collagen and elastin. UVA, especially, penetrates deep into the skin and destroys collagen and elastin, which leads to skin sagging. Using high UVA protection sunscreens together with cosmetics is highly recommended.
---
Product Introduction
There are many products that can solve skin pore problems, however facial washing in basic skincare hasn't changed. We shall introduce products to match the different skin pore types.
1) Clogged / Darkened Type
Enzyme facial washes and hot cleansing products are recommended.
KANEBO Suisai Beauty Clear Powder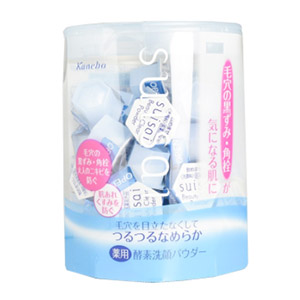 It's difficult to leave KANEBO's Suisai Beauty Clear Powder out of the picture when talking about enzyme washing powders. It is a popular item for pore care and getting rid of keratin.
The Suisai Beauty Clear Powder is formulated with two enzymes (Protein breakdown enzyme, Sebum breakdown enzyme). Not only does it protect the moisture in the skin, but also removes any keratin and dirt from the pores, leaving a smooth finish of the skin after washing.
The key point about using this product is that it uses an enzyme that is also present in the human body (protease lipase), so it is gentle on the skin.
It is recommended that we wash our face with lot of foam for once-a-week pore care. It is also alright to mix facial washes if you are concerned about how the skin feels.
---
KOSE Hadakiwami Smooth Skin Cleanser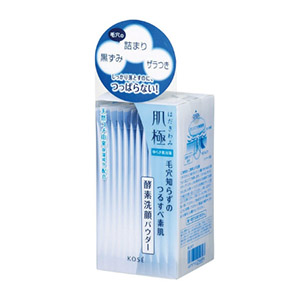 (via hadakiwami.com)
KOSE's Hadakiwami Smooth Skin Cleanser is formulated with protein breakdown enzymes and sebum clear ingredients. It contains rice sterol and rice bran oil as moisture protection, and wheat germ oil too. The rice contents protects the skin's moisture, and removes dirt thoroughly.
By the way, the foams that form from this cleanser has firm bubbles, so the foam doesn't disappear. It also has a Green Floral scent, which is well-reviewed for the relaxing fragrance while using it and even after using it.
---
2) Open Type
If keratin is the cause of the pores, then we should look for products that deal with it.
Soka Mocka Clear Face Wash Milk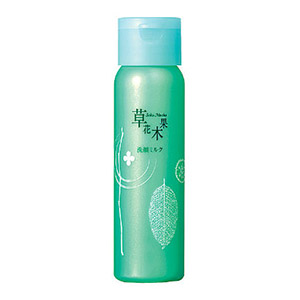 (via www.sokamocka.com)
Amino TG, a keratin clear ingredient which originates from plants, is able to peel the keratin that has dwelled on our skin. Thanks to the moisture-protecting bamboo essence, reviews have the face wash to be thorough with a moist finish. Lotion care and serums for moisture care is needed too after wash.
---
Rosette Face Wash Pasta for Oily Skin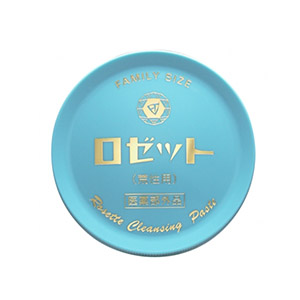 The Rosette Face Wash Pasta is a facial wash that is made by kneading powder into a paste texture. The formulated sulphur ingredient removes keratin, and returns the turnover of the skin to normal levels. The finish also leaves the skin feel like you've just exited the hot springs smooth and silky, allowing makeup to be properly placed on.
The green packaging is for dry skin users, for a moist finish.
---
3) Sagging Pores
Mild products or products that are highly moisturising are recommended for sagging pore troubles.
DOVE Beauty Cream Bar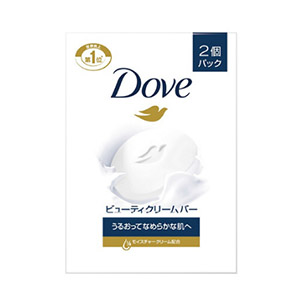 (via mydove.jp)
This solid facial wash is focused on moisturising, with a quarter of the formulation containing moisturising ingredients. Normal alkaline soaps would cause a dryness on the skin, but the DOVE Beauty Cream Bar pH level is close to the skin's, providing low stimulation on the skin, recommended for anyone with sensitive or dry skin.
---
KOSE Sekkishou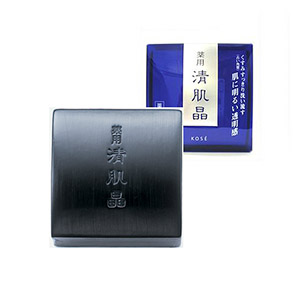 (via kose.co.jp)
Japanese and Chinese plants and soap ingredients are matured for 80 days, and are handmade into facial wash soaps one by one. The Japanese and Chinese plants extracts are moisturising, and at the same time removes keratins that contain melanin and improve skin and pore sagging. Thus, it is a beloved product among ladies under 40 years old.
The Japanese and Chinese ingredients can prevent skin trouble like acne from occuring. In fact, anyone who feels that their skin might face some issues (like due to hormonal imbalance) may want to give this a try.
---
LOSHI New Horse Oil Whip Cleansing Foam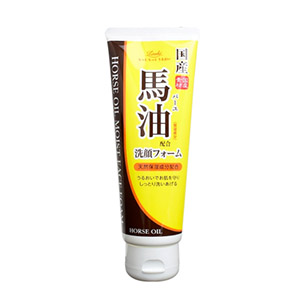 (via c-roland.co.jp)
LOSHI's New Horse Oil is well known for their high moisturising strength, so its products are good against spots, wrinkles, sagging, and loss of elasticity. What that means is that it is highly recommended for anti-aging purposes.
The ingredients in horse oil easily penetrates the skin to the keratin layer, and moisturises the skin from deep within. Not only that, it encourages the blood circulation, returns skin turnover back to normal and resolves sagging of the skin and pores.
---
Others
Doroawawa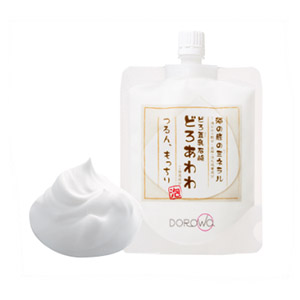 (via kenkoucorp.com)
Doroawawa is a facial soap that comes in a pouch. It foams really easily, and is popular for how it is able to draw out the dirt within the pores. Furthermore, you get a moist feel after wash (with none of that tightening sense), because it is formulated with moisuturising ingredients soy milk ferment lotion, hyaluronic acid and collagen.
The product is suitable for anyone of any skin pore problems who just want to wash their problems off with just facial wash, and it's definitely worth a look.
---
In conclusion
Pores are not only things we care about, but are also things that people around us can see. Skin pore problems are also hard to hide even if we put makeup on.
Those of you who have given up on getting rid of blackheads or improving open pores, how about giving your skin routine one more look, and try for a "pore-less" skin?
---
Skin Trouble Series
Skin Pore Problems? No More! (current article)
Clogged Pores, and Japanese Exfoliators to Use!
Pore Contraction Toners for the Open Pores!
Sagging Pores: Use These Ingredients from Anti-aging Care
---

---
| | |
| --- | --- |
| :: SKIN TROUBLE :: | :: SKINCARE :: |
| | |