Clogged Pores, and Japanese Exfoliators to Use!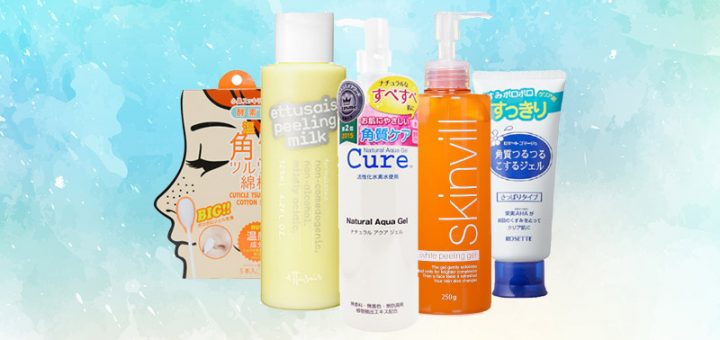 Even though we wash our face everyday, we can still get clogged pores. These clogs are also known as "comedo", and are the result of the combination of keratin and sebum.
We may do our best to wash our faces daily, but there'll still be times when we lift our heads, and still the white and black heads still stand out. The clogs in the pores are be rather stubborn, and if we don't make improvements, we might just give up on ever getting clean pores.
---
Why do we get clogged pores
1) There is an abundance of sebum
Since comedo is caused by keratin and sebum, people with oily faces (ie more sebum) will get more clogged pores than people with non-oily faces.
Even so, sebum is liquid and does not clog pores immediately, therefore we can remove them by using products such as oil blotting paper. Sebum alone is not cause enough to get clogged pores.
2) Dryness
On the other hand from sebum is dryness, and "lack of moisture" is the biggest cause of clogged pores. On top of that, in case of dry skin, sebum is naturally produced to clog pores to prevent further loss of moisture. Consequently, this leads to a vicious cycle. Dry skin becomes hard, resulting the pore to lose its elasticity, and makes it even easier for pores to clog.
It's easier for pores to clog around the nose and mouth area as the area is usually dry from friction, which leads to skin hardening and dryness.
3) Dirt from old sebum, foundation etc
Cosmetic solids left on the skin can easily clog pores if proper cleansing is not done to remove it. Furthermore, sebum gets harder to remove as we grow older, and may continue to dwell on the skin. This leads to the eventually clogging of the pores, and can become harder to remove.
---
Resolve clogged pores immediately
Comedones may be hard to come remove, but skin trouble may occur if left alone.
* Red acne, skin depression
A "red acne" or a "crater" may result subsequently. The acne bacterial then uses the comedones to grow. To protect against the bacterial, white blood cells reacts, thus causing a inflammation which swells up in red.
Furthermore, the white blood cells do not target the acne bacterial. Instead, it destroys the structure of the surrounding skin. Continued inflammation from red acne could eventually cause craters (skin unevenness) to form after acne has healed. This makes it hard for skin to repair itself.
* Blackheads
Comedones coming in contact with the air will oxidise and blacken. This is common for the T-zone where sebum is produced in higher amounts. We may get a "strawberry nose" if blackheads form on the nose, making our skin stand out by looking dirty.
* Wrinkled pores
Free radicals will develop if the comedo is not removed for a long period of time. This consequently gives unwanted stimulation to the skin. Just like the defensive reaction to protect the skin from UV rays, the skin produces more melanin to protect the skin from the free radicals. Repetition of this results in the dulling of the skin, and visible darkened spots will appear on the skin.
---
How to deal with clogged pores
Do you have concerns over clogged pores? How about taking these steps at home:
1) Enzyme Facial Wash
Enzyme facial washes are more effective for pore care because they are able to break down sebum and keratin that normal face washes are unable to wash off. You might find that the enzyme facial wash could cleanse your skin better. However, their usages should be limited to about twice a week because of the burden on the skin. (we talk about enzymes facial wash here)
2) Exfoliation
Exfoliating can remove old, accumulated keratin effectively. Not only that, skin turnover is normalised by massaging the face with these exfoliators. We can prevent keratin from building up with regular use, and it also improves the skin's absorption of face lotions and serums.
Exfoliators come in wipe off type and wash off types, although anyone with sensitive skin should use the wash off type, as it poses less burden on the skin.
3) Pore Care Specialty Products
There are many products that target the dirt in skin pores, for example pore care packs for "strawberry noses". As these product have instant effects, it's better to not overdo it, lest the the stimulation widens the skin pores.
What you should not do!
* While we may be concerned when a comedo appears, there are many who would use their hands or a pin to force the comedo out. This actually results in skin damage in the process. Furthermore, the pore is now more prone to clogging, and opens up the possibilities of skin craters and other skin troubles.
* Overusing pore packs available in the market can lead to comedones forming more easily, which might cause the skin to be dry. In additional these can be overstimulating for the skin, and may not be suitable for people with weak skin.
---
Exfoliator Product Introduction
CURE Natural Aqua Gel
The CURE Natural Aqua Gel is a popular item among young female users for keratin care. More than 90% of its content is water. This means that it is going to be gentle on the skin, and we are not going to feel the tightening sensation on the skin after wash. It is non-scented, colourant-free, and preservative-free.
Ettusais Peeling Milk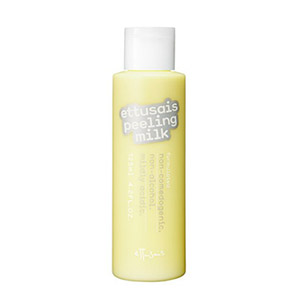 (via ettusais.co.jp)
There are many exfoliators that come in gel type, but Ettusais' Peeling Milk is a milky type that is gentle on the skin. Users with sensitive skin won't feel the stimulation from this exfoliator because the milk type is more cushiony than the gel type, thus lowering the amount of friction the skin goes through. Compared to the smooth finish from the gel type, the milk type gives a puffy feel after wash. It has slight acidity, and is alcohol free.
skinvill White Peeling Gel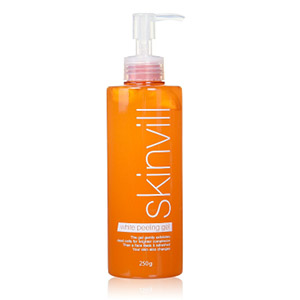 (via skinvill.jp)
This exfoliating gel contains more than 96% beauty ingredients, and uses multiple fruits extracts to remove old keratin and sebum. The skinvill White Peeling Gel also improves the tone of the skin and prevents acne. It is free of synthetic spice, synthetic colouring, paraben, petroleum oil, and ethanol.
Rosette Gommage Peeling Gel (Fresh/Moist)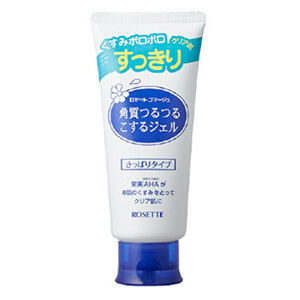 (via rosette.jp)
Rosette has good cost-performance, and uses three types of fruit acids (citric acid, malic acid, lactic acid) to remove old keratin and supports a smooth skin. The Fresh version is formulated with tea leaves extract, and the Moist version uses soy milk fermented extract.
This exfoliator is not for sensitive skin use. Even though it has a soft gel texture, it is recommended that you patch test before usage.
---
Specialised Care Product Introduction
Cogit Cuticle Tsurutsuru Cotton Swab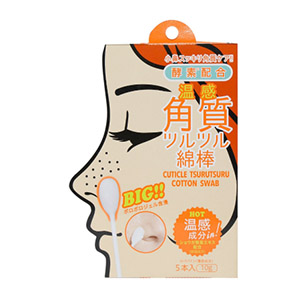 (via cogit.co.jp)
This product was widely talked about on the internet for its ability to remove keratin easily with swabs. It is easily to carry around, and able to care for minute areas. This is good for anyone concerned about the keratin especially around the nose area.
---
In conclusion
Clogged pores are hard to cover using foundation. Wouldn't putting on cosmetics lose its fun?
However, riding the right tracks of proper pore care will pave the way to healthy skin. We can do this by understanding the causes behind clogged pores, so if you have given up on fixing clogged pores, use this opportunity to aim for a poreless-looking skin!
If you're shopping for Japanese products, check out our range on Wonect! We have a range of authentic and fresh Japanese products shipped direct from Kyoto, Japan.
Japanese health and beauty products delivered worldwide at Wonect
---
Skin Trouble Series
Pore Contraction Toners for the Open Pores!
Sagging Pores: Use These Ingredients from Anti-aging Care
---