Atorrege AD+: Quality Japanese Skincare for Sensitive Skin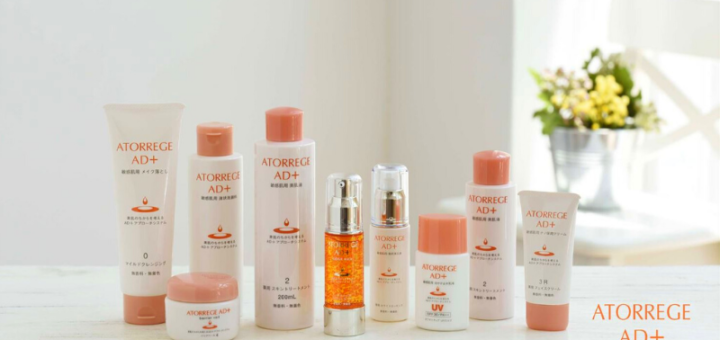 When caring for sensitive skin, you know just how vital finding the right skincare products are. It's not hard to find a sensitive moisturizer in the drugstore, but what about all the other parts of your skincare you want to address? Whether dealing with acne or looking for sun protection, it can be hard to find a product that is both sensitive skin friendly and high quality. This is where the Atorrege AD+ line comes in.
With high quality formulations and a commitment to using only skin safe ingredients, these are the kind of products you can use with confidence. Another highlight to the Atorrege AD+ line is that it doesn't just consist of your regular cleanser and moisturizer. Atorrege AD+ knows that just because we have sensitive skin, it doesn't mean we don't also want safe and effective sheet masks, acne treatments, and eye creams.
Read on as we go through each part of the Atorrege AD+ range!
---
Atorrege AD+ Basic Skincare Cleansing Range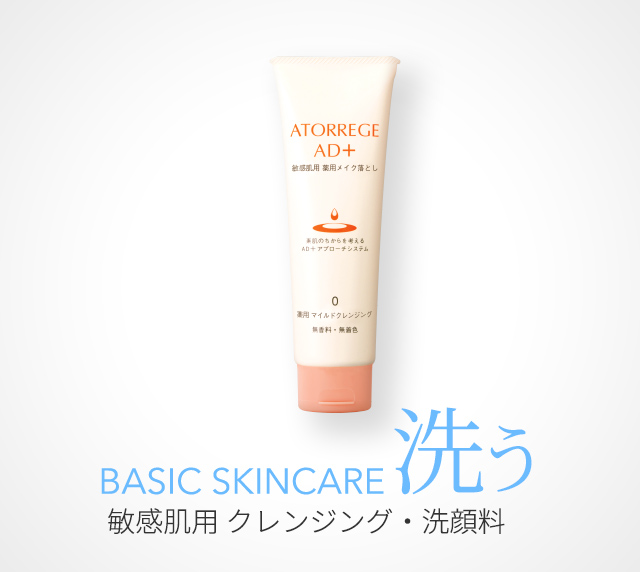 The right cleanser is essential to any sensitive skincare routine. Atorrege AD+ cleansers are low pH and tested for sensitive skin.  There are three cleansers in the Atorrege AD+ line: Atorrege AD+ Mild Cleansing, an eyelash extension-safe makeup cleanser, and two non-makeup removing cleansers:  Atorrege AD+ Face Wash Liquid and Atorrege AD+ Face Wash Foam. The Face Wash Liquid is best for particularly dry skin, while the self-foaming Face Wash Foam is a time saver in the morning!
All three cleansers contain dipotassium glycyrrhizate, an anti-inflammatory ingredient to help soothe the skin. OF course, they are all fragrance, paraben, and mineral oil free, low pH, and allergy tested.
---
Atorrege AD+ Basic Skincare Moisturize Range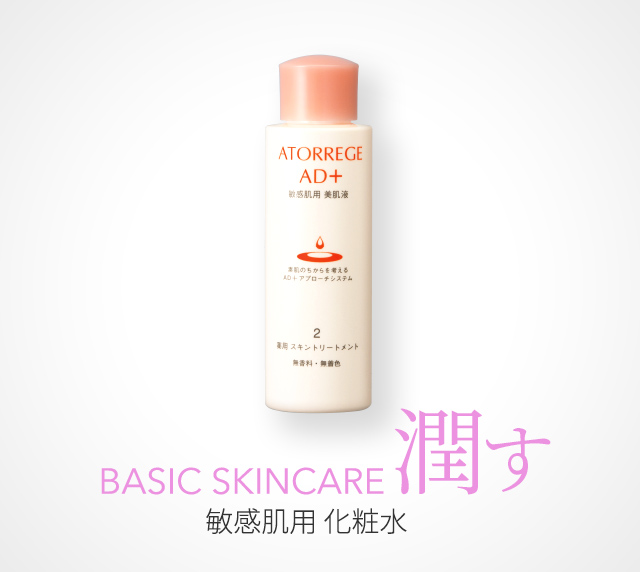 The Atorrege AD+ "basic skincare" range divides itself into two categories when it comes to skincare: "moisturize" and "protect", which we'll cover in the next step. While both categories include moisturizers, it follows the standard Japanese skincare routine that considers  light lotions/hydrating toners and thicker creams two distinct steps. For more about this check out our complete guide to the 6 Core Japanese Skincare Steps.
The "moisturize" line includes two choices: the ATORREGE AD+ Medicated Skin Treatment 100ml (200ml) and the ATORREGE AD+ Cool Lotion 150ml
The Medicated Skin Treatment has eight moisturizing ingredients including placenta extract and hyaluronic acid as well as anti inflammatories like witch hazel and dipotassium glycyrrhizate. You can use this item right after cleansing before heavier moisturizers.
The Cool Lotion is a spray-on moisturizer you can use throughout the day. The light, fine spray is infused with menthol that soothes and gives a cooling sensation. Use it after cleansing or keep it on your desk as a refreshing pick me up throughout the day.
---
Atorrege AD+ Basic Skincare Protective Range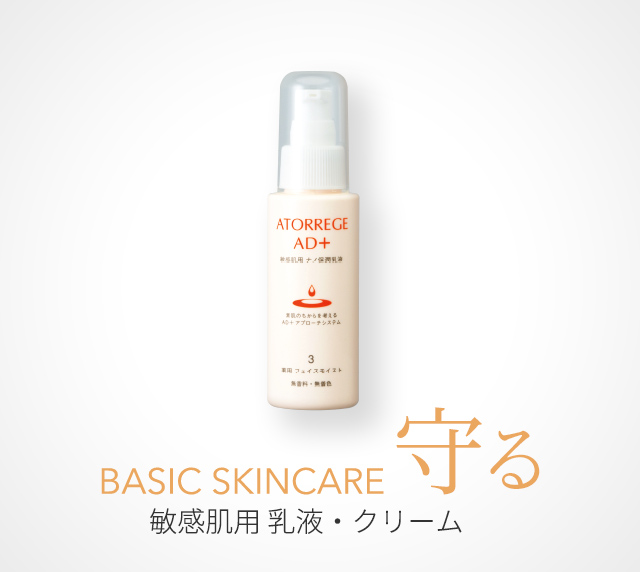 The Atorrege AD+ "protect" range includes some richer creams to nourish and protect sensitive skin.
The Medicated Face Cream contains encapsulated Vitamin E, C and A, animo acids, and sucrose, which help the ingredients sink effectively into the skin where they can be used. This is a somewhat rich moisturizer with hyaluronic acid, ceramides, and macadamia oil, so it's ideal for anyone with dry, sensitive skin that could use a rich emollient.
The Atorrege AD+ Barrier Veil is an oil-infused cream that contains natural ceramides, squalane, and macadamia oil. While it comes out of the jar as a firm balm, it melts into the hands and creates a protective layer on the skin. If your skin is particularly fragile in the winter, consider the Atorrege AD+ Barrier Veil.
---
Other Atorrege AD+ Lines
Personal Care Line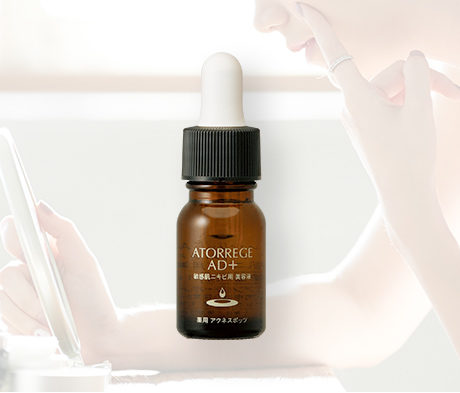 The Atorrege AD+ "personal care" line consists of treatments for specific beauty concerns, including a serum, eye cream, acne spot treatments, and so on. If you have sensitive skin, it doesn't mean you don't also have other skincare issues you want to address! This is why it's so helpful to find these kind of specialty items specifically formulated for sensitive skin.
[2019 Anti-Acne Guide] Japanese Acne Treatments: Brands, Active Ingredients, and How to Choose!
---
Body and Haircare Line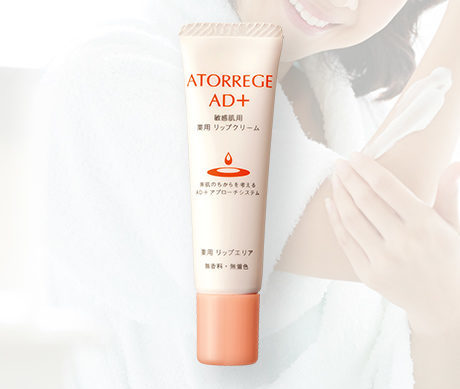 As the name suggests, the Atorrege AD+ body care range cares for sensitive skin from top to toe. If you're looking for high quality Japanese body care products for sensitive skin, the Atorrege AD+ body care range has everything you need.
---
Atorrege AD+ Makeup Line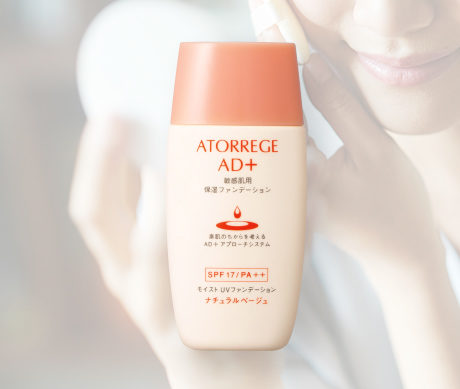 We often wear makeup on our skin for most of the day, so for sensitive skin types, the formulation is so important. That's why the Atorrege AD+ line also has a basic makeup line that currently consists of a UV protective foundation and a face powder. Both products are fragrance free, paraben free, and are formulated without chemical sunscreen agents. They are allergy tested, cell tested by the company, and are also vegan.
---
Atorrege AD+ Sunscreen Line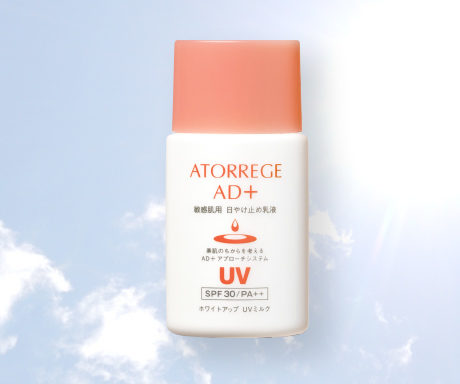 Finding a quality sunscreen for sensitive skin can be tricky. The Atorrege AD+ line has two options: White Up UV Milk, which is SPF 30 PA++ and Moist Up UV Cream which is SPF 14 PA++
The White Up UV Milk is a lightweight, serum-like sunscreen for the face formulated with placenta extract and hyaluronic acid to moisturize the skin, and emollient ingredients that help form a protective barrier for sensitive skin. The Moist Up UV Cream is best for drier skin types, and can be used on the face and body. It contains seven types of moisturizing ingredients including ceramides and hyaluronic acid. This is a very gentle and protective formulation, but be aware that at SPF 14 it's best for protecting against everyday, incidental UV exposure rather than a day at the beach.
Both are physical sunscreens and free from chemical sunscreen agents. Of course, they're irritant free and allergy tested for sensitive skin.
---
Sensitive Skincare from Japan
We hope this guide to the Atorrege AD+ line was useful! To shop the whole line with worldwide shipping, visit us at Wonect.com! We are available there to help you with any questions you have about shopping for sensitive skincare, too!