[2019 Anti-Acne Guide] Japanese Acne Treatments: Brands, Active Ingredients, and How to Choose!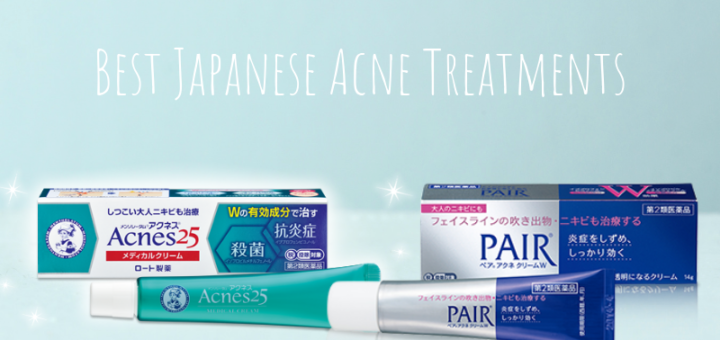 People from all over the world choose to buy Japanese acne products because of their strict safety standards and high quality ingredients. But, if you deal with acne, you probably have experienced the frustration of finding the right product for you. In this article we will break down some of the most popular Japanese acne treatments, giving you all you need to know about what their active ingredients are and what they do.
Since there are many causes of acne such as hormones, bacteria, and even your environment, finding the right treatment can require some trial and error. Of course, a good way to start is knowing you're buying a high quality product formulated with effective active ingredients. All of these Japanese acne treatments are well-reviewed and from major Japanese brands, so you can count on their product safety, too.
In this article, we will focus on Japanese acne creams (we'll cover cleansers and supplements soon, though!) For now, read on to find out more about the different Japanese acne creams available!
---
Lion Pair Acne Range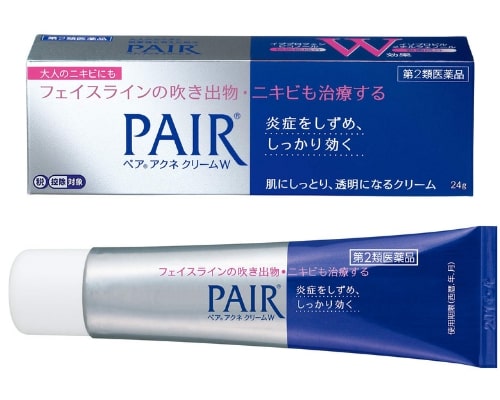 Active ingredients: Ibuprofen piconol (IPPN) 3.0%, Isopropyl methylphenol (IPMP) 0.3%
The Lion Pair range is one of Japan's most popular acne treatments. Designed for both teen and adult acne, the LionPair Acne Cream W is formulated with 3% Ibuprofen piconol, which is a NSAID (nonsteroidal anti-inflammatory drug). As the name suggests, this helps with the inflammation, redness, and swelling caused by acne. Its other active ingredient, isopropyl methylphenol, an antiseptic ingredient to kill the bacteria that causes acne and protect the area from infection. In other words, this cream takes two approaches to treating the acne: first reducing the visible inflammation, and then clearing away the bacteria causing it.
The cream itself is white and slightly creamy in texture, and dries down transparent, so you can wear it with or without makeup. It's suitable for both men and women of all ages, and has a very mild botanical scent. If you have issues with other spot treatments for acne drying out your skin, this formulation is fairly moisturizing in its texture, and is also low-pH.
It's recommended you use this once a day as a spot treatment right after cleansing, but before skincare.
Get Lion Pair Acne worldwide here!
---
Annazarube Ace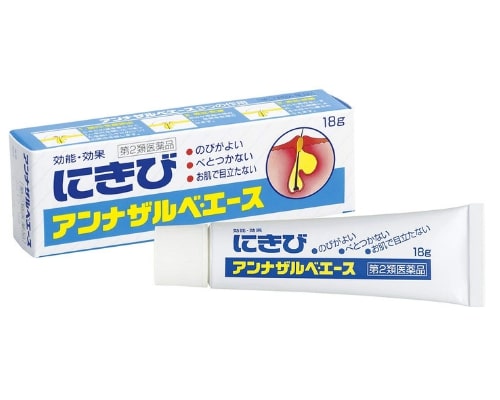 Active ingredients: Sulfur 3%, Resorcinol 2%, Enoxolone 0.3%
Annazarube Ace is a spot treatment suitable for both adult and teen acne. The active sulfur and resorcinol in this product works to soften the head of the breakout, allowing the excess oil to escape. The product is then formulated to absorb this extra oil, drying out the area to reduce the visible swelling and inflammation.The enoxolone is an anti-bacterial agent that kills the bacteria causing the acne, and helps with any redness and itching.
It has a faint yellow texture that dries to an invisible clear, smooth texture. It's recommended that you apply it 2-3 times per day to clean skin until the acne is healed.
---
Meishoku Bigansui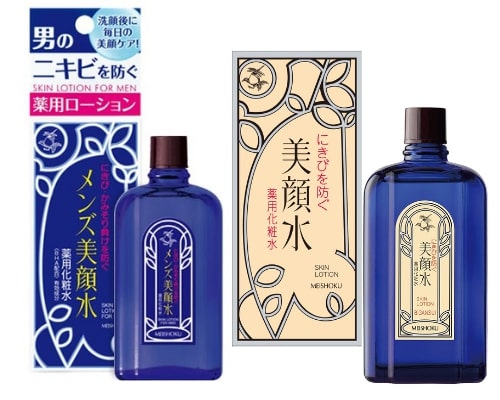 Active ingredients: Salicylic acid, Quaternium-73(PIONIN)
Bigansui is an old-school staple in Japan — in fact, it's been around for 130 years, and is a product that many Japanese people remember using during their teens.
Its active ingredient is salicylic acid, which is the same ingredient as in aspirin! This ingredient helps soften and exfoliate the outer layer of the skin to prevent sebum, dead skin cells, and other impurities that can build up in pores. This buildup becomes food for the bacteria that causes acne, so exfoliating this way to prevent acne. Its other active ingredient, Quaternium-73, is another type of anti-bacterial agent.
It has quite a strong and distinctive medicinal smell, but it does fade quickly. You can use this as a spot treatment with a Q-tip, or if you have breakouts over a larger area, you can use this over your whole face by applying to a cotton pad and applying like a toner. I use Bigansui personally as a preventative measure, and can recommend it if you deal with occasional hormonal breakouts.
Bigansui is not just good for acne– since it's a chemical exfoliant, it can tighten pores and improves brightness, too. The men's version has the same active ingredients, and is also formulated to prevent oily skin and razor rash.
That said, if you have dry or sensitive skin, this can be a little bit drying. We have a treatment specifically for sensitive skin types further on in our list.
---
ISHIKAWA LAB Men's Acne Barrier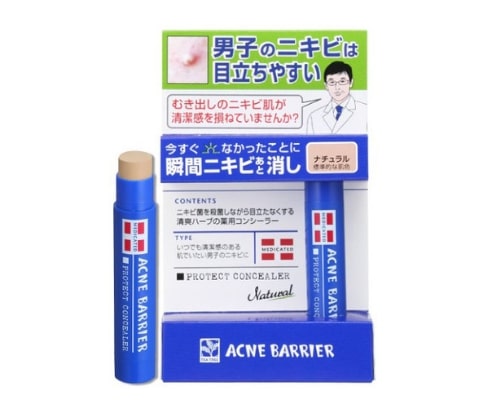 Active ingredients: Isopropyl methylphenol, Stearyl glycyrrhetinate
Ishikawa Lab Men's Acne Barrier is a pigmented spot treatment that treats acne while giving some natural-looking cover to tone to down the redness. It's marketed at men, but is completely fine as a treatment and concealer for women, too. It's also useful if you want to put down a protective layer over any acne before you apply other products.
As we mentioned before, Isopropyl methylphenol is a anti-bacterial agent that helps treat the acne at its cause. Stearyl glycyrrhetinate is a soothing, anti-inflammatory ingredient that helps reduce the swelling and redness.
It comes in three colors: light, natural, and sporty. To use, just apply directly onto the acne, and then blur the edges with your fingertip.
---
Rohto Mentholatum Acnes 25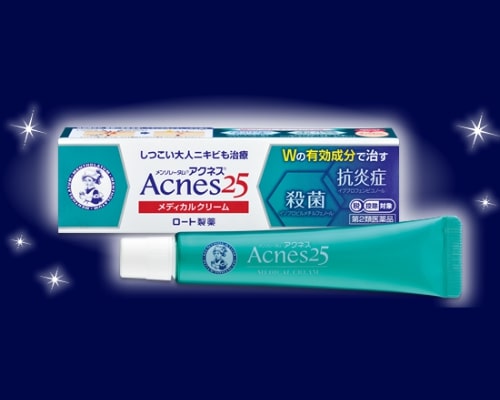 Active ingredients: Ibuprofen piconol 3%, Isopropyl methylphenol 1%
Mentholatum Acnes 25 is similar to the Lion Pair acne treatment we mentioned before, but is specifically targeted at adult acne. Its active ingredients are the same, with even the same amounts, but has a denser texture. According to some Japanese reviewers, this product works more quickly, but feels less moisturizing and has a stickier finish. Its thicker texture might make this a good choice for a product to wear to bed, as it's more likely to stay put.
Get Mentholatum Acnes 25 delivered worldwide here!
---
Rohto Melano CC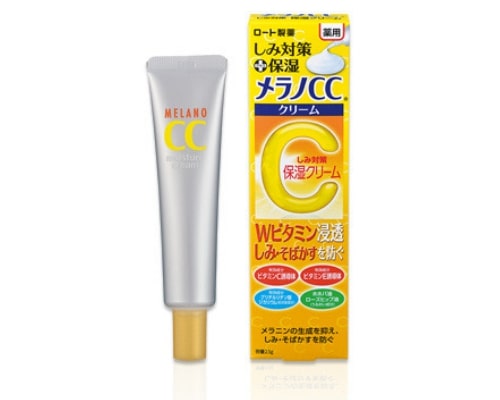 Active ingredients: Ascorbic acid (Active vitamin C), Tocopherol Acetate (Vitamin E derivative), Glycyrrhizinate dipotassium, Isopropyl methylphenol
Melano CC is a popular range of affordable vitamin-C based products that are really popular with our customers. Vitamin C has a lot of benefits for the skin, including promoting collagen production and preventing and healing UV damage. It can also help brighten and fade dark spots and scars.
Vitamin C is also a useful ingredient for treating both active acne and acne scarring. It can work as an anti-inflammatory agent, and also helps with wound healing. This means that you can use it on existing acne, or as a treatment for existing scars. This product also contains vitamin E, which has similar antioxidant and anti-inflammatory effects to vitamin C.
Other useful ingredients for acne is glycyrrhizinate dipotassium, an anti-inflammatory derived from licorice root. As with the other anti-inflammatories on this list, it helps to settle down the redness and swelling. Our common anti-bacterial agent, isopropyl methylphenol, is also included in this product.
This product has a clear, light texture, and you can use it either as a spot treatment or as a brightening and anti-aging serum for your whole face. It has a very mild citrus scent, and you only need a little– use too much and it can dry a little sticky. For best results for fading scars, Rohto recommends using it continually for 5-6 months.
Get Rohto Melano CC serum delivered worldwide here!
---
Atorrege AD+ Acne Spots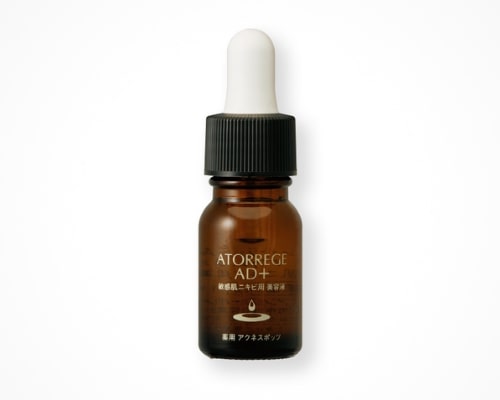 Active ingredients: Glycyrrhizinate dipotassium, Isopropyl methylphenol,
Last but not least, Atorrege AD+ is an anti-acne spot treatment that's been really well reviewed by our customers. You may notice that just like Melano CC, it contains anti-inflammatory glycyrrhizinate dipotassium and anti-bacterial isopropyl methylphenol. In other words, this product takes the same double-pronged approach as many of the Japanese acne products on our list.
What separates the Atorrege AD+ Acne Spots is that it's from the Atorrege AD+ line is specifically designed for sensitive skin types. It's free from fragrances, colors, parabens, mineral oils, and animal-derived ingredients. It's also low pH, and is allergy and cell tested.
Get Atorrege AD+ Acne serum delivered worldwide here!
---
How to find the right Japanese acne treatment
We hope this article was useful in choosing your next Japanese acne treatments!
Getting your head around these ingredients can really help making shopping for anti-acne products much easier. By paying attention to the active ingredients in a product and how they work for you, you can narrow down what works best for your skin.
Of course, active ingredients aren't the be all and end all. A product's formulation, texture, scent, and even its price point can be make or break factors. But, once you know what actives work for you, you can focus more on finding your own holy grail acne treatment. So, please use this list as a guide, and if you need any help choosing, get in touch with us at wonect.com! We'd be happy to help.