[2019 Anti-Acne Guide] Best Japanese Anti-Acne Supplements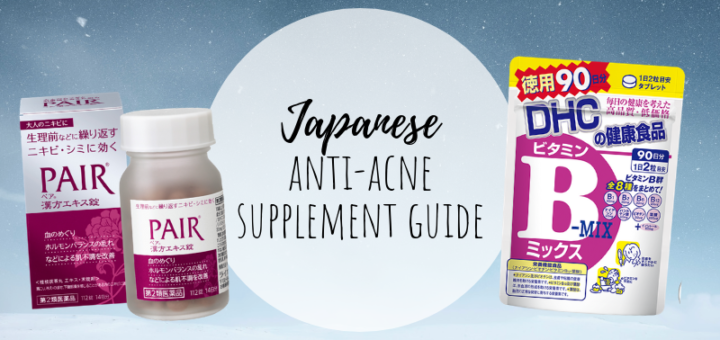 Welcome back to our updated 2019 series on the best anti-acne products in Japan! In this article, we are looking at some of the best reviewed anti-acne supplements. We often recommend to our customers that they choose a supplement to compliment any topical treatments they use for acne. On a personal level, I've found vitamin B supplements have worked wonders for some quite severe acne breakouts that were resistant to topical treatments.
When it comes to beauty supplements, personally I believe in erring on the side of caution. You often hear horror stories about people importing what they assumed were natural supplements only to be unwittingly poisoned by contaminants or unlisted prescription or illegal drugs. Personally, that's why a lot of people in Japan, me included, stick with Japanese-made supplements. For this article, I have only selected products from major Japanese brands, so you can rest assured that what is in the label is in the bottle!
---
Chocola BB Plus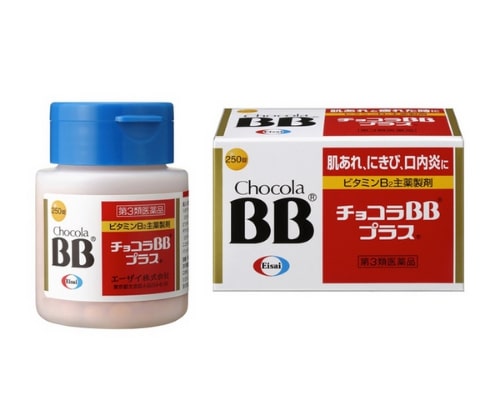 Key ingredients: Riboflavin Sodium Phosphate (Vitamin B2 phosphate ester) [38 mg], Pyridoxine Hydrochloride (Vitamin B6) [50 mg], Thiamine Nitrate (Vitamin B1 nitrate) [20 mg], Nicotinamide [40 mg], Calcium Pantothenate [20 mg]
Chocola BB and Chocola Collagen range are continually top our list of best-selling products, and for good reason. These are affordable, high quality supplements that target everything from acne to skin-whitening to aging, all using clever blends of food grade vitamins. If acne is your main concern, we recommend Chocola BB Plus. This supplement is made with a highly bioavailable active vitamin B mix, which means that it's easily absorbed and used by the body. This supplement can also treat other common skin problems like dry,  irritated skin or mouth ulcers.
---
Lion Pair Supplement Range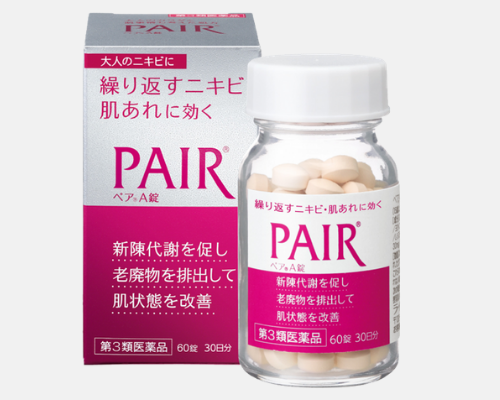 PAIR® A Tablet
Key ingredients: Glucuronolactone [200 mg], Coix extract [77 mg], L-cysteine [30 mg], Riboflavin (vitamin B2) [30 mg], Pyridoxine hydrochloride (vitamin B6) [100 mg]
This Japanese acne supplement is part of the Lion Pair acne range, which includes some Japan's most popular topical acne treatments. It's based around a quite potent B vitamin mix, as well coix seed (also known as Job's tears or hatomugi) for skin health and sebum control, and glucuronolactone, which helps detoxification, and L-cysteine, which helps skin turnover.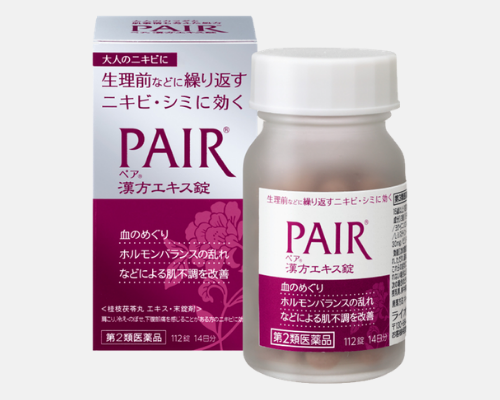 PAIR® Kanpo Extract Tablets
Key ingredients: Keishi-bukuryo-gan extract (2/3 volume) (extract from 2.67 g each of cinnamomi cortex, poria sclerotium, moutan bark, peach kernel and peony root)[1,533 mg], Powdered cinnamomi cortex [100 mg], Powdered poria sclerotium [100 mg], Powdered moutan bark [100 mg], Powdered peach kernel [100 mg], Powdered peony root [100 mg]
Pair Kanpo Extract is based entirely on Japanese traditional herbal medicine, and is intended to help in particular with premenstrual or similar recurring hormonal acne in women. The herbal extracts are designed to boost the blood flow and re-balance the hormones. In addition to acne, this supplement may also help with other hormonal and menstrual issues like PMS, joint stiffness, poor circulation, irregular periods, and even period pain.
Find the Lion Pair Acne range here
---
Pola ACLE Plus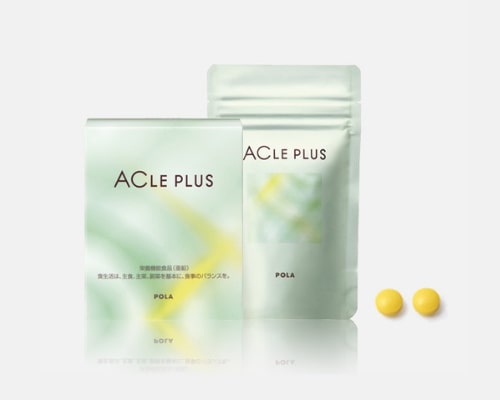 Key Ingredients: Zinc [7 mg], Copper [0.7 mg], Vitamin B2 [40 mg], Vitamin B6 [20 mg], Licorice extract [500 mg], Chameleon plant extract [25 mg], Trifoliate orange extract [5 mg], Hyaluronic acid [400 µg]
Pola ACLE Plus contains vitamin B6, vitamin B2, and a range of other beauty ingredients including hyaluronic acid and herbal medicine extracts. The Pola range is a little more expensive than some of the other options on this list, but they have a reputation of being one of the most research-driven beauty companies in Japan, and there are a number of unique herbal extracts in this supplement. Pola ACLE Plus contains the same amount of vitamin B2 as 13 servings of pork liver, or 186 eggs, and has the same amount of vitamin B6 as 52 bananas or 75 chicken breasts.
---
Fancl Smooth Clear AC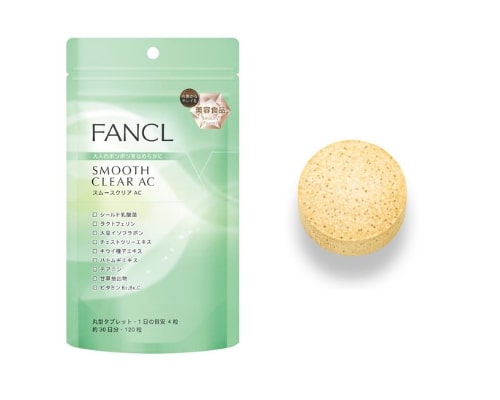 Key Ingredients: Shield lactic acid bacteria (pasteurized) [10 billion], Lactoferrin [10 mg], Soy isoflavone aglycone [13 mg], Chaste tree extract powder [4.8 mg], Kiwi seed extract powder [50 mg], Barley extract [45 mg], Theanine [50 mg], Licorice extract [20 mg], Vitamin B2 [12 mg], Vitamin B6 [10 mg], Vitamin C [100 mg]
Fancl's reputation as a leader in preservative-free skincare and supplements makes them a good choice if you're looking for safe and healthy Japanese acne supplements. Fancl Smooth Clear AC contains not just the vitamin B2 and B6 we've seen a lot of the above supplements, but also includes a lactic acid bacteria formulation called "Shield" which is designed to help clear the skin through re-balancing the internal gut flora. Herbal extracts are also included to help re-balance female hormones that can lead to recurring acne, including Fancl's patented soy isoflavone and chaste tree extracts.
Shop for Fancl Smooth Clear AC and more
---
DHC Cleacnea AC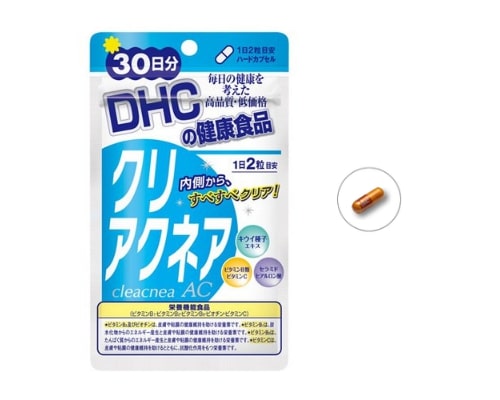 Key ingredients: Kiwi seed extract powder [50 mg], Ceramides (rice extract powder) [20 mg (3% ceramide)], Hyaluronic acid [3.5 mg], Niacin (Vitamin B3) [21.6 mg], Pantothenic acid (Vitamin B5) [10.6 mg], Biotin (Vitamin B7) [55 μg], Vitamin B1 [5.0 mg], Vitamin B2 [4.4 mg], Vitamin B6 [4.4mg], Vitamin C [360 mg]
DHC Cleacnea AC contains the same vitamin mix we've come to expect, plus some extra B-group vitamins, and skin-protective ingredients such as ceramide extract and hyaluronic acid. Unlike some of the other supplements, it doesn't contain any specific claims to balance female hormones, and also says that this is an effective treatment for both adult and adolescent acne. While this does give a broad spectrum of B-group vitamins, you may notice their dose is significantly lower than some of the others like the Chocola BB supplement, but keep in mind that the body can only process so much vitamin B at once. So, if you want a more broad-spectrum B vitamin mix, this could be a good choice.
---
Budget mentions: DHC Vitamin B Mix and Vitamin C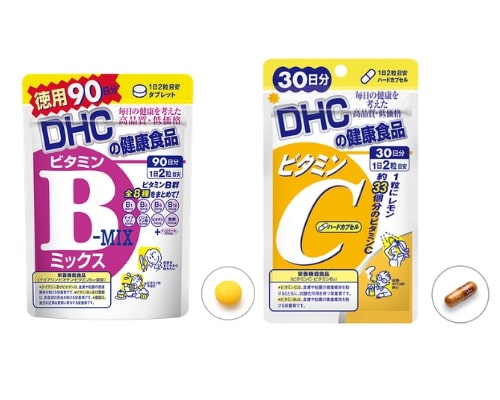 We've tried to introduce a mix of budget friendly and higher-end Japanese acne supplements in this article. But, if you're on a strict budget, the DHC Vitamin B and C supplements above are worth considering. You still get the quality and peace of mind of buying a supplement from a major Japanese brand without having to lay out a lot of money. As we've seen in the above supplements, a good Vitamin B mix can help with acne itself. Vitamin C can help fade acne scars and other pigmentation. While you'll miss out on some of the extracts and other ingredients the supplements above offer, if you're on a budget, the DHC simple vitamin range is worth checking out.
More details on the DHC supplement range here
---
Need more info about Japanese anti-acne products?
If you missed last week's installment of our Japanese acne product coverage, check out part one on topical creams below! And if you need any help choosing Japanese anti-acne products or any other item from Japan, get in touch with us any time at Wonect.com!
[2019 Anti-Acne Guide] Japanese Acne Treatments: Brands, Active Ingredients, and How to Choose!