Best Japanese Cherry Blossom Cosmetics for Spring 2020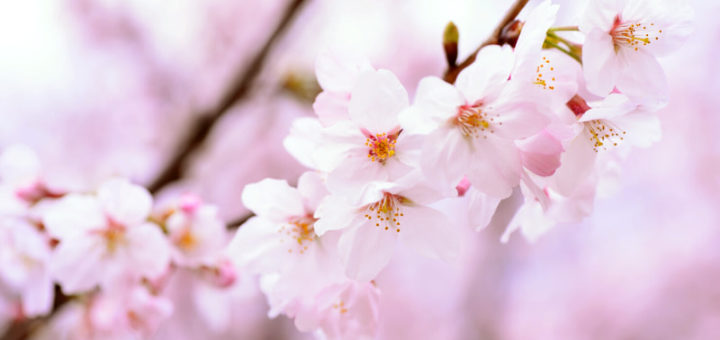 Spring is in the air! And in Japan, spring is particularly special thanks to sakura (cherry blossoms). The best thing about sakura is not only that we can see it in nature but we can also enjoy their goodness in our own home with the wide array of special edition sakura products on the market.
However, although most of us are excited for the warm spring weather to come, spring does have a dark side. As spring approaches, the change in temperature, sun exposure, and other external factors can wreak havoc on our skin and hair! So, to ensure that you're not only feeling good but also looking good this season, I've gathered some recommended items to help you prep your skin in advance and avoid the dark side of this beautiful season! So, without further ado, let's take a look at what spring 2020 has in store for us!
🌸

Fancl Mild Cleansing Oil

🌸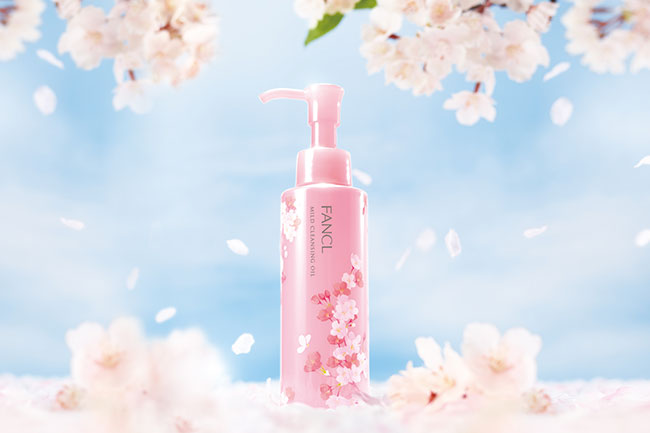 Preparing your skin for spring starts with starts with cleansing. Fancl, one of the most popular Japanese skin care brands, is celebrating their 40th anniversary with a cherry blossom limited edition oil cleanser. It's a mild cleanser that is perfect for skin that gets extra sensitive skin during the changing season.
Fancl's mild cleansing oil formula gently removes makeup and roughness without any friction, leaving skin super smooth! And although it is mild, it does do a great job of removing impurities!  It even works incredibly on water proof makeup and eyelash extensions – no rubbing necessary!
But, how is this possible with no rubbing at all?
Fancl's oil cleansing formula creates a soft oil cushion which allows you to wash off dirt while protecting your skin! In addition, it helps maintain skin health and prevents and relieves irritation.
So if your priority this season is healthy clear skin, reach for Fancl's oil cleanser, it will give you perfectly smooth skin that is sure to bring out your spring makeup! But then again, you may not even need the makeup!
Also check out Fancl's limited addition cherry blossom designed face wash powder. It's offered in a limited edition set including a pretty heart-shaped cleansing pad!
Check out Fancl Products Here!
---
🌸

Saborino

🌸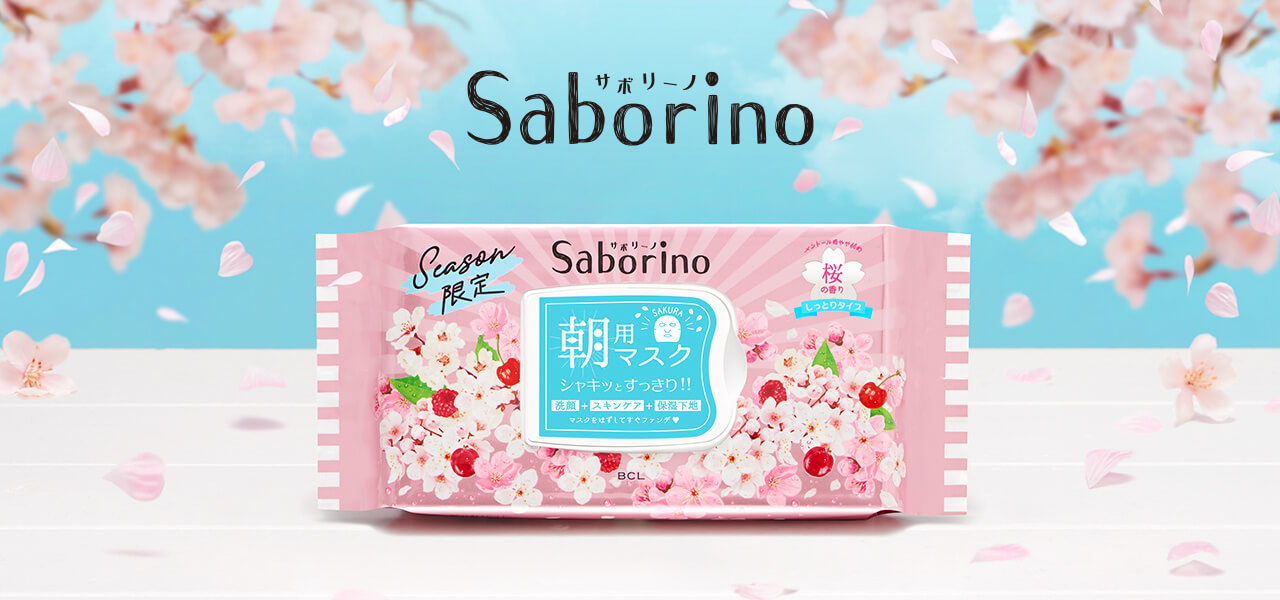 Start off your day with the soft sweet air of spring! Saborino's cherry blossom scented morning face mask is an easy option for all the busy bees! It's an all-in-one face mask that you can just apply when you wake up, while you're still in bed! Cleansing, conditioning and moisturizing is complete in just 60 seconds!
As far as the formula, Saborino's original moisturizing mask formula is enriched with Japanese Yoshino cherry leaf extract and cherry blossom extract which deeply moisturize the skin – especially sensitive skin! After moisturizing, it tightens pores, sealing in the moisture, making skin moisturized and fresh all day long! It even contains a tad bit of menthol that will liven you up gently when you're feeling a little groggy!
Check out Saborino products here!
---
🌸

Diane Perfect Beauty

🌸

Diane Perfect Beauty has launched their new Miracle You Sakura Damage Repair Shampoo and Conditioner. This damage repair duo  targets any damage your hair may have faced during the winter months. In addition, it helps to prevent any damage that can occur during the change of season. The new pretty pink packaging and cherry blossom scents with vanilla, cedar wood and floral accents leave you feeling super feminine!
The shampoo and treatment is formulated with Diane Beauty's special "shiny keratin" which is a type of keratin that is similar to the keratin that the hair natural produces. This treatment leaves hair looking radiantly shiny and beautiful like cherry blossoms in full bloom!
They contain a sakura yeast blend consisting of moisturizing double-flowered sakura and sake lees, that nourish and freshen the scalp, peony flower extract, which targets dryness due to sun damage, and a miracle oil triple repair formula contains deep repairing organic ghee oil which leaves hair supple down to the tips!
This formula  intensively repairs deep into the hair shaft whilst taming the hair by coating split ends, leaving hair super smooth! It provides damage repair for all hair types including color-treated, permed, and curly hair types.
Specifically for all the color-treated hair types out there, this color keep formula makes maintains hair shine after coloring, protects the hair from external damage and keeps hair color from fading. And it does all this along with a heavenly scent of cherry blossoms! What a dream!
---
🌸

Skinvill
🌸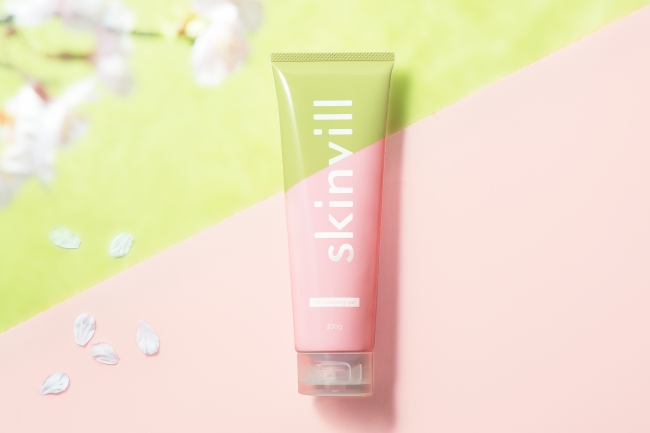 Get your skin ready for spring by basking in a gentle floral green scents! Inspired by the Japanese symbol for Spring, sakura, and traditional Uji matcha(green tea) Skinvill introduces the new Hot Cleansing Gel B! It's an 8 in 1 hot cleansing gel!
This cleansing gel is formulated with beautifying and pore tightening Uji green tea accompanied by 4 types of cherry blossoms, including Yoshino cherry blossoms which are known to prevent breakouts! Plus, it contains 7 types of fruit juices that beautify the skin by removing dead skin cells that accumulate during the winter months. By targeting skin issues unique to the spring season, this gel will leave you with healthy beautiful skin!
---
🌸

Botanist Spring Series

🌸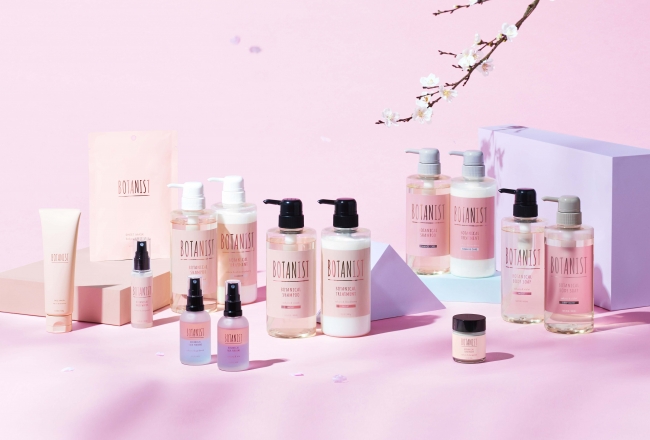 Botanist has a lot to offer this Spring. Their spring limited edition collection includes various items such as shampoos, treatments, body soaps, a face wash and even a sheet mask! Plus, customers have 3 types of shampoos and treatments and 2 types of body soaps to choose from! Let's take a look at the wide array of Botanist cherry blossom options!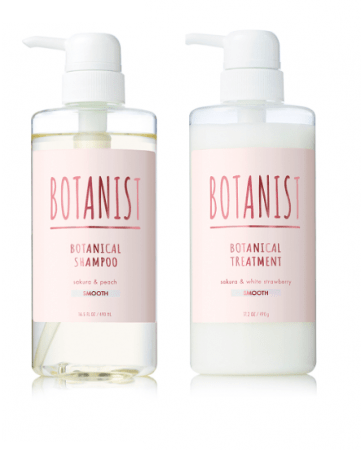 Choose from 3 effects – Moist, Smooth, and Damage Care. All 3 types of shampoos and treatments contain 3 types of cherry blossom extracts leaving hair moisturized, shiny and beautiful. We also have lots of scents to choose from! For instance, the smooth type shampoo and treatment (photo above), come in sakura & peach and sakura & white strawberry scents! Fruity and floral – what a luscious combination!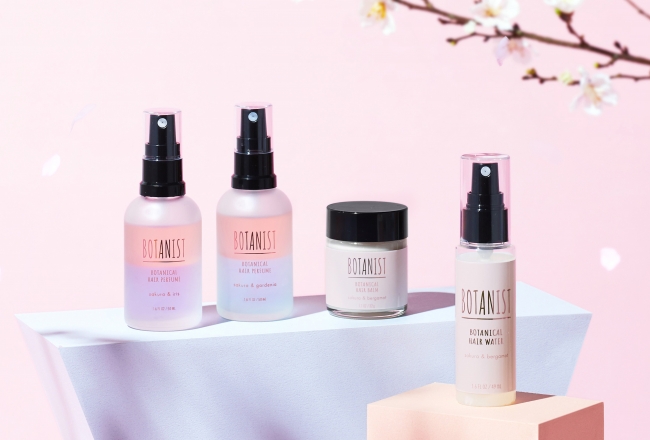 Botanical Hair Perfumes
Botanist has introduced 2 hair perfumes with 2 different cherry blossom scents, sakura & iris and sakura & gardenia. This sakura and gardenia scented perfume, in particular, was inspired by the rare gardenia flower that can only be secured once every few years. Unfortunately, it will be sold in limited quantity, so grab yours while you can!
Botanical Hair Balm
Botanical Hair Balm is an oil based balm that coats the hair, revealing a wet look that is unaffected by any weather conditions such as humidity or dryness. In addition, it intensely repairs the ends of the hair. With floral cherry blossom accents and citrusy bergamot, this balm will keep your hair looking and smelling sweet!
Botanical Hair Water
Clad you hair with moisture, shine, and the scent of cherry blossoms! Botanical Hair Water is a moisturizing layered hair mist containing various nourishing oils. Shake and use to coat the hair with oil and water without destroying your hairstyle. It also protects your hair from pollen!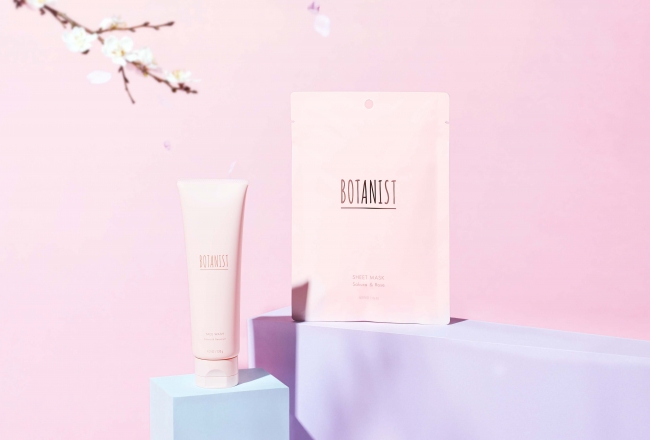 Face Wash
With a gentle aroma of sakura and geranium, this face wash is perfectly formulated for skin that gets extra sensitive in the spring time. It gently removes dead skin cells and pollen.
Spring Sheet Mask
Relax and finish off your day with a face mask! This sheet mask contains 1 whole bottle of beauty serum in each sheet! Its blossom blend formula evens out skin texture. Its beauty serum formula makes the skin soft, deeply moisturizes, and leaves skin vibrant.
And this is not everything! There's more products in this spring series such as a body soap moisturizes and repairs hair damage due to extreme changes in temperature, UV rays and pollen! Overall, it looks like Botanist has an option for everyone this spring!