Hadabisei 3D Sheet Masks Review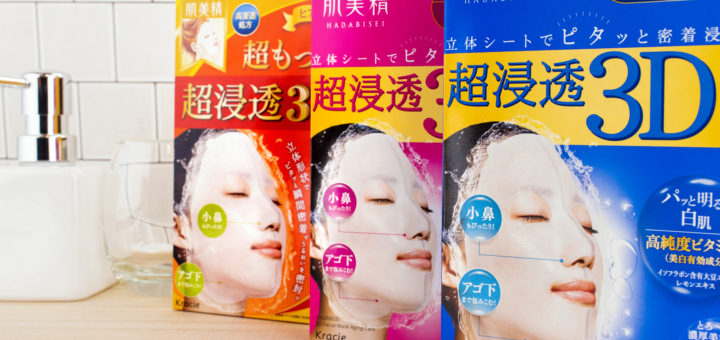 When shopping in a Japanese drug/cosmetics shop, Hababisei 3D sheet masks are one product you definitely can't miss. Notable for their great design and high quality beauty formula, Hadabisei 3D sheet masks are one of the most popular sheet masks sold in Japan!
Designed to adjust to the undulations of any face shape, they easily fit and stay on the face without slipping! Hadabisei formula is geared toward enhancing the texture and appearance of the skin. Plus, all of the masks in the 3D Mask series contain a special formula that enhances permeation of several nourishing ingredients into the skin.
As they come in 3 different varieties (and in three bold colors) I couldn't help but try all three! So let's check out which mask suited my skin and which may be best for you!
---
Super Supple
3D Sheet Masks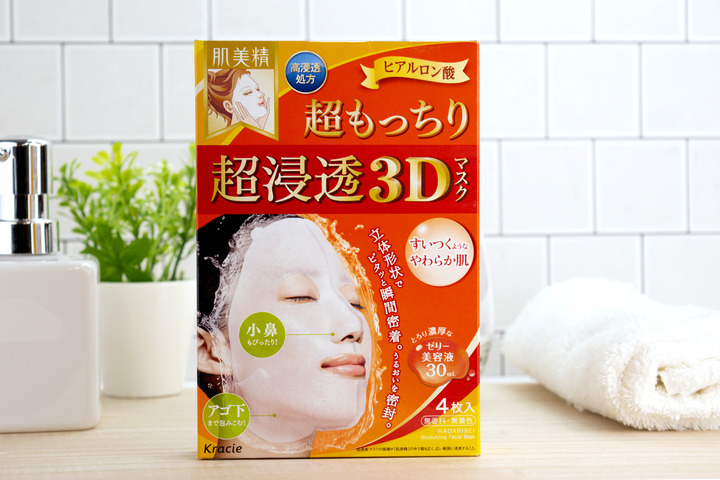 Super Supple Formula
hyaluronic acid
lemon extract
CHD (cyclohexane-1,4-dicarboxylic acid bisethoxydiglycol)
Formulated with hyaluronic acid, this mask moisturizes and makes your skin super supple! As many of you may already know, hyaluronic acid provides intense hydration. It rejuvenates the skin and strengthens the skin barrier which makes it a perfect ingredient to treat dry, acne prone and/or sensitive skin. This mask also contains lemon extract which softens the skin and removes dead skin cells. The combination of lemon extract and the deep permeation enhancer, CHD, enables the hyaluronic acid to seep even deeper into the skin!
Impressions
This was the first mask I decided to try because my skin can be sensitive and rough at times. Plus, I love the idea of having super soft skin!
I applied the mask before bed and left it for 15 minutes as directed for all of the masks in the Hadabisei 3D mask series . It was very easy to put on my face because the external layer of the mask has a protruding line that makes it easy to grip the mask and attach the face. I noticed that unlike most other sheet masks, Hababisei 3D sheet masks go all the way down the chin to the beginning of the neckline. This is great because I'm always a bit worried that my complexion under my chin is a bit different than my face.
My skin felt so soft the next morning. I was surprised. It felt almost like a baby's butt! In addition, my pores were less clogged and tighter.
Overall, I would recommend this mask for anyone who wishes to treat rough skin, clogged pores, and/or soften their skin.
---
Anti Aging Collagen 3D Sheet Masks
Anti Aging Collagen Formula
collagen
fermented rice extract
For anyone desiring or more firm, bright, clear, moisturized and even textured skin, Hadabisei's Anti Aging Collagen 3D Mask seems like a great option. Its key ingredient, collagen, is known to make skin appear firmer and more youthful. Its formula is packed with antioxidants from ingredients such as pearl barley extract which target signs of aging and guard the skin against free radicals. Moreover, it contains fermented rice extract which hydrates the skin as well as enhances permeation of the other ingredients into the skin.
Impressions
I tried this mask on a particularly cold night because it seems like a super moisturizing mask.
The next morning I observed the results. My skin was not particularly lacking firmness before using the mask so I did not notice any particular difference. I did notice however how silky smooth and moisturized my skin felt.
For my skin, I preferred the effect of the Supple Mask because it made my skin more soft. But if you're someone who would prefer a more silky smooth feeling and are looking to treat or prevent signs of aging such as lack of elasticity, fine lines, and/or wrinkles caused by dryness, I would recommend the Anti Aging Collagen 3D Mask.
---
Brightening/Whitening Anti-aging Type
3D Sheet Masks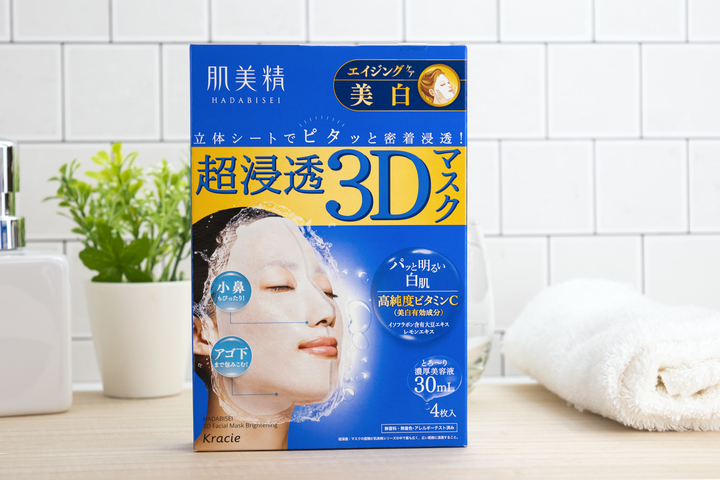 Formula
Vitamin C
Isoflabon (soybean) extract
CHD (cyclohexane-1,4-dicarboxylic acid bisethoxydiglycol)
Want brighter skin free of blemishes and dark spots? Opt for a vitamin C based mask like Hadabisei Brightening/Whitening Mask!  In contrast with the other two of the series, this mask is packed with vitamin C to help treat blemishes, dark spots and/or hyperpigmentation. As many of you may know, vitamin C is a key ingredient that is known to lighten skin by removing dead skin cells, leaving skin brighter. Hababisei Brightening/Whitening Mask includes the effects of vitamin C plus isoflabon (soybean extract) which improves uneven skin tone and reduces signs of aging. It is also an antioxidant that guards the skin against external factors, soothes and restores the skin.
Impressions
I suffer from hyperpigmentation and have sensitive skin that scars easily so I was excited to try this mask.
My results the next morning were promising. I noticed that some redness that was previously on my forehead had faded. My skin felt smooth and soft. As far as softness, compared to the Anti Aging Collagen mask and the Super Supple Mask, this mask made my skin feel softer than the Anti Aging Collagen did, but not as soft as the Super Supple Mask (as to be expected).
The main appeal of this mask is that targets blemishes yielding brighter skin so I expect that with continued use, dark spots/blemishes will fade. Since some redness did diminish after using it just once, this mask seems like a safe bet!
---
Recap
Hababisei 3D sheet masks are super easy to use because of their 3D design. Plus, they have great effects on the skin! Choose which of the Hababisei 3D sheet mask series is best for you!
Try the Super Supple Mask if you're looking for super soft hydrated skin. If anti-aging and moisturizing is a bigger concern for you, opt for the Anti Aging Collagen 3D Mask. If blemishes and/or dark spots have got you down, try the Brightening/Whitening Mask mask.