Richell Baby Cup Guide: How to Choose the Right Ritchell Baby Mug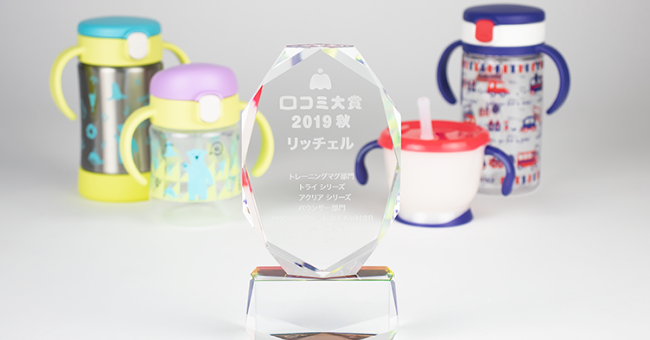 The Richell baby cup range was recently voted best training mug by Japanese mothers in the 2019 Mamari Customer Choice awards. But what makes this range of baby mugs such a staple in Japan? Parents love their stylish and sturdy, leak-free design, and how easy they are to clean. The fact that the series can be adapted to suit the developmental stage of each child and to encourage them to learn new motor skills is also a huge plus.
There are a lot of options in the Richell baby cup range. This makes it flexible, but requires a little research to choose what is best for you and your baby. In this article we will break down the types of Richell baby cups on the market and give you advice on which ones are best for what needs! Don't miss our FAQ section at the end, too.
---
What is the difference between the Richell Try and Aqulea series?
The Richell baby cup series comes in two lines: the Try and Aqulea series. You might wonder which one is best for your child. Here are the highlights for each range, based on reviews from Japanese parents.
Aqulea Series
Light, leakproof designs
Larger bottle option available for outings
Range of openings to choose from
Stylish, playful designs
Try Series 
Suitable for children as young as 5 months
Light, leakproof designs
Modular series with interchangeable lids and bottles
Insulated bottle option
Cute pastel designs
---
Richell Aqulea Baby Cup Series
The Richell Aqulea series is designed with flexibility in mind. Whether you're looking for slim bottle for short trips out or a larger option for a day outdoors, the Aqulea series has you covered. All items in this range feature lightweight, easy to clean designs, plus durable straws and attachments.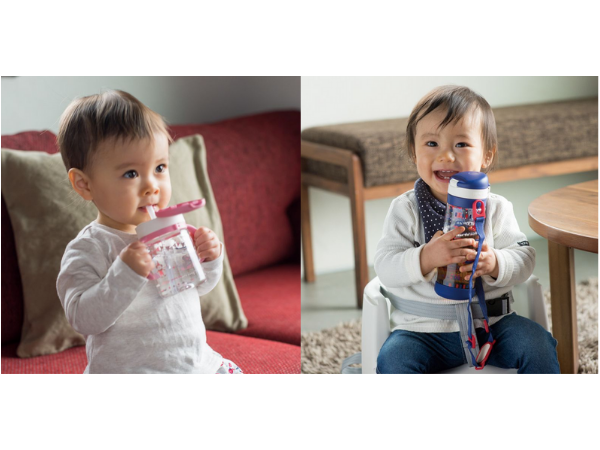 Aqulea Cup Mug Straw Type R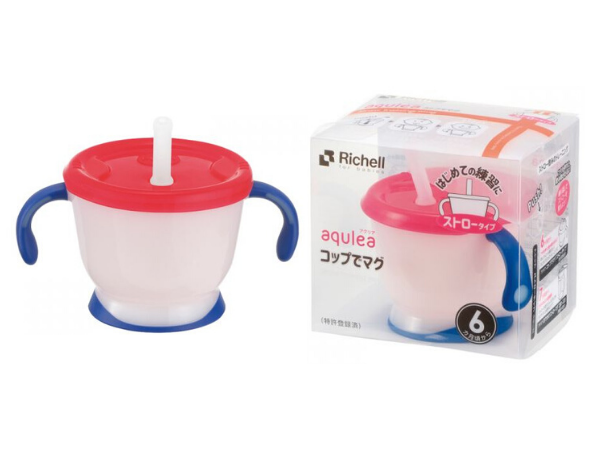 Best suited for ages 6 months to around 8 months, the Ritchell Aqulea Cup Mug Straw Type R is a good choice for any parent who wants to encourage their child to learn to drink from a straw. Parents can also push gently on the lid to send drink through the straw, helping baby understand how to drink. The lid can also be removed when baby is ready to learn how to hold and drink from a lidless cup.
---
Aqulea Packable Straw Mug R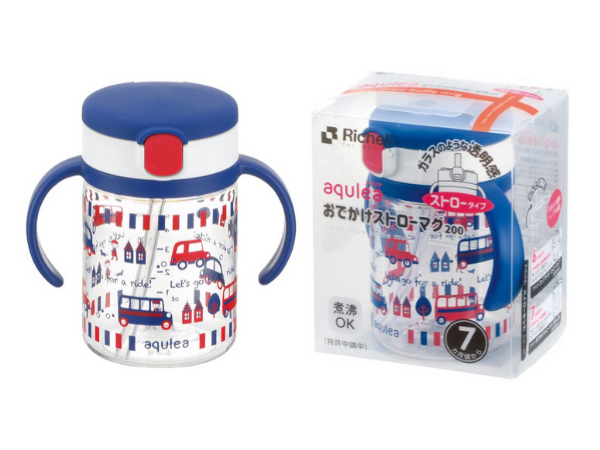 The Aqulea Packable Straw Mug is best for babies aged 7 months to 11 months. Its one-touch open, flip-type lid helps keep the straw area clean, and comes in three varieties: 200 mL, 320 mL, and 450 mL. The 450 mL type comes with a carry strap rather than a handle.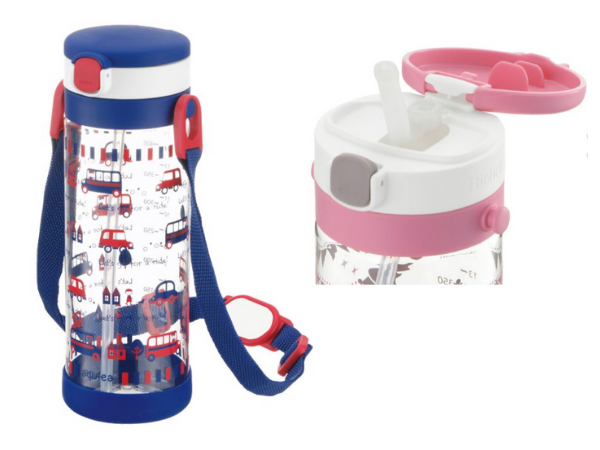 ---
Aqulea Cup to Mug Strawless Type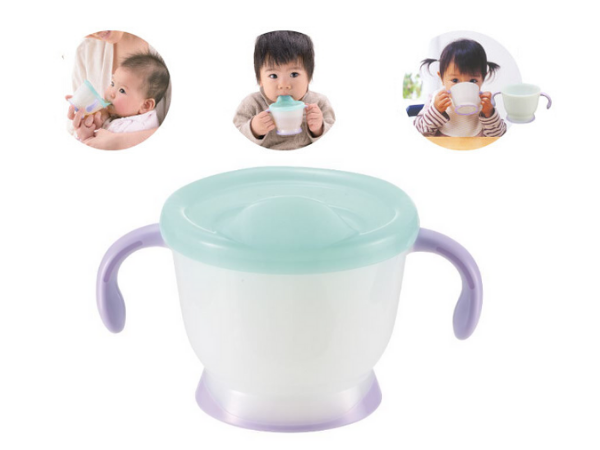 Best for babies 7 months to 10 months, the Aqulea Cup to Mug Strawless Type comes with a spoon-shaped opening that is familiar and easy for baby to adapt to. This type can be used in stages, from parent-assisted feeding all the way up to independently use as a cup.
---
Aqulea Packable Goku-Goku Mug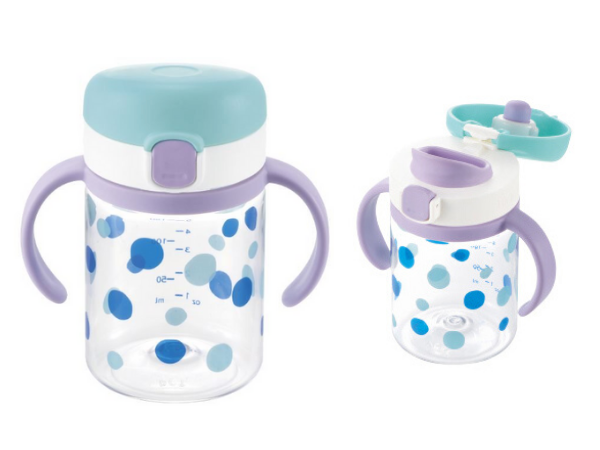 The Aqulea Packable Goku-Goku Mug is best for babies 8 months – 11 months. Available in sizes 200mL, 230mL, and 450 mL, this type is similar to the Aqulea Packable Straw Mug, but with a spout-style opening instead of a straw.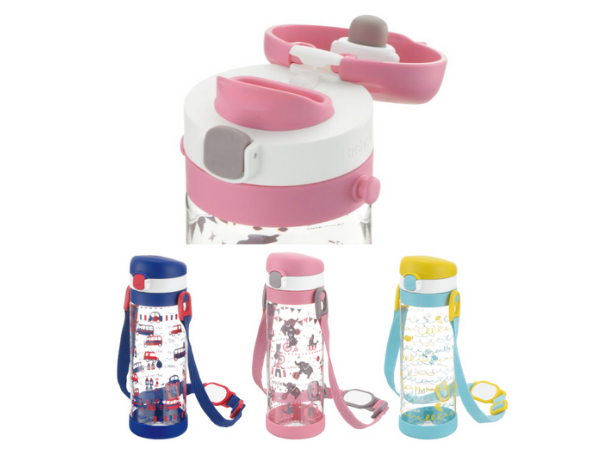 ---
Aqulea Slim Mug with Straw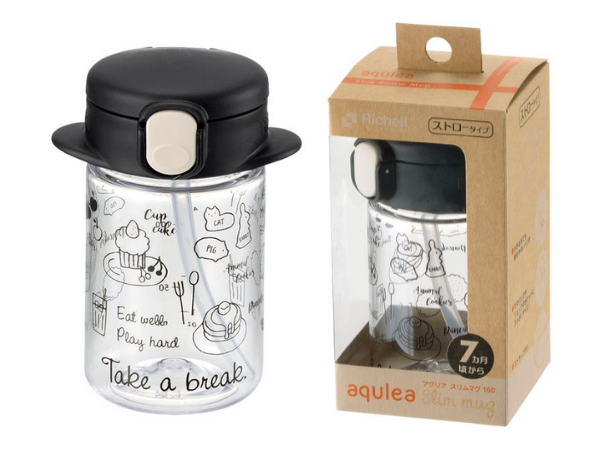 If you love packing light, consider the Aqulea Slim Mug with Straw. Designed with a sleek form factor without handles to add bulk, this bottle easily slips into any bag. It comes in two sizes: a portable 160mL or 240mL. Its slim design with easy to use straw makes it easy for little hands to use. This bottle is ideal for babies 7 to 11 months.
---
Richell Baby Cup Try Series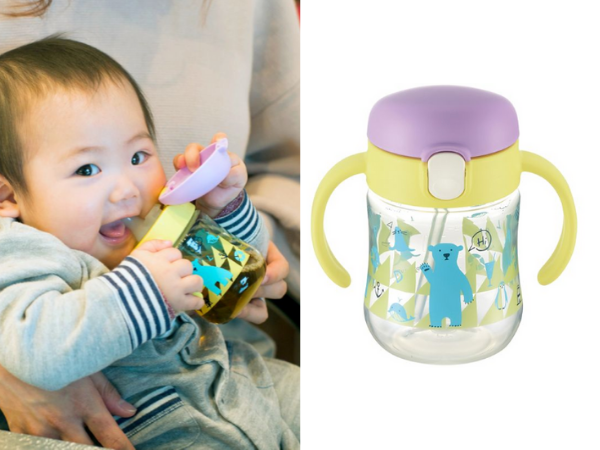 The Richell baby cup Try series is designed as a modular system: in other words, the lids and bottles in this series can all be swapped. This is great if you want to encourage baby to progress from drinking from spout to straw to drinking from a cup. All the cups in this series have a valve system that prevents spilling, even if baby drops or knocks it over.
---
Try Spout Mug

The Richell Try Spout Mug is suitable for babies as young as 5 months and up. The soft spout most closely resembles a baby bottle, making it an ideal step for any mothers wanting to move on from bottle feeding, or for anyone needing a step between bottle and straws.
---
Try Straw Mug 

The Richell Try Straw Mug is best for babies a little older than the spout, from 7 months and up. Like the other mugs, Richell's proprietary valve design helps prevent leaks.
---
Try Direct Drink Type

Suitable for 8 months and above, the Try Cup Mug is the perfect way to encourage baby to learn the motor skills needed to drink from a cup. The opening regulates the amount of liquid to avoid spilling or choking, and the angled handles are easy for small hands to grip. This Richell baby cup is a great step-up tool to teach your child to drink independently.
---
Try Insulated Bottle 

In warm months, this vacuum sealed insulated bottle is a great way to ensure liquids stay cool and refreshing. In cooler months, it can keep drinks warm. This bottle is compatible with all three lid types: spout, straw, or cup.
---
Try Step Up Set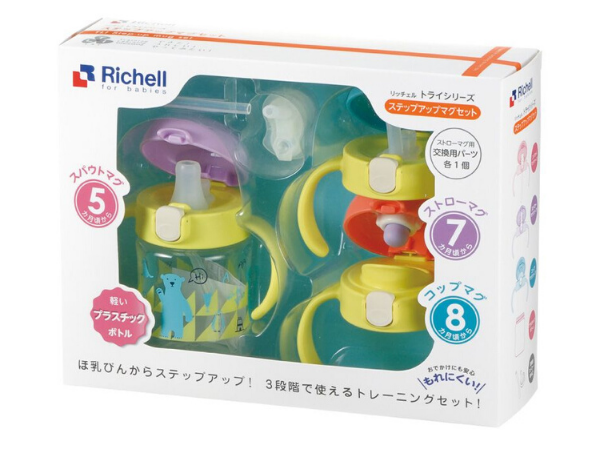 If you are shopping for your first Richell baby cup, consider the Richell Try Step Up Set. This set comes with a standard, lightweight Try cup, plus the full set of interchangeable lids that will take baby from spout drinking at five months all the way to the more advanced direct drink lid. Having this set at home means you're able to encourage baby to develop their skills as soon as you can see they're ready.
---
How to Choose a Richell Baby Cup
I want a leak-proof bottle
All Richell baby mugs have a proprietary valve design to prevent leaks.
I want a bottle that's easy to clean
All Richell baby mugs are created with a simple design to make them as easy as possible to clean.
I want to move on from bottle feeding as quickly as possible
We recommend the Try Mug Spout type, suitable for babies ages 5 months and up!
I want to encourage my child to drink on their own, but they're a bit young to manage a straw…
The Try Spout Mug is easy to drink from and designed to dispense just the right amount of drink at a time, making it ideal for baby to practice drinking on their own with.
I'd like to help my baby practice skills like drinking and grasping objects
The Try Mug series has a curved, one-piece handle that helps practice these motor skills.
I want to help my child stay cool on hot days
The stainless steel Try Mug Series features an insulated bottle. This bottle is compatible with the Step Up Set that allows you to go from a spout, to straw, to cup, or with any other cups in the Try series.
I want to my baby to learn how to drink from a straw
The Aqulea Cup Mug Straw Type R lets you teach your baby how to drink with a straw with its unique lid.
I just want something portable!
The Aqulea Slim Mug is perfectly-sized for slipping into your diaper bag or backpack without adding bulk.
---
Richell Mugs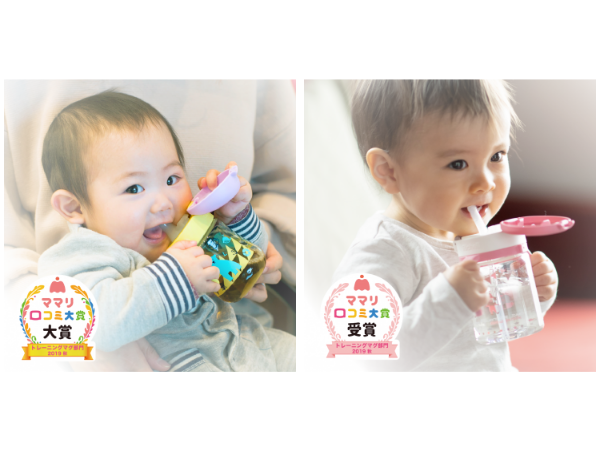 We hope this guide to Richell Mugs helps you choose the perfect type for your baby! If you have any questions, get in touch with us at Wonect.com and we would be happy to help.
Shop Japanese baby products at Wonect!
If you're interested in Japanese baby products, check out our guide to the best Japanese baby formula: