The Best Japanese Baby Formula as Chosen by Mothers!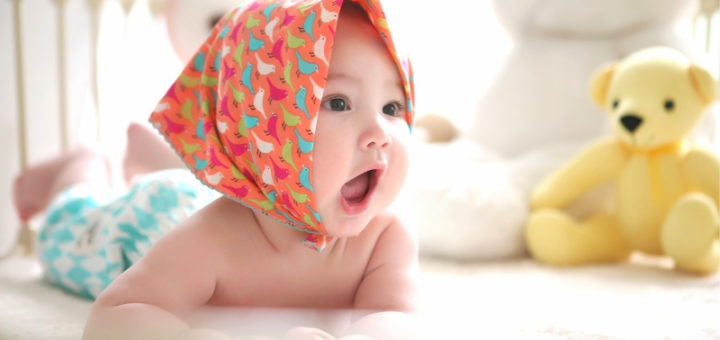 There are quite a few advantages to buying Japanese baby formula. The first is a big reason why moms and dads love to stock up on formula when they travel to Japan: it's high quality!
We all know that Japanese research is world class, and every company is competing to create formulas that most perfectly mimic breast milk, giving us many high quality choices to choose from. Plus, with a number of recent baby food safety scares around the world, Japan's strict and transparent safety standards offer peace of mind to many new and expectant parents.
Another big benefit to buying Japanese baby formula is that the legendary Japanese attention to detail means that the packaging is as mess-free and convenient as possible.
Finally, Japanese baby formula can be very cost effective. In fact, in many countries it's can be cheaper to buy baby formula straight from Japan than it is to buy a comparable product in store.
But what type is right for your baby? Read on to find out more about the bestselling and highest reviewed Japanese baby formula brands.
---
Meiji Hohoemi Powder: For newborns to 1 year olds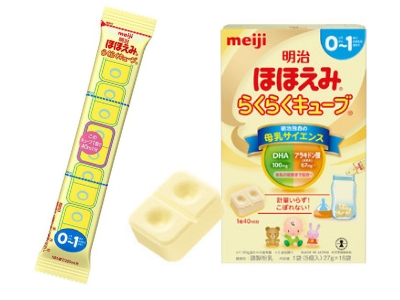 Key features
Designed based on a large scale study of of 4,000 samples of breast-milk and growth data of 200,000 babies

The only Japanese baby formula formulated with DHA and ARA in similar quantities to mother's milk

Available in easy, quick-dissolve cubes  
Designed for babies from newborn to one year of age, the popular Meiji Hohomei formula comes in two forms: a powdered can type and a handy "RakuRaku" cube type.
According to a 2018 survey, the Meiji Hohoemi RakuRaku cubes were the most popular Japanese baby formula, and it's easy to see why. "Raku-raku* is a Japanese word that means something like "super simple", and just like the name implies, these individually packaged cubes are sanitary and great for outings and travel. Every detail of the packaging is designed to be as easy as possible– even the box itself can be opened one-handed.
Plus, unlike power type formula, you can see at a glance how many cubes you've added– no middle of the night confusion when making up a bottle.
Each sachet of five cubes are individually packaged, so you only open what you are planning to use. This gives the boxes a longer storage life than canned formula, which must be used up completely within a month of opening. If you are supplementing with formula, this can be very economical! Their hygienic packaging and long shelf life also make them an excellent choice for your emergency kit.
---
Meiji Step: For 1-3 year olds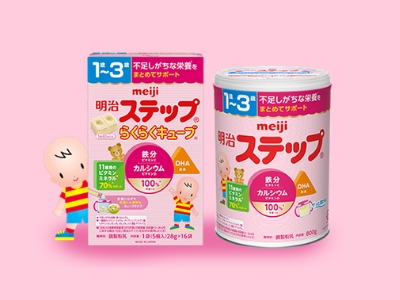 Key features
Provides 100% of recommended iron and calcium for toddlers

Provides 70% of the RDI for 15 types of essential nutrients

Contains DHA, a growth support lipid not found in cows milk  
Meiji Step is a follow-on baby formula for 1-3 year olds, and is the best selling toddler formula in Japan. While not all parents choose to supplement their toddler's diet with formula, there are a number of good reasons to consider it. Firstly, studies have shown that toddlers tend to be deficient in a number of key nutrients, particularly iron and calcium. A 2015 study found that 50% of toddlers between 1-2 years of age were deficient in these nutrients.
In fact, because toddlers can be picky and messy eaters, it can be very hard to know that your baby is getting all the nutrients they need for healthy growth. Supplementing your toddler's diet with Meiji Step gives you the peace of mind that your baby is getting a balanced blend of essential nutrients every day.
Just like Meiji Hohoemi, Meiji Step comes in canned powder form and with handy RakuRaku cubes.
---
Snow Beanstalk Sukoyaka: For newborns to 1 year olds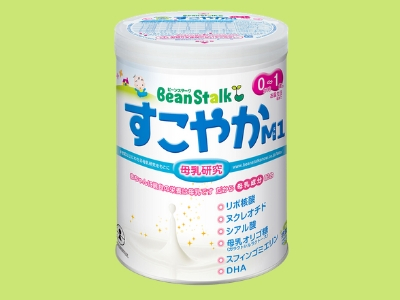 Key features
Contains ribonucleic acid, sialic acid, DHA, nucleotide, and bifidobacterium

Contains a combination of vitamins and minerals based on the makeup of breast milk, with appropriate amounts of the particularly important vitamin K and beta carotene.

Prebiotic oligosaccharides helps the growth of bifidobacterium for digestive health

Has an easily-digested milk formula concentration of 13%, similar to breastmilk

Antibacterial coating ensures there is no transfer of germs from the can to baby's bottle when mixing formula
Snow Beanstalk Sukoyaka baby formula is often used in Japanese maternity wards as a supplement or replacement for breast milk.
Sukoyaka was born from research into the makeup of breast milk, which is replicated as closely as possible in this formula. It is designed to be not too sweet, ensuring that the baby doesn't develop a preference. This is a very important factor to consider for parents who are supplementing breast milk with formula.
---
Morinaga E-Akachan (E-Baby): For newborns to 1 year olds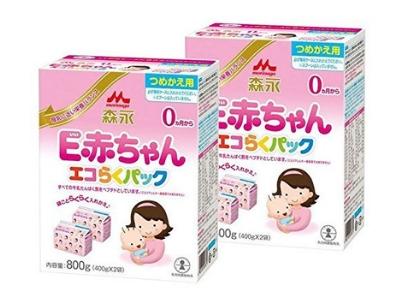 Key features
Easily-digested peptide-based formula is ideal for babies with sensitive stomachs

Contains a nutrient profile close to mothers milk, including DHA and ARA

Contains lactoferrin, a protein found in breast milk that protects baby from illness with its anti-bacterial, anti-viral, and anti-fungal properties

Formulated with three types of oligosaccharide prebiotics to maintain healthy digestive flora

Comes in compact, eco-friendly, and easy to use refill set
Morinaga E-Akachan is designed specifically for ease of digestion, and is best for babies who may have issues digesting cows milk. Cows milk is a common ingredient in baby formula, but unlike breastmilk, the proteins can be hard for baby to digest, and run the risk of triggering an allergic response. Recent research has shown that peptides, which are short chains of amino acids, are less likely to trigger allergic or digestive issues than longer protein chains.
This research into milk peptides has won Morinaga a Science and Technology award from the Japanese Ministry of Education, Culture, Sports, Science and Technology (phew!) for this groundbreaking research in the field of allergy prevention.
The Eco-Raku pack has a number of benefits. While Japanese baby formula often comes in 800g cans that must be used in a month, the Eco-Raku pack instead comes with two 400g individually packaged portions. This means a smaller container on your bench, a less bulky jar to try and reach into, and more hygienic packaging. This container has a cleverly designed bar to quickly help you level-off the powder, reducing spillage and mess. Manufacturing the Eco-Raku pack results in 62% less CO2 emissions than the regular regular can type.
---
Morinaga Hagukumi: For newborns to 1 year olds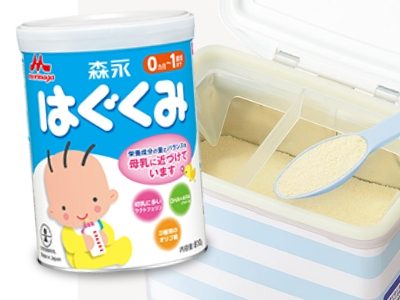 Morinaga Hagukumi is very similar Morinaga E-Akachan in terms of nutritional profile. The main difference is that it contains a mix of peptides and regular milk proteins. If your child has no issues with lactose intolerance or milk allergies, this is a more affordable option. Morinaga Hagukumi is available in the Eco-Raku pack with refills. You can also buy Hagukumi in pre-portioned sachets or a 800g can.
---
Wakodo HaiHai: For newborns to 1 year olds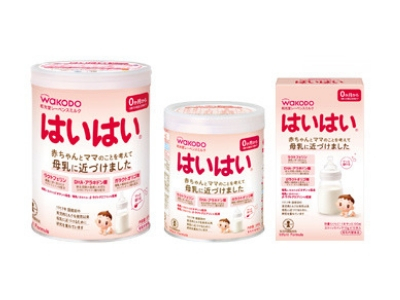 Key features
Contains DHA and AHA in a 2:1 ratio that mimics breastmilk

Contains approximately the same sugar and protein to casein ratio as breastmilk

Reduced beta-lactoglobulin, a hard to digest protein found in cows milk

Handy lid design that allows you to quickly level off the measuring spoon

Quick-dissolve powder, low-clumping formula  

Resists foaming when shaken
Wakodo HaiHai is a very popular baby formula that contains AHA, DHA, the probiotic galacto-oligosaccharides, and lactoferrin, a protective protein found in breastmilk.
This cleverly designed can has fold-back lid with a built in ledge for leveling-off the measuring spoon. Wakodo HaiHai is also available in a handy pre-measured sachet type.
---
Wakodo GunGun: From 9 months to 3 years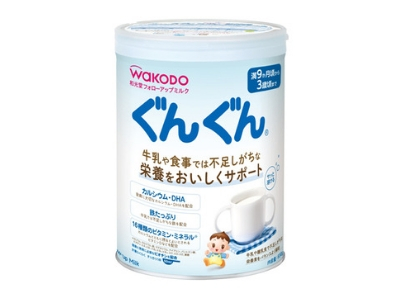 Key features
Dissolves quickly

A handy and more nutritious replacement for cows milk

Use as a replacement for milk in recipes 
Wakodo GunGun is a follow-on formula for babies 9 months to 3 years. While its name sounds a little unfortunate in English, gungun is a Japanese onomatopoeia word for gulping a drink down. This formula supplements the iron and calcium that tends to be deficient in toddlers. It's also fortified with DHA, and 16 types of essential vitamins and minerals. In fact, it contains as much iron as 500g of every toddler's favorite food, boiled spinach. If you want to know your baby has her nutritional bases covered, this is a great choice.
---
Icreo Balance Milk: For newborns to 1 year olds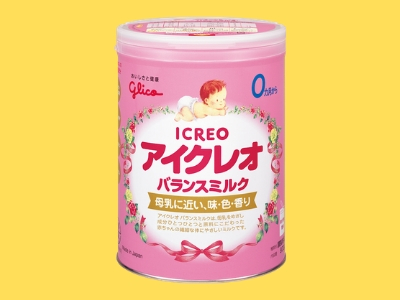 Key features
Features a similar taste, color, and scent of breast milk

Includes the same amount of beta-carotene found in colostrum

Formulated with a careful balance of salts for optimal hydration

The first Japanese brand to includes five types of nucleotides as found in breastmilk

Contains alpha-linolenic acid, an essential fatty acid found in breast milk that the body cannot produce on its own
Icreo Balance Milk is a great choice for those who are combination feeding or need to supplement breast milk occasionally. Because it is designed to be very close to breast milk in every respect, choosing this baby formula means you can avoid the risk of your baby developing a preference to one or the other.
Its color, too, reflects that Icreo has achieved a very similar ingredient formulation to breastmilk. Its yellowish tone is lent by beta-carotene, an important nutrient found in colostrum. This formula has been designed carefully to replicate the same balance of fatty acids, salts, and other essential ingredients as breast milk.
Icreo Balance Milk comes in 800g cans with an easy to use lid that helps you level off the spoon. If you're on the go, it's also available in pre-measured sachets.
---
Where to buy Japanese baby formula?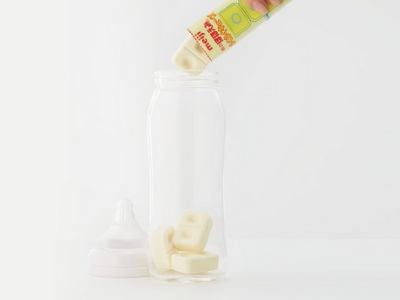 Choosing the right milk for your baby can involve a bit of research, but I hope this breakdown of some of the most popular Japanese baby formula brands helps you as you make a choice!
If you're looking for Japanese baby formula, we're always here to help! If you need ingredients lists or any other details about these products, get in touch with us in the comments or over on our live chat on Wonect.com!