What Svelty Diet and Enzyme Supplement Should I Buy for Weight Loss?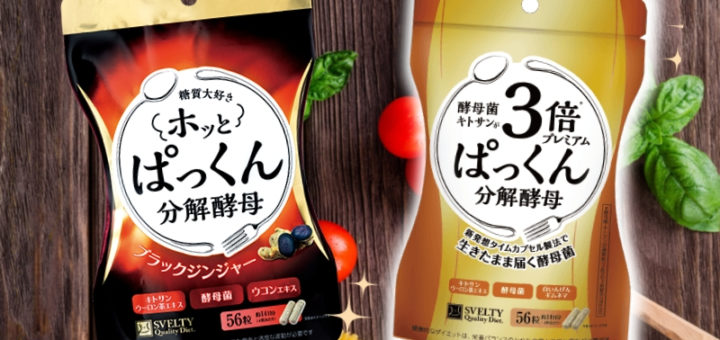 Do you love to eat, but worry about the calories and carbs? For most of us, that isn't really a question! For many Japanese dieters, Svelty weight loss aids have been the answer.
At Wonect, we sometimes have questions from customers asking which Svelty supplement they should choose. It's true that every Svelty product takes a slightly different approach to weight loss. Plus, they're all jam-packed with so many different types of yeasts, enzymes, bacteria, and herbs, it can be hard to know which one will work best for you. 
The simple answer is that you can pretty safely choose one or two that fits with your lifestyle. If you want to take a pill and enjoy a cheat meal guilt free, check out the Svelty Pakkun Yeast series. To help you choose, read on for our full guide to the entire Svelty diet range!
---
For weight loss | Svelty Pakkun Yeast (Regular and premium)
Svelty's biggest hit products are almost certainly their Pakkun series. Why? Well, Svelty Pakkun Yeast is a weight loss supplement lets you enjoy your favorite foods without guilt. In fact, the word pakkun comes from the onomatopoeic worrd paku-paku, which is the sound of someone gobbling something down. (It's also where Pacman's name came from!) 
These supplements comes in two types: a regular version, and a more potent premium version.
But what are the weight loss benefits of taking live yeast? In short, the live yeast microorganisms in Svelty Pakkun are dormant until you take them. Then, they are activated in the stomach by warm temperatures and the presence of food.  And luckily for us, yeast loves to eat carbs! These microorganisms feast on the sugar and other carbohydrates you've eaten before they can be absorbed into the body.
Svelty Pakkun Yeast also contains chitosan, which has been used in America as a weight loss aid for over 10 years. It also includes six types of tried and tested weight loss herbs: white kidney bean, gymnema sylvestra, tamarind, salacia, oolong tea, and candle bush extracts.
You might be wondering what the difference is between the regular Svelty Pakkun Yeast supplements and the premium version. The premium version contains three times the amount of yeast and chitosan, plus a "time capsule" tablet that perfectly times the release of the yeast for best weight loss results.
---
For weight loss and energy | Svelty Hot Pakkun Yeast
OK, so the difference between the regular and premium version of Pakkun Yeast is not that hard to understand! But what on earth is the hot version?
Svelty Hot Pakkun Yeast combines the weight loss benefits of the regular versions with energy and health boosting black ginger. This version is particularly recommend for those of us 30 and above who are struggling with our busy lifestyles. 
Native to Thailand, Black ginger has been used as a traditional medicine for centuries. Full of minerals, animo acids, and polyphenol, black ginger is being studied for its benefits on a wealth of health issues, including improving blood sugar, inflammation, and more. The hot version also includes weight loss extracts that include white kidney bean, gymnema sylvestra, turmeric, black pepper, and oolong tea.
---
To boost metabolism | Svelty Black Ginger
Svelty Black Ginger contains all the benefits of black ginger, plus fermented black garlic and onion, black pepper, and black vinegar. Yes, you might sense a certain color theme here!
These supplements also contain 5 types of metabolism-boosting ingredients: Piper longum, capsaicin, garcinia, caffeine, and l-carnitine. Plus, candle bush and senna help the digestive system.
These supplements are designed to help with weight loss, bloating and other digestive issues. They also help kickstart the body's metabolism, so if you are sensitive to cold, find yourself shivering in an air conditioned office, or notice that your hands and feet get cold too easily, this supplement can help!
---
For weight loss and general health | Svelty Premium Yeast + Enzyme 
We've covered Japanese enzyme supplements extensively here on Wonect.life, but Svelty Premium Yeast + Enzyme is hard to beat! These weight loss supplements contain a highly concentrated enzyme and fulvic acid blend, live yeast, and other nutrients to help with metabolism and digestion.
The enzymes in this supplement have been created from blend of 200 fermented fruits and vegetables. It also contains a Super Orient mix of 108 types of fermented fruits and vegetables.
Another special ingredient in this supplement is a newly-developed DNF-10™ yeast peptide. This ingredient is made from budding yeast extract, and has been studied to reduce our appetite and boost the effect of the enzymes in this supplement too!
---
A zero-effort superfood diet | Svelty Smart Green Juice
Drinking green juice derived from young barley grass, kale, and other green leafy vegetables is really popular in Japan. So, if you're going to do it, why not do it the smart way?
Svelty Smart Green Juice contains a tiny 9 calories, but in addition to a healthy dose of superfood young barley grass, it also contains enzymes derived from 120 types of fruits and vegetables, as much lactic acid bacteria as 5 tubs of yoghurt, and 16 types of fruit extracts.
On top of that, one glass gives you all the all the folic acid and vitamin B1, B2, B6, vitamin C you need each day, plus beauty-boosting camellia seed extract, hyaluronic acid, collagen, and placenta! 
---
Cut calories with no sacrifice | Svelty Shake Diet
Svelty Shake Diet is a meal replacement, vitamin supplement, and beauty supplement in one!
Formulated with collagen, royal jelly, hyaluronic acid, L-carnitine, these shakes also give you as much dietary fibre as two heads of lettuce and your daily dose of 11 types of vitamins. Each shake is just 190 calories when made with 200mL of whole milk, and you don't need a blender. Simply add milk and shake in a protein shaker!
Plus, unlike other diet shakes, the Svelty Shake Diet 12 pack comes in chocolate, strawberry, pineapple-peach, matcha, mango, and apple flavors. In other words, you're not going to get sick of them!
---
To supercharge your diet | Svelty Smart Bacteria 
Do you work hard to cut calories but the weight just doesn't come off? Or maybe recently you've been gaining weight and you're not sure why.
It could be an issue with the balance of bacteria in your stomach! We all know that the makeup of the microbiome in our gut varies from person to person, and that there is a difference between the microbiomes of those who are slim and those who gain weight more easily.
Recently, research has found that "B3 Bacteria" is one of the key differences between slim and obese people.
Svelty Smart Bacteria gives 10 servings of yoghurt's worth of smart lactic acid bacteria, plus catechin, the part of green tea that is known for its amazing health and weight loss benefits.
This supplement also contains range of additional diet supplements including aloe, sicklepod, mulberry leaf, fermented plant acids, linolic acid, and kombucha extracts.
---
Boost weight loss and heart health | Smart Bacteria + Grain Drink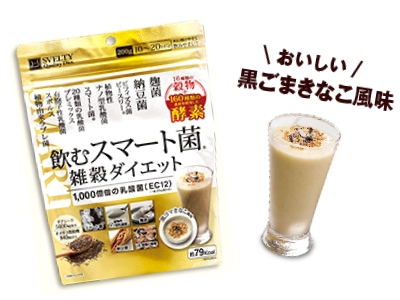 Just like the Smart Bacteria supplement, Svelty Smart Bacteria Drink gives you a huge dose of B3 bacteria plus additional complimentary strains that all work together to boost your gut health and aid weight loss. In fact, Smart Bacteria Drink contains 25 different strains of bacteria, including those found in yoghurt, kimchi, natto, miso, and other superfoods.
16 types of grain extracts help along the growth of this bacteria in your stomach. They also provides you with a rich source of minerals and a healthy amount of fibre, which is proven to reduce appetite, aid weight loss, and improve heart health.
This drink comes in a delicious black sesame and kinako flavor, and is only 80 calories a serve!
---
For PMS and body scent | Svelty Super Rose (Nonde Cho Rose)
Svelty Super Rose (Nonde Cho Rose) is a unique edible perfume supplement!
Formulated with prized damask rose oil, simply take this supplement and achieve a naturally pretty rose scent that radiates from your skin itself– no perfume required!
Evening Primrose Oil provides essential omega acids and has been used for years as a natural way to treat PMS symptoms and support women's health.
This supplement also contains flaxseed oil, which is an excellent source of omega 3s, and olive oil, which provides oleic acid, carotene, and polyphenol. All these oils work together to give your hair, nails, and skin the beautifully healthy look we're all after.
---
For dieting and easy digestion | Svelty Super Pretty (Nonde Cho Kirei)
The Svelty Nonde Cho Kirei series are detox supplements designed to ensure comfortable digestion and support your diet. To speak less euphemistically (so no one is caught out!), these are gentle laxatives.
The Nonde Cho Kirei contains ProFiber, which is made from sake lees that has gone through a two-stage fermentation process. In addition, traditional Japanese herbs such as fish mint (houttuynia cordata), mulberry leaf, senna, and aloe help detox the body. A dose of highly-concentrated EC-12 lactobacteria works to boost the digestion process.
Choose from a tablet version or a tea version to detox your body and improve your digestive comfort!
---
Have you tried a Svelty diet supplement?
The great thing about Svelty diet products is that they're not simply about losing weight at all costs. All of their supplements contain amazing health boosting superfoods that can improve your overall health and energy levels as you diet.
A big part of losing weight is learning to care for and respect your body, and whether it's improving your digestive health or gut microbiome, Svelty can really help!
So, if you gained a little weight over the Christmas period or are already flagging on your New Years resolutions, why not make things a little easier on yourself and give the Svelty range a try?