Nose Celebrity: A Revolution in Tissues!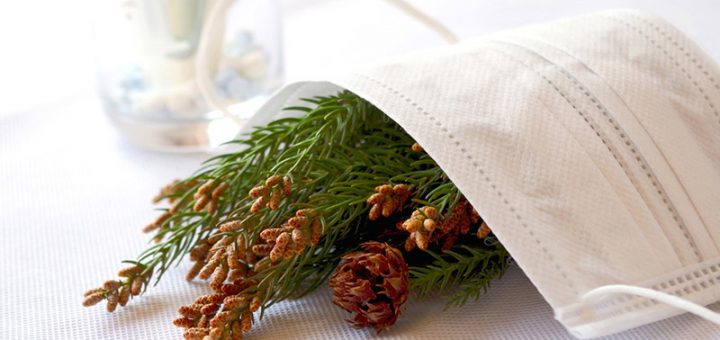 Recently I've been going to the dermatologist. Since winter my skin hasn't been feeling great, but it was something I could put up with, so I didn't go to see anyone about it.
But one day when I went out to look at the sakura, my t-zone became really red, to the point where I'm sure everyone must have noticed. So I finally went to the doctor, who said it was a pollen allergy like hay fever. I was then given an ointment and some medicine to take against the allergies. After about two weeks the irritation had calmed down, but it still wasn't looking completely normal.
It wasn't just my skin that was irritated – my nose felt runny and itchy. I was blowing my nose all the time so the area around it got all red. In the end my husband started saying I looked like Rudolph the reindeer! So after suffering through that… today, courtesy of my red nose, I introduce this to you: "Hana Sereb" or "Nose Celebrity".
Nepia Hana Sereb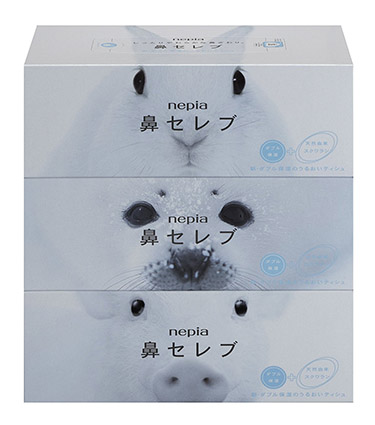 For people with delicate noses, or anyone suffering from hay fever or colds…
These tissues have double moisturising power (from natural glycerine and sorbitol) and natural squalene for a soft, moist feel. The tissues are really gentle so they don't make your nose red or painful.
Made from 100% fresh wood pulp.
The packaging is cute with a piglet, bunny and baby seal
Although these are tissues they contain cosmetic ingredients. They're really great when you have a runny nose. If you who want to avoid colds and hay fever in the first place, then I have something else to recommend!
Nepia Hana Sereb Surgical Mask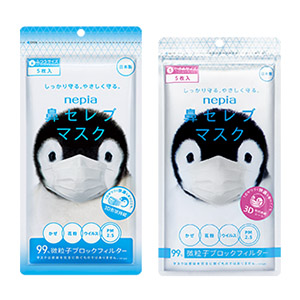 Feels comfortable throughout the whole day!
3D fitted shape, doesn't feel awkward when you put it on.
Has a microparticle filter, which blocks 99% of pollen, cold germs, viruses and PM2.5 particles. (Can't 100% guarantee prevention against infections.)
Glossy, silky outer layer.
Soft, comfortable inner layer.
The outside layer has a little penguin mark so you can tell which way round the mask should go.
(images via nepia.co.jp)
A little backstory: Japan's mask culture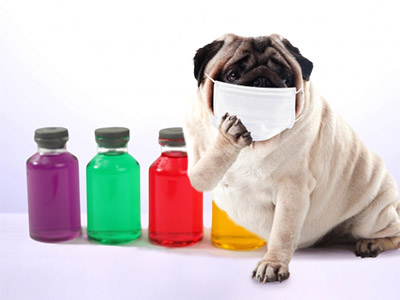 When people come to visit Japan, they usually notice that there are a lot of people wearing surgical masks. There are some Japanese people who will wear a mask the whole day, so one that's gentle on your skin like the Hana Sereb mask seems ideal for them.
Why do Japanese people wear masks so often? One reason is to protect themselves from germs or allergens. But another reason is for the sake of the people around them. They don't want to pass on germs by coughing or sneezing in front of others. Being considerate towards strangers and not causing them any inconvenience is an important aspect of Japanese culture.
Personally I really dislike wearing masks. So I only wear them when I have a cough and I have to get on the train or bus. But my husband and daughters who were born and raised in Japan wear them pretty often. Especially my daughters wear them to hide their face when they haven't had time to put on make-up! That's a common reason for Japanese women to use masks, actually. Did you know about this aspect of Japanese culture? Because of this trend for masks, there are a lot of very cute ones being sold. I'd like to introduce you to some another time.
Escaping the "Rudolph" look!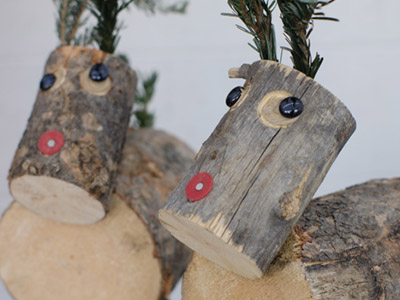 So! Because I don't like masks, I can only sit around wiping my runny nose. I try to do it as gently as I can using the Nepia tissues, but there's still a bit of redness. It is much better than using normal tissues, though. The Hana Sereb tissues don't get your hands wet, but they feel moist to the touch. The tissues are a little bit expensive, so as a housewife I try not to use too many. Although when I think about it, the prescription medicine is a lot more expensive!
I recommend these tissues if you want to take care of your nose. And for those of you who want to wear a mask, why not try this one out? I really love these tissues ♡♡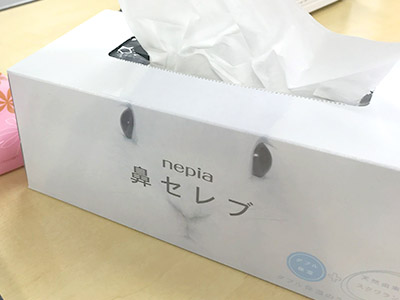 If you are looking for more interesting products, how about looking at last week's product on getting… pointier noses?! Or maybe you'll like to discover what hair colour "Romance Grey" is!
---