I Love Grey Hair, and You Should Too!
We've comed to the third article about grey hair, but I never asked, do you like grey hair? Because I do.
In Japan, we have a phrase called "romance grey", which refers to the stylish look with silver grey hair colour for middle- and old-aged men. To be honest, I really like the silver and white mix. My husband, who is the same age as me, has grey hair too. He was thinking of hair colouring, but I stopped him. He might think that I want to make fun of him, but I really do favour that silvery grey look. His grey hair is still not too obvious, so I'm introducing some products to increase the amount of grey hair.
---
Men's Bigen Grey Hair
This helps turns your white hair into a natural grey! You might think there's been an increase in white hair, but it might seem unnatural to dye the hair black. Or maybe you want you have a neater look for the year. Or perhaps even you want to ease the image of having white hair. Men's Bigen Grey Hair is made for you. Therefore, this product is made for colouring white hair.
Features
1) Easy to Use: Both creams will be dispensed at the same time.
2) Uses 4APE (Sulfuric acid 2,2 '- [(4-aminophenyl) imino] bisethanol) to suppress the redness that comes when colour fades.
3) Selected treatment ingredients to minimise damage to hair.
Hair strand protection: Aloe extract, vitamin E
Moisturising ingredients: Seaweed extract, marine collagen, hyaluronic acid
4) The bottle shows how much is leftover.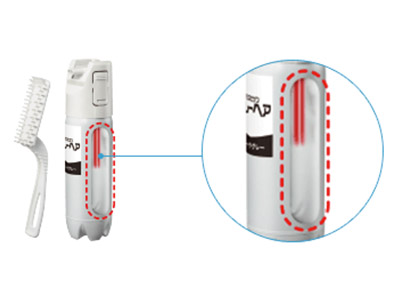 5) With slight fresh citrus scent.
How to use
1) Prepare the cream: Squeeze the cream onto the provided brush.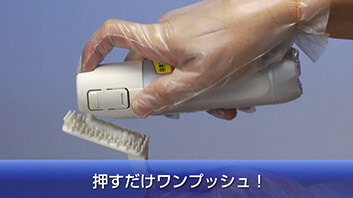 2) Apply onto hair: Apply evenly onto the areas we are concerned with so the dye job will be consistent. Wait for five minutes (if more than five minutes, there is a chance your colour may turn black).
3) Wash off: Give the hair a good rinse with shampoos and rinses.
---
Types of Men's Bigen Grey Hair
Natural Grey (From white to a light grey)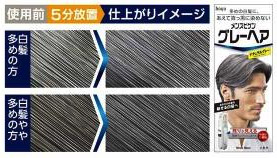 Dark Grey (From white to a thicker grey)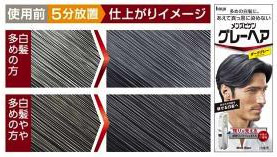 (Images via mensbigen.jp)
Point to note
This product is for use on white hair. If you only have a few strands of white hair, then your hair will look black all around. Also, the effect is hard to see on black hair, thus not recommended for such users.
Isn't the idea of leaving grey hair on us interesting? It is better to leave it as it is now, isn't it? After reading various user reviews, it is also alright for females to use too. Also, it is highly recommended to keep to the stated time of application. If it becomes black, then the point of using this product goes up in smoke.
---
The Silver Hair that I Yearn for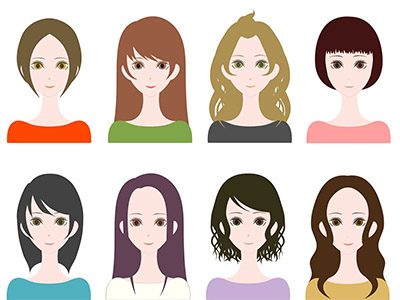 Platinum hair colour has been trending in Japan recently. Although I'd like to try it too, I would have to bleach my hair to get a beautiful platinum shade. This would then damage my hair, which makes it difficult for me to do so. That is why I am envious of peers of my age who are in the position to try platinum hair colouring.
Over the past articles, we have looked at hair colouring for white hair, but the procedure makes it seem troublesome. We didn't show it in this article, but the range of products available for colouring white hair is pretty wide. There are also plenty of products that leaves deeper colours while minimising the amount of damage done to the hair.
Rather than seeing white hair as an annoyance, how about seeing it as an opportunity to try various fashion styles? While situations may restrict what we can try, I do think that we can treat dyeing white hair as a hobby. If we can colour it lightly and beautifully, our skins will look brighter too. There's plenty of good stuff to expect~
---