The Best Japanese Shampoos for Hair Loss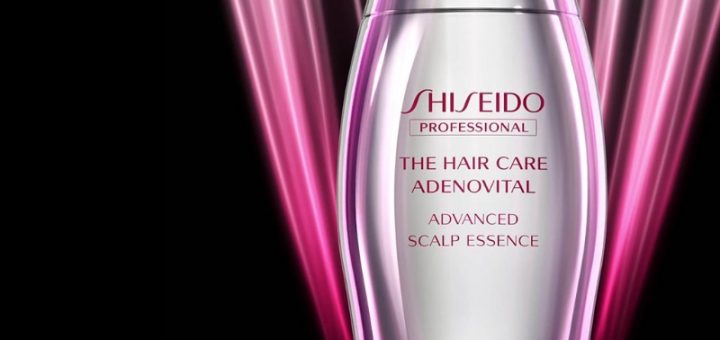 Between hair tonics, serums, and massage creams, there's no shortage of hair loss products available for both men and women in Japan! Sometimes, though, you need to go back to the basics: shampoo. Whether you're too busy for a complex haircare routine, or you just want to make sure all the products you use help with hair growth, Japan has some great hair loss shampoos for your picking.
Since hair loss differ between men and women, hair loss products are also marketed differently. In this article I'll follow that lead and look at the best picks for hair loss shampoos that treat hair loss in categories for both men and women!
---
Hair Loss Shampoos for Men
Angfa Scalp D
Angfa Scalp D is the most popular brand of men's shampoo in Japan for good reason! They're quality, affordable, and come in a much wider range of options than other men's care brands. What does the D stand for in their name? "Doctors, dermatology, and development." Angfa says that 19 doctors worked on the development of these shampoos. In other words, they take their research very seriously!
Their shampoos come in ranges from very oily to dry and also include deodorizing and dandruff-preventing subtypes in those categories. All these shampoos are formulated with men's hair in mind– no more making do with whatever shampoo your girlfriend uses! They also contain a well researched blend of botanical extracts encourage healthy hair growth. They're also free from a wide range of potential irritants like alcohol, mineral oils, and parabens.
More details on Angfa Scalp D here!
---
Success Medicated and Volume Up Shampoos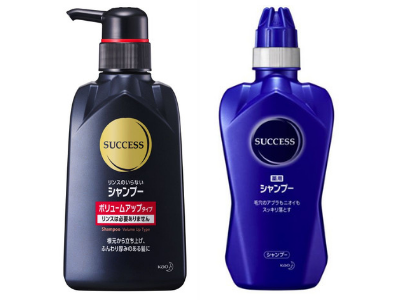 Success is a well known line of men shampoos by Kao, one of the biggest Japanese cosmetics brands. They have a range of hair loss products which you can explore in English on Wonect.com, but today I'll talk about my two shampoo picks from the line.
The first is Success Medicated Shampoo. This shampoo is notable because of its wide range of effects, including being medicated to prevent hair loss, dandruff, and is anti-itch and deodorising. It also contains eucalyptus oil, which in my home country of Australia is considered to cure almost anything. One more notable point about this shampoo is its "direct touch" nozzle. Instead using your fingers to rub the shampoo in, you can squeeze out product directly onto the scalp. 
Their second product Success Shampoo Volume Up Type, a volumizing hair product for men who are starting to see hair loss. Using this shampoo and the blow-drying technique they recommend (see the video below!) you can effectively hide the thinning parts of your hair.
---
Kaminomoto Medicated Shampoo
Kaminomoto is best known for its range of hair growth tonics, which are based around kanpo, a Japanese traditional medicine. The Kaminomoto Medicated Shampoo creates a healthy scalp environment to boost hair growth and cleanse and prep the scalp for other anti hair loss products. Whether you use it alongside their hair tonics or on its own, its blend of botanical extracts based in traditional Japanese medicine is a healthy and safe way to deal with hair loss.
---
Hair Loss Shampoos for Women
Shiseido Adenovital Shampoo
Shiseido Adenovital Shampoo is a unisex product that treats thinning hair in men and women. It contains adenogen, a chemical ingredient that promotes thickening of thinning hair. This is the same active ingredient also found in Shiseido's very popular Adenogen series of hair tonics. Both genders can use Adenogen. It is also safe to use during pregnancy as well.
This shampoo volumizes the hair while remaining gentle on the scalp and maintaining the hair's moisture. It also removes sebum and impurities from the hair that can lessen the effect of other hair-loss products. This makes it an ideal primer for the Adenovital Hair Tonic, Adenogen, or other hair tonics.
---
HABA Squalane Shampoo
Skincare fans are very familiar with HABA's squalane products, but did you know they also make a squalane-based shampoo?  HABA Squalane Shampoo can help reduce female hair loss by deeply moisturizing the scalp and repairing damaged hair with squalane, a lightweight and very powerful moisturizing ingredient.
Other shampoos weigh the hair down and block pores with silicons and other heavy emollients that then need stronger, clarifying shampoos to remove. Over the time this damages the hair and leads to breakage and loss. HABA Squalane Shampoo cleanses the hair in a light formulation that reduces this burden on the hair. Squalane also boosts the hydration of the hair which leads to more visible thickness.
---
Angfa Scalp-D Beaute Shampoo
Angfa appears again! The Scalp D Beaute range for women is not as extensive as the men's line, but it contains this well-formulated volumizing shampoo that treats thinning hair and hair loss in women. Doctors that specialize in female hormones and anti-aging techniques worked on the development of Angfa Scalp D Beaute Shampoo. It contains 40% fermented soybean filtrate which conditions and targets female hormonal imbalances that can lead to hair loss.
More details on Angfa Scalp-D Beaute products here
---
Thanks for reading!
I hope this roundup of some of the best Japanese shampoos for hair-loss was useful!
Hair loss can be a tricky issue to deal with, so if you're looking for more information, check out our other hair loss articles:
If you're shopping for Japanese products, check out our range on Wonect! We have a range of authentic and fresh Japanese products shipped direct from Kyoto, Japan.
Japanese health and beauty products delivered worldwide at Wonect