Hair Colour Treatments You Can Use For Grey Hair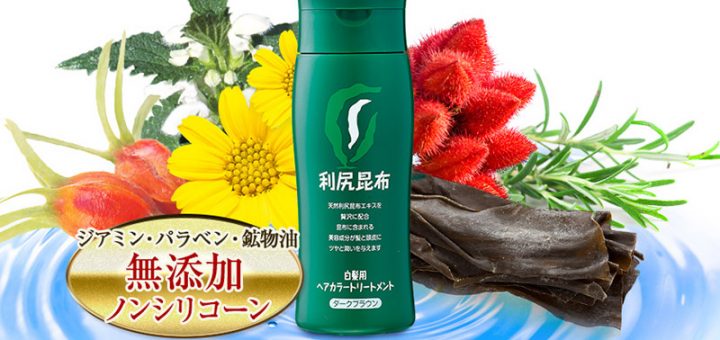 As we mentioned in the last article, there are 4 types of products to colour grey hair. So, this time we shall introduce the type that's easiest to use and is gentlest on your hair – hair colour treatments! They add colour slowly and naturally. This series of products has had the top market share of grey hair treatments from 2011 to 2016. From June 2009 to January 2018, 1.8 million bottles have been sold, making them a truly popular product in Japan.
---
Rishiri kelp grey hair colour treatments
Hair colour treatments add a coating to the surface of hairs to add colour. This means that they are less damaging compared to products which remove colour in order to dye hair. They also add moisture, so they not only reduce greyness but also make your hair look healthier.
Key points
1. These treatments contain 28 other plant extracts to keep your hair beautifully moisturised, while the minerals in risiri kelp (laminaria ochotensis) extracts help your hair to stay healthy. Fucoidan and alginic acid from algae also contribute to moisturising the hair and scalp.
2. They are gentle on your hair and skin, so can be used every day. They don't contain any diamine or tar-based colorants, parabens, oxidising chemicals, silicone, paraffinum, or quaternary amines.
3. Two ingredients are used to colour your hair, with 4 ions to create a natural-looking colour and nano ingredients to dye evenly.
4. The treatments have no strong fragrance.
5. They make your hair feel smoother.
6. Designed to produce no irritation or tingling on the scalp.
Comes in 4 colours:
| | | | |
| --- | --- | --- | --- |
| Light Brown | Natural Brown | Dark Brown | Black |
| | | | |
---
How to use
Step 1 – Spread a generous amount over your hair
After shampooing, use your wet hands to massage the treatment into your hair. If you are worried about getting the products on your hands, we recommend using a dyeing brush or wearing vinyl gloves.
Step 2 – Leave for about 10 minutes
After you have spread the treatment over your whole hair, leave it in for about 10 minutes. If it's your first time using the treatment, you may wish to leave it in for longer.
Step 3 – Simply rinse
After rinsing the product out, dry your hair carefully with a hairdryer. There is no need to keep rinsing until the water is no longer coloured.
For those that want to dye their hair more strongly, you can use these products on dry hair. Apply the product to your hair and leave it in for some time, taking care not to get it on your clothes etc. Then rinse and shampoo your hair as normal.
So how about it? It's as simple to use as any other hair treatment. But one thing to note is that it won't change your hair colour in one go.
---
My friends' impressions of the treatment
My friends who are a married couple have used the Rishiri shampoo, so I got their thoughts about the product.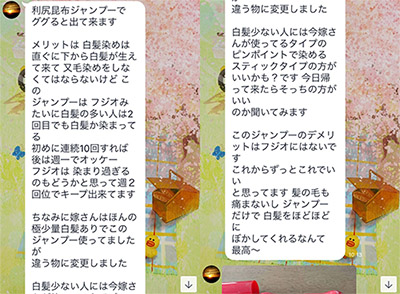 "If you google "Rishiri shampoo"(利尻昆布シャンプー), it'll come up.
Grey hair comes from the roots so you normally have to dye your hair again pretty soon. But a good point about this shampoo is that for people with a lot of grey hair, you can colour it again the second time you wash. It's similar to Fujio [editor note: a competing brand] in that way.
If you use it 10 times in a row at first, afterwards you can just use it once a week and it's okay. With Fujio I'm worried about over-dyeing my hair, since I need to use it twice a week to keep the colour.
By the way, my wife doesn't have much grey hair. She used to use this shampoo, but she changed to a different product.
I think for people with not much grey hair, the kind of spot treatment product my wife is using now would be better? When I get home, I'll try asking her if that kind is better.
This shampoo doesn't have the drawbacks of Fujio. I think I'll keep using this one from now on. It doesn't damage your hair and with just shampoo you can mostly cover up grey hair. It's great!"
---
Next time: an unusual product
People with grey hair tend to think it makes them look like they're getting old, but at times grey hair can look quite distinguished, right?
Next time we're going to introduce a product that was developed based on that idea. The concept is that instead of dyeing your hair black, it turns it a more natural grey colour. Wow!
I bet you're wondering, what kind of product? I'm looking forward to telling you about it.
---