[2019 Anti-Acne Guide] The Best Japanese Acne Cleansers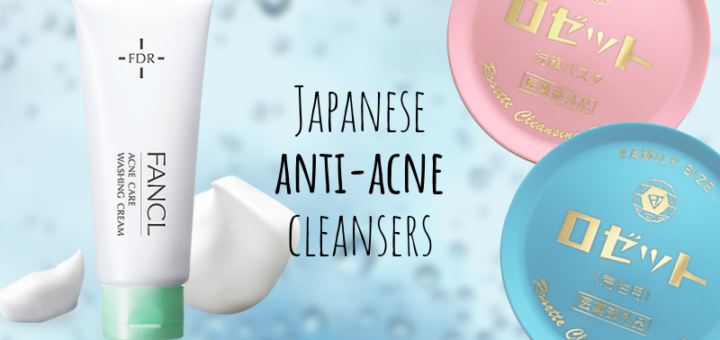 Many people consider cleansing to be the front line in dealing with acne! After all, keeping the skin clean and clear from acne-causing bacteria that causes acne is one of the best ways to prevent blemishes. If you're considering Japanese anti-acne cleansers, you have a wealth to choose from! Here are our picks for the best Japanese cleansers for acne-prone skin around.
---
Affordable Classic
Rosette Series
Rosette Face Wash Pasta has an odd name in English, but a very trusted reputation in Japan. In fact, it has been sold since 1929, and its retro-chic packaging and affordable price has made it a staple for many Japanese women.
There are two ranges available: a sulfur-based range, which comes in a jar packaging, and a clay-based range, which comes in a tube.
Both ingredients work to absorb extra sebum and impurities that can build up on the skin, blocking pores and providing food for acne-causing bacteria. There are a number of types in both series, but we recommend the blue type from the sulfur-based range for acne prone skin or the Acne Clear type in the clay based range.
---
AHA-Based Cleanser
Cleansing Research
AHA is a useful anti-acne ingredient that helps prevent breakouts by encouraging quicker turnover of the skin. This ingredient is what's called a chemical exfoliant. Similar to physical exfoliants like your typical walnut or apricot seed scrub, AHA removes dead skin cells for a smoother, brighter look. Unlike physical exfoliants, though, AHA is a little more precise, and avoids the micro-scratches and tears that rubbing your skin with a scrub can cause. AHA works to loosen the bonds between dead or old skin cells, causing them to naturally fall away without damaging surrounding healthy skin.
---
Preservative and Additive Free
Fancl AC Cleanser
Fancl cleansers are continually some of our most popular products here at Wonect. The Fancl Acne Care Washing Cream cleanser creates a creamy, dense foam that maintains the skin's moisture while also heightening the skin's natural barrier function. It clears away sebum and impurities that cause adult acne, and contains anti-inflammatory ingredient glycyrrhizinate dipotassium to calm existing breakouts.
Like all Fancl products, it has no preservatives, fragrances, and other additives. It also has no anti-bacterial agents are used, making this suitable for more sensitive skin.
---
For Teenage Acne
DHC Acne Control Fresh Foaming Wash
DHC Acne Control cleanser works particularly well for adolescent acne. If you're a teenager, this item is designed to suit your specific needs.
Its active ingredient, isopropyl methylphenol, which is an anti-bacterial, antiseptic, and anti-inflammatory ingredient that can inhibit the growth of acne and help existing breakouts heal faster.
---
For Sensitive Skin
Atorrege AD Mild Cleansing
Atorrege AD+ line is designed specifically for very sensitive skin. If you're dealing with acne breakouts but struggle with harsher treatments, this medicated cleanser is ideal.
The Atorrege AD+ Mild  cleanser itself is designed to effectively cleanse without irritation, while active ingredient dipotassium glycyrrhizate helps relieve inflammation. This cleanser is oil-free, which can be useful for acne-prone skin, but it does contain seven types of moisturizing ingredients to help maintain a healthy skin barrier.
G
---
Targeted Treatments 
Pelican Soap: Dot Washy & For Back
If you're dealing with body acne or blackheads or sebaceous filaments on the nose, you might want a more targeted treatment. These two bar-type cleansers from Pelican Soaps are a good choice.
For Back, as the name suggests, is designed to target back acne or other body acne. The skin on your body can be a little less delicate your face, so it makes sense to use a cleanser specifically targeted to that area. This ensures it's the right strength for the area and contains the ingredients you need to specifically deal with the causes of body acne.
Dot Washy is a soap specifically for what's called "strawberry nose" in Japan. These are those tiny blackheads on your nose that can be really difficult to get rid of. You can use this cleanser on your whole face, so if you want to really target that issue, Dot Washy is ideal.
---
The best Japanese acne cleansers
Thanks so much for reading our 2019 guide to Japanese anti-acne cleansers! We hope our picks have helped you buying your next cleanser. If you're still not sure what's best for you, send us a message at wonect.com! We'd be happy to help you shop.
Don't forget to check out our two other installments in the 2019 Japanese anti-acne guide below!
[2019 Anti-Acne Guide] Japanese Acne Treatments: Brands, Active Ingredients, and How to Choose!