The 5 Best Reviewed Japanese Cooling Products for Summer!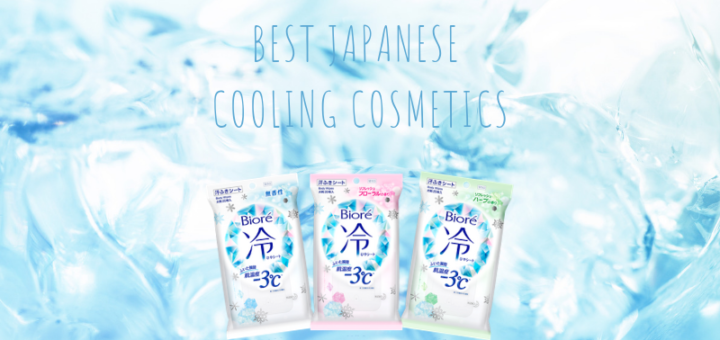 Japanese summers can be pretty intense, and even if you don't live here, you can benefit from Japanese ingenuity with these cooling products. There's a lot out there on the shelves in Kyoto at the moment, and not all are up to scratch! Where ever you are in the world, check out some of Japan's best-rated refreshing cosmetics and toiletries to get you through the day feeling clean and cool.
---
Gatsby Crazy Cool Body Water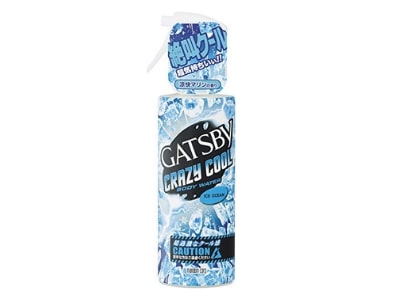 There are a lot of cooling body and clothing sprays available in Japan, some which work better than others. Our pick of the bunch is the Gatsby Crazy Cool Body Water. Why? According to reviewers, this body spray is almost too cooling. In fact, some recommend just spraying it over your clothes rather than directly on your skin.
According to Gatsby, it has six types of cooling ingredients, and instantly provides refreshing relief. It's long lasting, and reacts with your sweat, so the effect will return whenever you start to get hot again. The trigger type bottle can spray even if you're holding it upside-down, so it's great for feet and legs too. It comes in four scent choices: Ice Citrus, Ice Fruity, Ice Ocean, and a fragrance-free version. Most people seem to recommend the fragrance free type because it's unisex and you don't need to worry about overdoing it!
---
Ettusais Oil Block Cool Type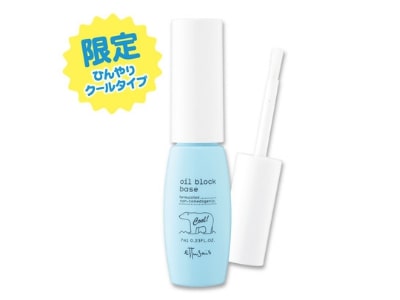 If you have oily skin like me, probably the biggest summer annoyance is dealing with is dealing with unforeseen makeup disasters when you're out in the sun. If you have issues with shine or your makeup creasing or breaking apart around your t-zone, give Ettusais Oil Block a try. This is consistently rated one of Japan's best makeup protectors for oily skin, along with Primavista Makeup Base and Cezanne Make Keep Base.
Why is it in our cooling article, though? Well, Ettusasis has come out with a cooling version for the summer that not just blocks oil, it keeps you feeling fresh. You can use this product under your makeup as an oil-blocking primer, but some reviewers also like to use it to re-do their makeup during the day. Just use an oil blotting sheet (Yojiya sheets have been made for over 100 years in Kyoto and are said to be the best you can get), apply Ettusais Oil Block Base, and then finish with some powder.
---
Ettusais Oil Block Peeling Wipes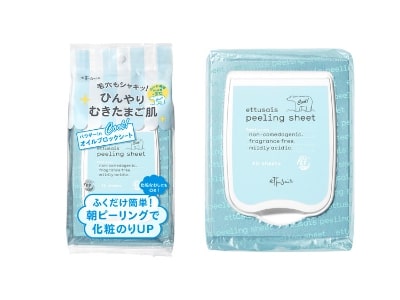 Ettusasis is coming in twice on our list because they're a customer favorite and they released a ton of cooling products this summer! These multi-purpose sheets are not just cooling, they also help with a lot of other summer issues like blocked pores, closed comedones, and a general sense of feeling disgusting and sticky. The peeling (in less scary words words, exfoliating) ingredients in these sheets help quickly dissolve remove dead skin cells, sebum, and other impurities. They're also infused with a powder and oil-blocking ingredients to leave the skin smooth and shine-free. You can use these on your face during the day before touching up your makeup, in the morning to quickly exfoliate and improve the look of your makeup, or as a refreshing body wipes to exfoliate and refresh during the day. They also come in a pack of 40 sheets, which is quite generous considering that similar products in Japan usually come in packs of ten.
---
Biore Cool Sheets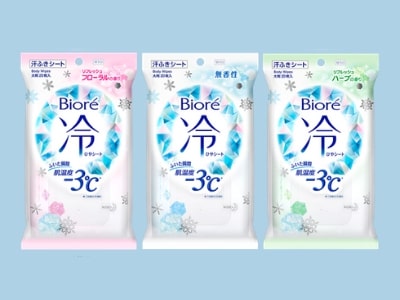 Cooling sheets really are a staple in the summer in Japan, and the Biore -3 Degree Cool Sheet range are some of the best known. As the name suggests, Biore says these sheets instantly reduce the temperature of your skin by 3 degrees. They contain menthol, "cooling water" which is said to draw the heat from your body via evaporation, and hyaluronic acid to hydrate your skin.
These sheets come in a pack of 20, they are large and sturdy enough for you to use just one on your whole body.
Get Biore Cool Sheets worldwide here!
---
Bath Roman Super Cool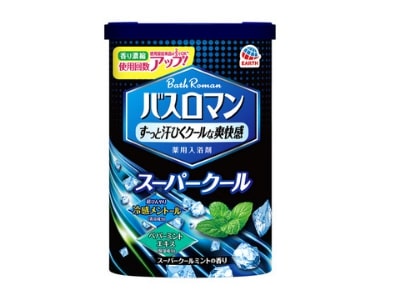 Finally, a cooling product to look forward to at the end of the day. A cool bath in the summer can be amazing, and bath-loving Japan has plenty of bath salts designed specifically to be extra refreshing. The Bath Roman Super Cool range are some of Japan's favorites. These come with cooling ingredients like mint and menthol for a cooling effect that lasts even after you get out of the bath, plus they give the water a transparent "cool mint" blue that feels kind of like being in a swimming pool. Best of all, they come in a huge 800g tin, so you can use it every time you take a bath.