First Impressions! Senka Perfect Whip Review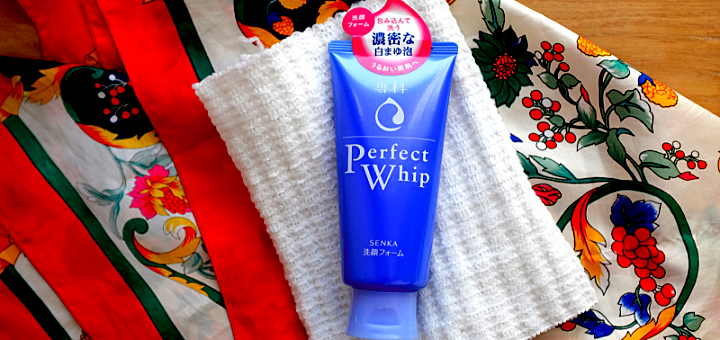 When I was given a bottle of Shiseido Senka Perfect Whip to review for today's post, I had a moment of confusion. I couldn't believe I'd actually never tried it before! After all, it's up there as one of the most popular cleansers in Japan.
To tell the truth, one glance at my cluttered bathroom would tell you I have a problem. I tend to impulse buy based on novelty rather than going for the tried and true. This is probably why I miss out on classics! So, today I'm giving this customer favorite a test to see how it stacks up.
---
Senka Perfect Whip Product Information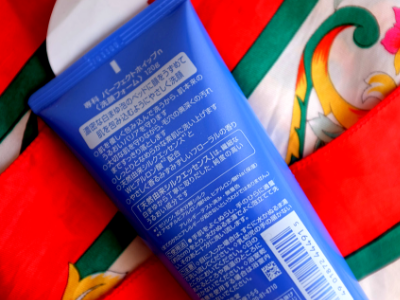 I'll start with the ingredients list and take a quick look at CosDNA for any red flags in the ingredients:
Water, Stearic Acid, PEG-8, Myristic acid, Potassium Hydroxide, Glycerin, Lauric Acid, Alcohol, Butylene Glycol, Glyceryl Stearate SE, Polyquaternium-7, PEG/PPG-14/7 dimethyl ether, Sodium Hyaluronate, Sodium Acetylated Hyaluronate, Sericin, Hydrolyzed silk, Disodium EDTA, Sodium Pyrosulfite, Citric Acid, Potassium Sorbate, Sodium Benzoate, Fragrance (Ingredients list via: cosdna.com)
It all seems pretty good, with the exception of lauric acid, which CosDNa flags as a potentially comedogenic ingredient.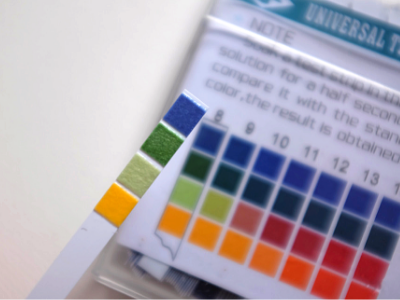 The pH is quite a bit higher than skin neutral. According to my paper test it seemed to be around an pH 8.
---
Testing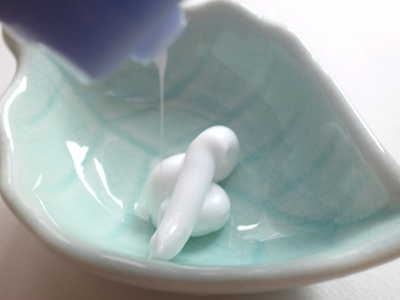 Out of the bottle, Senka Perfect Whip is unusually stringy when compared to other cleansers. (It's not an issue when using it, I just thought it was interesting!) It foams up well in the hands and makes a really rich foam when you use a foaming net.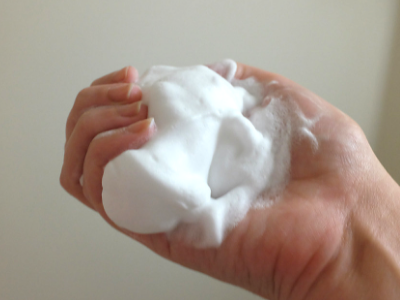 Considering the word "whip" is in the name, part of me was expecting a lot of foam. Turns out the "perfect" part of Senka Perfect Whip is not about getting a whole sinkload of foam, but the texture. I've mentioned on this blog before that I'm not a die-hard foam cleanser. Part of why is that it sometimes feels like you're just moving foam around on your skin rather than deeply cleansing. 
What I really liked about Senka Perfect Whip is that the foam actually condenses and adheres to the skin. It still feels whipped, but I wasn't trying to shift around a big cloud of bubbles. It felt like a kind of Goldilocks situation– foamy but with a really clingy, satisfying grip.
---
Makeup removal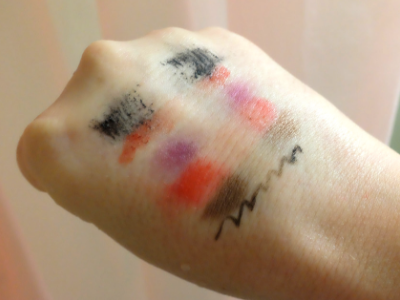 For a foam cleansing, Senka Perfect Whip did a pretty good job of removing makeup on its own. I applied quite thick lines of makeup for this photo which I think is why there is still a bit of residue showing. In real life, I was pleased with how well it dissolved the makeup. In particular, it took off the mascara really quickly. This was surprisingly because that particular brand is always a little hard for me to remove in the evenings.
I'll always recommend an oil cleanser first step to anyone who wears makeup, but if you're in a hurry Senka Perfect Whip seems to work pretty well!
---
Summary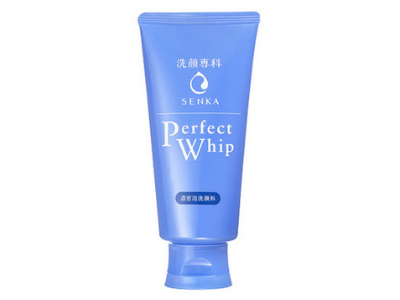 I really liked using Senka Perfect Whip. While the pH is a little high, I didn't notice any breakouts or irritation from using it. If you like foam cleansers but feel a little unsatisfied by their makeup cleansing power, I'd recommend giving this a try.
All in all, this is a very affordable and satisfying foaming cleanser that I'm glad I finally had a chance to try out!
---