Naka Kirei Supplement Review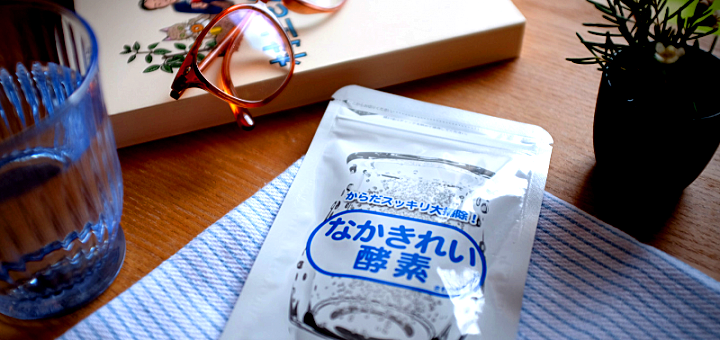 Naka Kirei are a popular Japanese supplement product packed full of enzymes and fermented extracts. They claim to help with bloating, stomach pains, digestive issues, and to work as a digestive system detox. According to their own advertising, they are a "spring clean for the stomach". I took a pack to review– read on for my thoughts!
---
What's in them?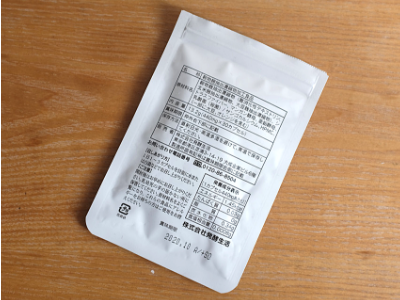 Ingredients: Concentrated koji extract, citrus fiber, calcium yeast, magnesium yeast, zinc yeast, manganese yeast, soybean medium lactic acid bacteria, HPMC (capsule). Includes soybeans, wheat, oranges.
Considering some Japanese enzyme supplements come with an ingredients list hundreds of items long (really!), the ingredients here are surprisingly simple. 
Leading the list is koji (aspergillus oryzae) extract. This is a fungus that ferments rice to produce soy sauce, miso, sake, and many other fermented foods and drinks. It's basically a cornerstone of Japanese cuisine! Many consider it to be the factor that make fermented foods like miso and amazake so healthy.
The other big ingredient is lactic acid bacteria, or lactobacillus. We all know how good probiotics are for your general health, which many people say starts in the stomach. Obviously if you are trying to combat digestive issues more specifically, many of us immediately consider supplementing with probiotics too. So, great!  
The final ingredient is dietary fiber. Supplementing with fiber is great not only for your digestive system but your general health as well. It's said to assist with bad cholesterol levels and heart health! Some studies have shown some evidence for fiber helping with weight loss as well.
Happily, the casing also appears to be vegan! Yes!
---
What do Naka Kirei supplements do?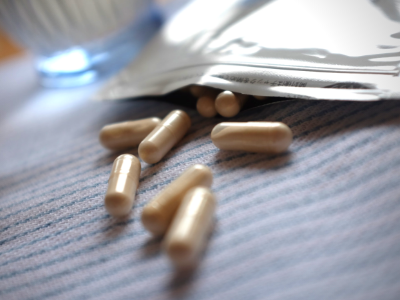 My colleague Roger wrote an article summarizing some of the online reviews of Naka Kirei, both good and bad. After trying them out and researching this article I'm wondering if the problem is that the company behind Naka Kirei uses a little too much innuendo to suggest that, in addition to improving digestion and boosting your health, they'll also directly cause you to lose weight. This might mean that people who buy them are expecting a little too much from them.
The fact is that weight loss really is a complicated thing and, (as well all know deep in our hearts…) a supplement is not going to fix a bad diet or lack of exercise.
That said, a healthy body and a well functioning digestive system is only going to help any kind of lifestyle improvements you make. If you're not someone who likes eating (or has access to) fermented foods like miso soup and amazake, this is a great way to get some of those superfoods into your diet. Koji, probiotics, and fiber are all well studied as health supplements. They might not magic away the calories from the chocolate cake you eat! But, a healthy, well-functioning digestive system is only going to improve your health in many areas.
---
What are they like to take?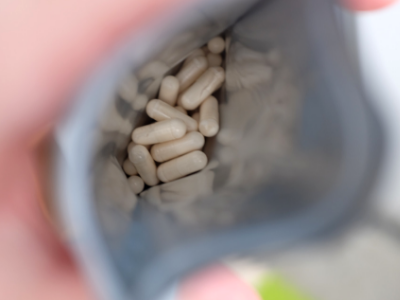 Naka Kirei Enzyme supplements were no trouble to swallow. There are definitely smaller supplements out there, but they are basically your standard capsule size. As you might be able to see in the picture above, the capsules come in a foil ziplock bag. The capsules are transparent and they are filled with a white powder.
Naka Kirei recommends you take the tablets with lukewarm water. Also, because the enzymes in them will help with digestion, they say it's better to take them before you eat. Aside from that, you can take them as you like during the day, depending on how you feel. You can either one a day before dinner, two capsules before every meal, or some other variation.
Naka Kirei classify these supplements as a "food" and don't give too many warnings about overdoing it. This is usual for Japanese products, which typically will list every possible warning, even on something like a box of tissues. I suppose this means it really is safe to take them as you need.
Still, maybe living in a warning-heavy society has worn on me, because I feel like making one of my own here. Since these theoretically will have an impact on your digestion, I would recommend taking it slowly at first and making sure you don't have any unfortunate side effects. I didn't have any issues, but I did see a review online that mentioned noticing a "rumbling" in their stomach, which seems ominous. Don't take the whole pack and then go in for your job interview, is all I'm saying.
---
Results and recommendations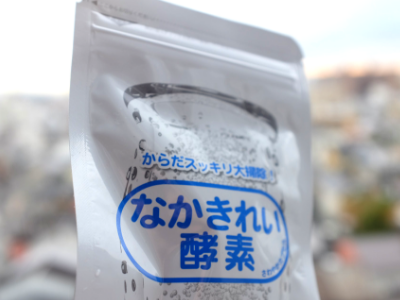 As I mentioned above, Naka Kirei says that these supplements are a health food, not a medicine. One other caveat is that I personally don't have any digestive issues, and I also get a lot of fiber, probiotics, and koji in my regular diet. So, for me, these were probably more like a boost rather than a big cleanse or lifestyle change.
That said, I didn't see any side effects, and I felt generally good taking them. I didn't experience any of the unpleasant detox symptoms you sometimes get on a cleanse, either.
I would really recommend these to anyone who has minor digestive issues like stomach aches, constipation, or bloating. Personally, I've found that getting a lot of good enzymes, fiber, and probiotics in my diet all make a big impact on my health, so I do think it's very useful that you can get all three with Naka Kirei.
If you're not in Japan where it's easy to find these sorts of foods, or you just want eating healthy to be easier, I think this supplement could be a great natural choice to improve your health. 
---
Thanks for reading!
If you're interested in other Japanese supplements, check out our other articles in our supplements section on Wonect.life! You can also browse our supplement and health care range at Wonect.com—  we have many supplements like Naka Kirei, and deliver all over the world.
---