Japanese Collagen FAQs: Questions from our Readers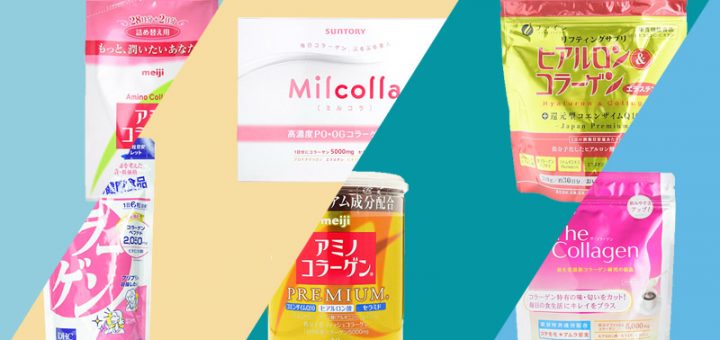 Today we shall be exploring frequently asked questions about Japanese collagen products! These questions come from our readers, viewers and customers, and we shall cover questions such as collagen type, product characteristics and how to drink ♪
Q) What types of Japanese collagen are available?
A) There are many forms of collagen, even though we simply generalise them as "collagens". Supplements containing collagen usually use pig collagen, fish collagen or chicken collagen. Here are some of the characteristics, so you'd know which one to choose!
Pig Collagen
Pig collagen is extracted and purified from pig skin. Pig-derived collagen's amino acid structure is similar humans', which makes the collagen easy for the human body to absorb.
Furthermore, pig collagen contains two times more Hydroxyproline than fish collagen, which is an amino acid that stimulates the natural production of collagen in the body.
Fish Collagen
Fish Collagen is extracted from the skin and scales of fishes. Fish-derived collagen is known for solubility in low temperatures, and ease of absorption by the body. In addition, it is said that it has a lower chance of causing allergies than collagen from pigs.
Chicken Collagen
Chicken collagen comes from the bones, cartilage etc. of chickens. Circulation of chicken collagen in the market is lower than pig or fish collagen, but it contains Type II Collagen, which is good for joint pains.
Type II Collagen
Type II Collagen required to form the cartilage, which is said to decrease along with age increase.
Q) Is collagen fattening? I'm on a diet…
A) There are a number of people who are concerned about whether taking collagen will make a person put on weight. The simple answer is the collagen isn't responsible for weight gains.
If we look at 1g of raw collagen, pig-derived peptide collagen contains 3.5-3.7kcal, whereas fish-derived peptide collagen contains 3.4-3.7kcal. Therefore there is not much difference in calories between the two collagen types.
Products are also different from one another. Take a look at the following collagen products for one serving:
SUNTORY Milcolla 24.8kcal
DHC Collagen Tablets 7.8kcal
SHISEIDO The Collagen Drink 8.5kcal
In fact, collagen supplement is something we would like to take actively even while we are on a diet! When we become selective about the food we eat, our skin may lose its springiness, we may lose muscles etc. Subsequently they may make as look as though we've aged a little. Thus taking collagen is the right time during dieting, while getting beautiful skin!
Q) Is it okay for pregnant/breastfeeding women to take collagen?
A) Pregnant women or breastfeeding mothers are careful about what they eat, since it will affect their babies. It is the same when it comes to considering supplements. And when it comes to collagen supplements, the answer is "depends".
Firstly, collagen already exists within our bodies. These proteins can also be found in the fish and meat we eat. Therefore, there is no problem with taking collagen during these periods.
However, what we need to be careful about is the other ingredients that are formulated together with the collagen. This is especially true when we talk about ingredients such as soy isoflavone and Vitamin A. Pregnant women or breastfeeding mothers need to control their intake of/refrain from taking these ingredients, and thus should avoid taking collagen supplements formulated with them.
Q) Can I take collagen powder and collagen tablets together?
A) There a number of us who thinks, "We should take more collagen to see the effects of beautiful skin sooner!" Unfortunately, it's not beneficial for the body to overtake collagen from a number of products.
It is said that we can take 5,000-10,000mg of collagen daily. Clinical trials have shown that taking 5,000-10,000mg of collagen increases the amount of moisture in the skin and improvement over wrinkles. Taking more collagen did not increase the benefits. Instead, the excess is broken down in amino acid and removed from the body. Therefore, let's stick to the recommended amount of 5,000-10,000mg of collagen per day.
Furthermore, we may put stress on the livers to remove excess collagen, and that can lead to various problems in our bodies.
That's all for today! Wonect is here to receive your questions about Japanese products, so feel free to ask about any Japanese product you'd like to know more, or if you need any recommendations!
---

---
| | |
| --- | --- |
| :: COLLAGEN :: | :: PRODUCT RANKING :: |
| | |