Cosmetics with Collagen: Your Other Half for Gorgeous Skin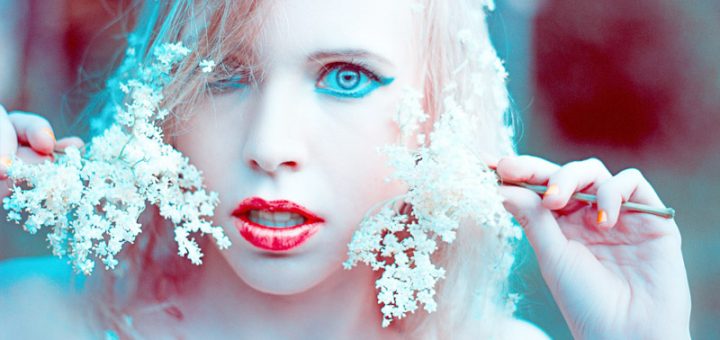 Collagen often has a steadfast image that "it is something that beautiful skin cannot lack". We can see this from the increase in demand for collagen products. These include collagen powders and collagen drinks which work from within our bodies. Other collagen products are used externally. For example, cosmetics with collagen in them, which includes toners and essences.
But did you know that there are differences in the benefits we receive from using collagen internally and externally?
We've always been talking about collagen for consumption, so it's about time for us to explore these cosmetics with collagen!
---
Collagen supplements (internal) VS Collagen cosmetics (external)
Perhaps there are some people who think, "There are no benefits if we don't take collagen internally." Or maybe you have heard others saying, "It's better to drink collagen than to apply collagen."
However, saying that cosmetic products with collagen provide no external care is not accurate. This is because the way collagen works and the benefits received are different from inside and from outside.
Generally speaking, the collagen in supplements and powders aim to replenish and encourage natural collagen production. On the other hand, cosmetics with collagen aim to prevent skin from losing moisture with a collagen membrane. Therefore, we can say it's nonsense to compare consumed collagen and applied collagen on the same scale when they are working towards different goals.
It's nonsense to compare consumed collagen and applied collagen on the same scale.
---
The role of cosmetics with collagen
Simply put, these products are the Queens of Moisture Retention in the realm of cosmetics.
In general, cosmetics with collagen are unable to penetrate to the dermis and cuticle layers of the skin where collagen is produced. However, the more moisture the dermis has, the more protection it has against wrinkles and dryness.
Moisture is retained for a longer period of time, for example, from using a toner with collagen. Even if the lotion dries up, a polymer membrane remains on the skin.
That is to say, cosmetics with collagen do not aim to replenish collagen in the skin or protect moisture from within. Instead, they are recommended for moisture protection on the skin surface.
They are the Queens of Moisture Retention in the realm of cosmetics.
Exceptions…?
There are cosmetics that are formulated with low molecular collagen. This means they are able to penetrate to the cuticle layer, to provide an extent of moisturising benefits. As a matter of fact, there are recent research going on around dermal stem cells to create products that can encourage the production of collagen.
---
Why is collagen good for the skin?
There are numerous advancements in the research for new beauty ingredients and the creation of new products. Even so, collagen continues to be the everlasting, trusted ingredient constantly used in products.
So why is collagen so good for the skin? Key reasons include:
1) Collagen's moisturising strength is a cut above others.
2) It retains moisture and still allows the skin to breathe.
3) Easily absorbed by the skin because it is a component of the skin.
These are the reasons why cosmetics with collagen are beneficial for skin dryness and skin trouble. They are recommended for:
Dry skin
Cosmetics with collagen have strong in moisture retention, therefore a especially recommended ingredient for dry skin.
Sensitive skin
Sensitive skin has a low barrier function which makes it vulnerable to stimulation. These stimulation can easily cause damage to the skin, which in turn easily destroys the collagen in the skin. For this, we should purposely pick skincare formulated with collagen.
Cosmetics with collagen are beneficial for skin dryness and skin trouble.
---
Choosing Cosmetic Products with Collagen
Varying collagens have a few differences in terms of penetration and moisturising strength. However, there is no need to fret about choosing between the differences. Instead, let's pay attention to the accompanying ingredients to collagen, for example anti-aging ingredients.
---
Product Introduction – Cosmetics with Collagen
FUJIFILM Astalift Jelly Aquarysta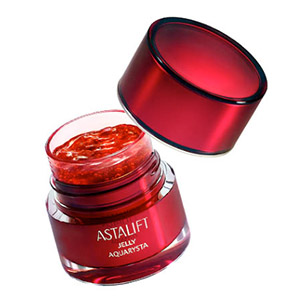 This essence from FUJIFILM's Astalift series is a leading pioneer in the aging care world. It is formulated with three types of collagen – soluble collagen, permeable collagen, and pico collagen (described by FUJIFILM as "a collagen at a nano level"). Each of these has its own size and benefit. Consequently, this displays excellence above normal collagen ingredients by providing moisture care to the skin surface and moisturises the dermis and cuticle layers.
In addition, you will feel a springiness after application where the skin sticks to the fingers, and even raises the penetration of the skincare products used after. Recommended if you feel that your skin is not absorbing the toners well.
Other main ingredients also include human-type nano ceramide, astaxanthin and lycopene.
---
FUJIFILM Astalift Essence Destiny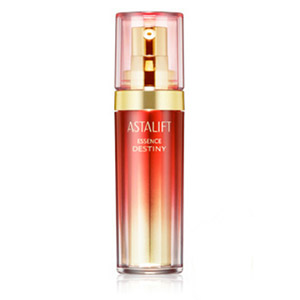 (via fujifilm.jp)
This is an essence for anyone who wants moisture retention after replenishing moisture to the skin through toners. This item is also formulated with three types of collagen like the Jelly Aquarysta, which aims to moisturise the dermis and cuticle layers.
The other main ingredients includes astaxanthin, lycopene and royal jelly.
---
Dr Ci Labo Aqua Collagen Gel Enrich Lift EX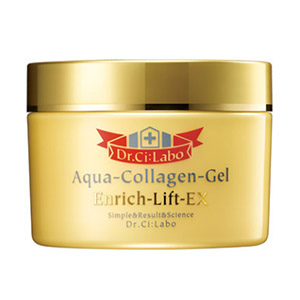 (via ci-labo.com)
The Aqua Collagen Gel Enrich Lift EX is formulated with water-soluble collagen and hydrolysed collagen, which protect the moisture on the skin surface. 3D collagen, which is named for its three dimensional structure, is also in the formulation. Its role is to put a membrane on the skin surface to tighten and "Lift" the skin.
In fact, this item is formulated with 35 types of beauty ingredients, and plays eight different roles: toner, emulsion, essence, eye cream, cream, massage cream, mask pack, and makeup base. This is an ally for busy users.
Placenta, co-enzyme Q10 and soy isoflavone are some key ingredients you may be looking for too. It is also free of scents, synthetic colouring, mineral oils and paraben.
---
DHC Super Collagen Essence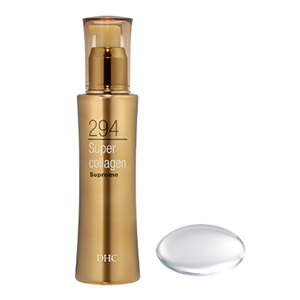 (via dhc.co.jp)
This DHC Collagen Essence focuses on collagen concentration. The "DHC Super Collagen" (which is unique to DHC) penetrates the skin while maintaining its concentration. It is formulated with carefully selected moisturising ingredients such as Vitamin C derivatives. This is suitable for users worried about dryness inside their skin.
Other ingredients in the essence include grippin, glycogen, and isomerised sugar.
---
Mediplus Gel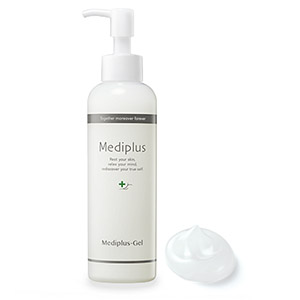 (via mediplus-orders.jp)
The Mediplus Gel is an all-in-one skincare that works like a toner, emulsion, essence and cream. In fact it puts very little stress on the skin, making it suitable for any skin types, including senstive skin. Furthermore, the price is comparatively cheaper for the volume it comes with. Therefore this is recommended for anyone concerned about price or ease of use.
The main beauty ingredients in the product include hyaluronic acid, placenta, amino acid, ceramide and vitamin C. In addition, it is free of preservatives, scents, colourings, synthetic surfactants or emulsifiers, mineral oils or alcohol.
---
That concludes our exploration of cosmetic products with collagen. Collagen is an excellent moisturising ingredient that we can often find in anti-aging care. On the other hand, its functions differ when used internally, especially when used in supplements to encourage natural production of collagen.
Also, remember to check the other ingredients when choosing cosmetics with collagen! We can achieve better healthy and beautiful skin by using cosmetics with collagen well.
---

---
| | |
| --- | --- |
| :: SKIN CARE :: | :: COLLAGEN :: |
| | |