The Best Japanese AHA Skincare Products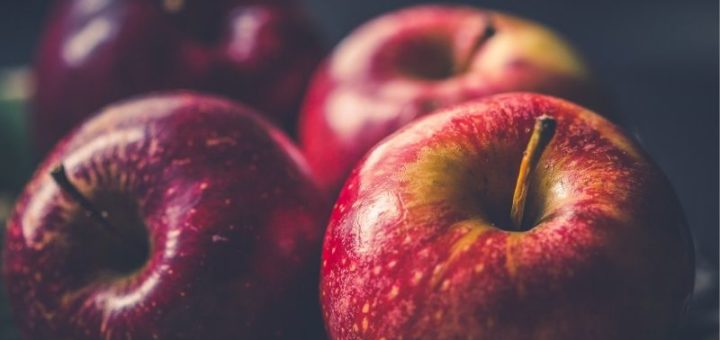 The rein of apricot scrub is over! Today, many of us are hyper aware of the skin ruining dangers of physical exfoliation. Sure, the instant gratification of a physical scrub can be satisfying! But, over time, the small cuts and tears in your skin that harsh scrubs cause can result in real damage, including a cycle of rough skin and premature aging. There's a better way! Read on for alternative AHA exfoliants from Japan.
---
Safe, Skin-Friendly Exfoliants
What's a safer method than harsh scrubs? Many people will say it's chemical exfoliants like AHA, or alpha-hydroxy acids, which are usually found in skincare in the form of fruit extracts. From the name, "acids" might sound a little scarier than your friendly scrub. If used right, though, AHA can be a gentle way of boosting cell turnover by loosening the bonds between old skin cells.
In other words, if physical exfoliation takes a scorched-earth approach by rubbing away the outermost surface of your skin, AHA simply targets the parts that need to be removed. Over time, this can help with pore size, fine lines, and give you bright, healthy looking skin, without the damage.
In Japan, AHA is used mainly as a cleansing ingredient. While AHA is a good cleansing ingredient, to see the its full power, choose lotions or peels with AHA in them. So, whether you're new to chemical exfoliation or just want to try some excellent Japanese products that contain AHA, read on for our picks for the best choices from a range of categories, from peels to AHA options for sensitive skin!
---
Best Japanese AHA peel
Takami Skin Peel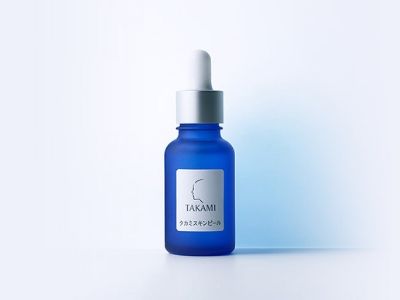 One of the best ways to incorporate AHA into your routine is to use it as a dedicated chemical exfoliant in the form of a serum or peel. The best reviewed option is the Takami Skin Peel, which took the top spot both on the @cosme and Biteki rankings for exfoliating products in 2018.
The Takami Skin Peel is formulated with a range of fruit-derived AHA acids, and is designed to regulate the renewal process in your skin. It's best reviewed for its pore-minimizing effect, but according to Takami it also improves t-zone oiliness, lack of elasticity, dryness, and general skin health.
This product is called a peel, but it's formulated to be used every day. If you have sensitive skin, try using it a 2-3 times a week before moving up to daily or twice daily application. To use, apply with your bare hands, pat gently in, and wait three minutes before moving to your hydrating toner.
---
Best Japanese AHA cleanser
Cleansing Research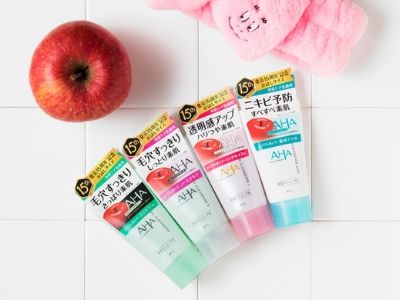 One of the few brands in Japan that really advertise their AHA formulation is Cleansing Research, a line of cleansers all based around the ingredient.
Cleansing Research is a sub-brand of BCL, the same makers of Saborino Morning Masks. This is a drugstore brand, so all the products are very affordable, and come in a range of foaming cleansers, cleansing oils, and soaps.
If you prefer to use AHA as a more concentrated serum or lotion, Cleansing Research also has a Clear Peeling Lotion, which you can apply with cotton after cleansing. (This is a cheaper alternative to the Takumi peel with the same active ingredient!)
If you're looking for AHA as an anti-acne treatment, they also have an medicated acne line.
---
Best Japanese AHA moisturizer
Cezanne Hatomugi Skin Conditioner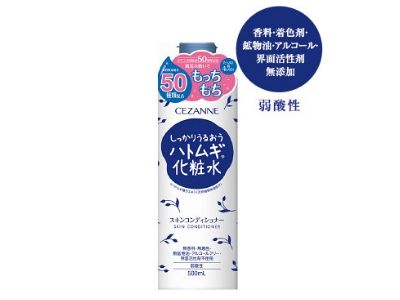 Possibly sacrilege to include a competitor to our office favorite in this list, but while the Cezanne Hatomugi Skin Conditioner doesn't have the Naturie Hatomugi Skin Conditioner's super simple ingredient list, it does a lot with its formulation. In fact, Cezanne counts a full 50 skincare ingredients in this lotion.
Including the hatomugi (job's tears/coix seed) extract it's based on, the Cezanne version also includes hyaluronic acid, collagen, amino acids, and… of course, AHA!
What's great about this huge 500mL bottle is there's enough to use regularly not just on your face but your whole body, which is pretty rare for AHA-based products.
---
Best Japanese AHA facial wipe
ZuboLabo Morning Clear Lotion Sheet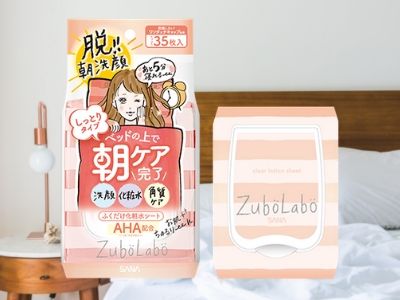 Saborino Morning Masks are really popular with our customers, ZuboLabo Morning Clear Lotion sheets have a similar purpose, if not a little more convenient? These wipes cleanse, exfoliate, and moisturize in one step, promising an extra five minutes of sleep.
These are a very easy way to add AHA into your routine, and the formulation in these wipes is based on a lot of useful active ingredients including AHA, vitamin C, and hyaluronic acid. The moisturizing type has three types of ceramides and honey, too.
---
Best Japanese AHA product for sensitive skin
MUJI Light Toning Water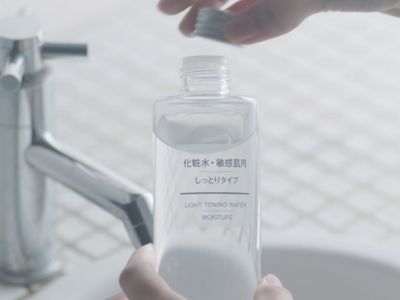 This lightweight, low-irritant hydrating toner has earned diehard fans wherever MUJI stores open, this writer included!
This is the top AHA product on @cosme right now, which is a little surprising considering its reputation for a super safe and gentle product for sensitive skin types. If you have sensitive skin and have given up on chemical exfoliants, this is a safe way to add some AHA into your routine without having to worry about overdoing it.  To give an illustration, I've recently been using this toner for the 7-skin method with no over-exfoliation issues at all.
Of course, since this is part of Muji's sensitive skin, this toning water is also fragrance free, mineral oil free, low pH, paraben and alcohol free, and allergy tested.
If you're shopping for Japanese beauty products, check out our range on Wonect! We have a range of authentic and fresh Japanese products shipped direct from Kyoto, Japan.
Japanese health and beauty products delivered worldwide at Wonect