Botanist Botanical Scalp Shampoo Review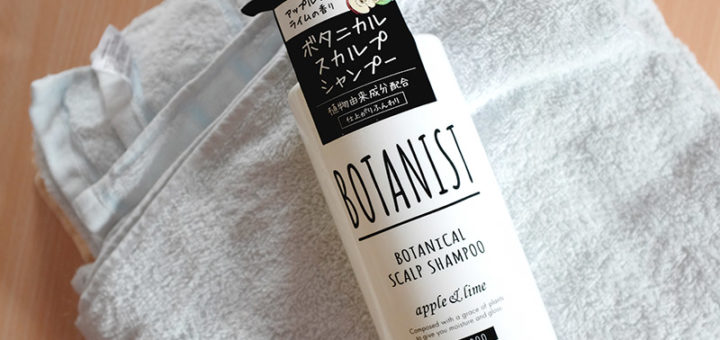 Hi everyone! Today I'm reviewing Botanist Botanical Scalp Shampoo, from the very popular Botanist line of shampoo and conditioners.
This scalp shampoo, not surprisingly, focuses on the roots of the hair. Because I have fine hair, my roots tend to appear oily fairly quickly. Recently I've started to wonder if it's because I'm over-washing my scalp. So, I'm interested to see if the scalp-moisturising effect of this shampoo will help me out… or make things even worse?
First things first, here's a translation of the product's description:
Deeply cleans down to the pores of the scalp for a feeling of freshness deep into the roots. Your hair can shine with the beauty of tomorrow thanks to the blessings of plants. Recommended for those concerned about scalp dryness, lack of volume and bounce in their hair, and those who want a refreshed feel after shampooing. Made with carefully selected botanical extracts. Its soft lather thoroughly cleanses the roots while providing hydration to the scalp and hair. With a fresh apple and lime double-fragrance.
I would be happy if my hair shone with the beauty of today, or even last week, really. Any shine would be an improvement!
---
Ingredients and packaging 
Aqua, Sodium laureth-4 carboxylate, Sodium Methyl Cocoyl Taurate, Lauryl Betaine, Sodium Lauroyl Sarcosinate, Sodium lauroyl aspartate, Sodium lauroyl methylaminopropionate, Lauramidopropyl betaine, Decyl Glucoside, Polyquaternium-10, Cocamide MEA, PEG-30 Phytosterol, Rosmarinus Officinalis Leaf Water, Saccharum Officinarum Extract, Dipotassium Glycyrrhizate, Malic Acid, PEG 150 Distearate, Alcohol, Butylene Glycol, DPG, EDTA-2Na, Sodium chloride, MIT, Methylchloroisothiazolinone, Parfum
According to their marketing materials, the minimalist design of the Botanist series packaging is for a good reason. According to them, they stick with this simple packaging to cut costs so that they can provide a salon-quality product that's affordable enough to use every day. That said, if I hadn't read that I wouldn't think they were cutting costs on packaging. The design is modern and attractive and everything feels nicely designed, including the pump.
---
Testing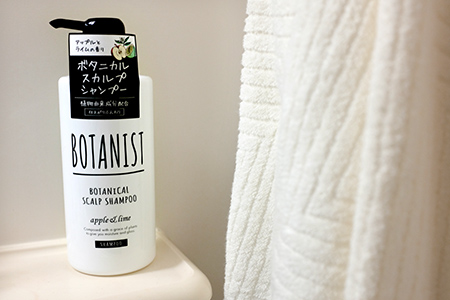 To test what Botanist Botanical Scalp Shampoo properly, I decided to skip conditioner so I can judge it purely on its own merits.
My first big impression using this shampoo was the scent, which I really loved. I am pretty easy to please when it comes to fragrance, but this one actually sparked a little joy in me. The bottle says apple and lime, but I think I can detect a little floral scent in there as well. It's a very delicate, fresh scent that reminds me of spring.
The shampoo itself is clear and on the thinner side, so easy to spread through the hair. I didn't notice a great deal of foaming, which depending on your taste could be a good or bad thing. After rinsing my hair felt very conditioned and slightly heavy at the roots, so I was a bit worried that the shampoo hadn't cleaned it well enough. Sure enough, though, after drying it it was perfectly clean and very soft.
I was also a little concerned that the extra hydration would leave my hair weighed down at the roots. In fact, it was the opposite: my hair seemed extra volumized the next morning. Plus, even though I skipped conditioner my hair felt just as soft as usual. I was pretty impressed by that!
If you have a dry scalp and are looking to care for it, this is an excellent, moisturizing product. On the other hand, if you are like me and worry you're in a vicious cycle of over-shampooing your oilier scalp, this could be an ideal solution too. I wouldn't say that this product feels refreshing as promised, so if you are used to that reassuring "squeaky clean" feeling after shampooing there may be a slight learning curve. But, the results were pretty impressive. I'm eager to see if the added hydration from this product can help reduce oiliness over time as well.
---
Thanks for reading! 
Click here to browse the Botanist range
I hope my review of Botanist Botanical Scalp Shampoo helped you pick your next shampoo! Have you used any Botanist products? Which ones would you recommend?
And, if you need help shopping for Japanese products, feel free to ask us a question in the comments or come chat with us over at wonect.com!