Taiyou no Aloe (Sun Aloe) Hyaluronic Acid: Hands-On Review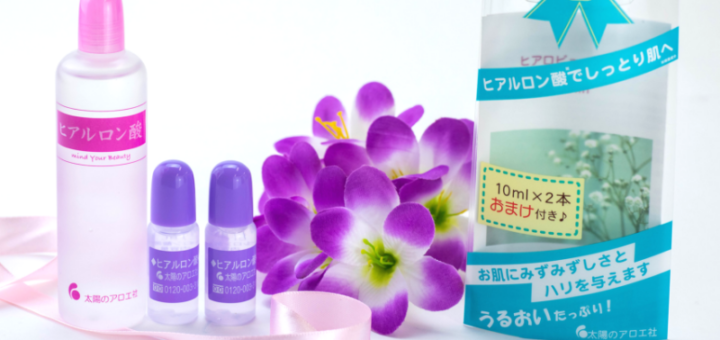 Hyaluronic acid is a fairly buzzy skincare ingredient these days, and you'll find it on the label of everything from serums to lip balms. If you're not familiar with it, don't be scared by its slightly off-putting name! Hyaluronic acid is not a chemical exfoliant like AHA. To put it simply, it's a hydrating ingredient and a humectant, which means it helps draw moisture into your skin and lock it there.
If you're a fan of Japanese skincare, you may have tried HadaLabo hyaluronic acid already. (If you haven't, check out Seungmi's breakdown of the line here!) The HadaLabo range is famous for the varying molecular weights in their formulations. This means that different molecular sizes of hyaluronic acid can penetrate different layers of your skin.
The downside, though? They're can be pretty sticky. In fact, pretty much all the hyaluronic acid serums I've used have had a sticky finish, which made me assume that this was an inherent quality of the ingredient. This is why I have to say, I was pretty surprised when I first tried out the Taiyou no Aloe hyaluronic acid serum. Read on for my full review!
---
Taiyou no Aloe Sun Aloe Hyaluronic Acid Details
The Taiyou no Aloe has a grand total of four ingredients: water, sodium hyaluronate, phenoxy ethanol, and methylparaben. The product is entirely made in Japan, and the hyaluronic acid contains no animal-derived or genetically-engineered ingredients.
The reason for the simple formulation is that this serum is designed to be mixed into almost anything you want, including lotions, cleansers, shampoo, or lip products.
---
How to use Taiyou no Aloe Hyaluronic Acid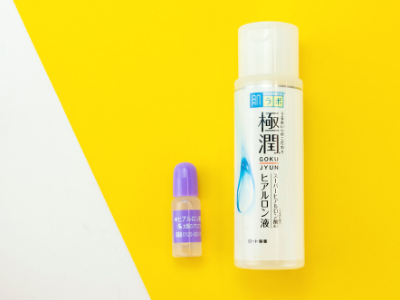 Now, the Taiyou no Aloe works a bit differently to something like the popular HadaLabo Gokujun lotion pictured above. The HadaLabo products are fine to use on their own, but the Taiyou no Aloe HA is designed more to be a booster– hence its small size.
Here is the list of ways you can use it, as described in the documentation that comes with the product.
Lotion: Apply Taiyou no Aloe Hyaluronic Acid immediately after applying lotion, before it has dried.
Serum: To use on its own as a serum, apply to areas that need particular hydration such as eyes and smile lines. If using on the whole face, the serum can dry down to feel like a layer over the skin, so please follow up with a moisturizer of your choice.
Deep moisturizing mask: Soak cotton pads (or dry sheet masks) in a mix of watery toner and Taiyou no Aloe hyaluronic acid an apply to the face. Leave for 5-15 minutes, then follow with your usual moisturizers.
Haircare: Add Taiyou no Aloe hyaluronic acid to your shampoo to improve foaming. (Please avoid using with conditioners or other treatments that include cationic surfactants.) To use as a serum, towel dry hair, spread hyaluronic acid over both hands, and apply to hair in a scrunching motion. Blow drying after will give a smooth finish.
Lip care: Apply hyaluronic acid to the lips, then once the product has dried down slightly, add lip cream. This prevents lip chapping and dryness.
Body care: Add hyaluronic acid to facial cleanser or body wash to create a dense foam. Add hyaluronic acid to hand or body cream to boost moisturization: this works particularly well on dry areas like knees, elbows, and heels.
As the instructions imply, hyaluronic acid works best when you give it plenty of additional moisture to work with in the form of toners and lotions. Since 1mL of hyaluronic acid canhold 6 litres of water, a little goes a long way. So, make you are adding plenty of moisture for the hyaluronic acid to bond with so it can draw it all into your skin.
---
Hands On with Taiyou no Aloe Hyaluronic Acid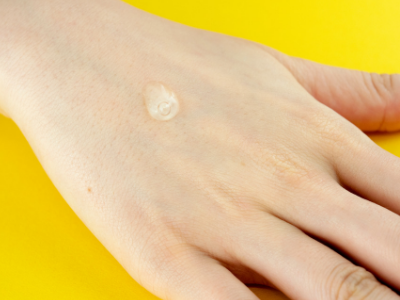 The product itself is clear, colorless, and has no fragrance. Its texture is like a thickened water– as you can see above, it holds it shape, but it spreads smoothly and instantly. What really shocked me was how quickly and cleanly it dried when applied to bare skin. I fully expected to need to pat down the product with a light lotion to encourage absorption.
No need! The serum dried down almost instantly to a kind a very soft, almost powdery finish. I know there are some people out there who are patient enough to wait for a sticky product to try down, but as someone with a lifelong mission to eradicate stickiness from my routine, this was very much appreciated.
Now, as I mentioned above, it's best to combine HA with plenty of moisturizing toners or lotions, and I applied it on its own just to test how it felt for the purposes of a review. Since this product is literally just a HA suspension, you will always want to layer this with other water-based skincare either before or after. Still, the fact that this adds no stickiness to the process really is a godsend, especially now Kyoto is coming into the rainy season.

Now, to test the hair claims! I had never tried hyaluronic acid on its own as a hair serum before. So, following the company's instructions, I applied to towel-dried hair, let it sink in for a while for good measure, then blow dried. I was a little skeptical about how well this would work, but on my troublesome hair it was a very happy surprise. My dry ends felt instantly softer, and my hair actually felt thicker afterwards, without any additional weight. This result alone has got me eyeing the 80mL bottle.
---
Final Thoughts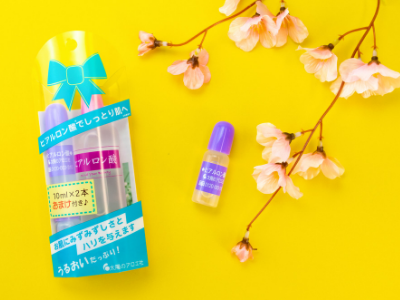 All in all, I wasn't coming into this review expecting to have strong opinions one way or another about this product. I've tried many hyaluronic acid serums in my time, so I was expecting something similar. The lightweight and non-sticky formula really sets the Taiyou no Aloe serum apart, though, and I was really surprised at how well it worked for my hair. My usually pretty dark eye area also seemed brighter and firmer the morning after using it as an eye cream, too.
This is a very simple product, but considering its flexibility and range of uses I think this is a really smart way to boost the performance of a whole range of products for a fairly minimal investment. Considering you're using it a drop at a time, the 80mL bottle should last you a good while.
The nice thing about offering it in a 10mL bottle as well is that this is a really easy product to test out before you commit to what seems like a year's worth. This serum comes in 10mL bottles, plus the set pictured above that comes with the 80mL and two bonus 10mL bottles.