Shiseido Integrate Air Feel Maker: Color-Correcting Primer Review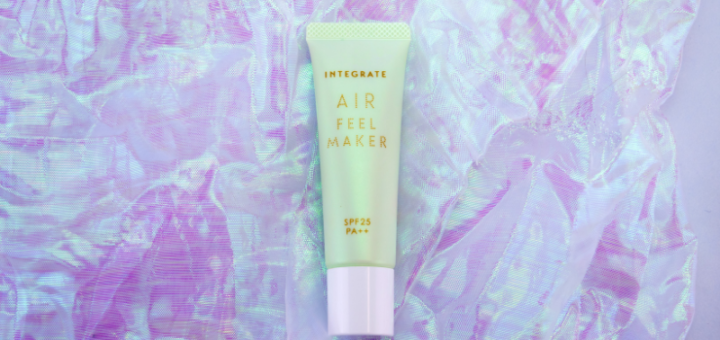 Shiseido Integrate is one of Shiseido's drug store brands that has a lot of fans for its unique formulations and fun, bold packaging design, and also for the tiny "pouch-in" versions of their products you can buy for a few hundred yen at convenience stores. Today I'm reviewing Shiseido Integrate Air Feel Maker, their popular color-correcting primer.
The Integrate Air Feel Maker comes in three colors, purple, yellow, and green, to correct a range of common tone issues. These primers also have a light, mousse-like texture that dries to a smooth powder finish that helps prevent oil and shine.
I tried the green Air Feel Primer for a week, so read on for my thoughts as well translations of the official product information, ingredients, and more!
---
Official Product Description
Tone corrects to deliver beautiful, glowing skin, while feeling as light as wearing nothing at all. This makeup primer feels comfortably light and smooth all day. Translucent air powder lightly covers pores and unevenness, giving the skin a translucent look while preventing oil and shrine for a smooth, light finish.Tested to protect against oil, shine, and dullness for 12 hours. (According to Shiseido's tests. Individual results will vary.) SPF25 ・ PA++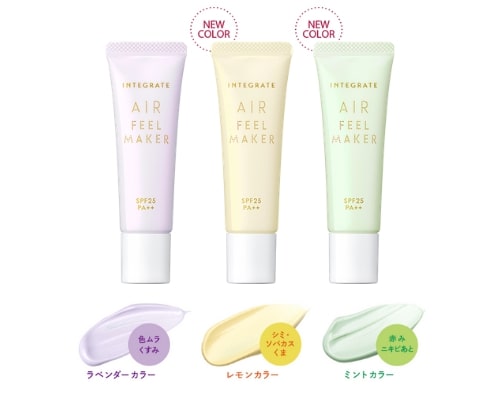 Now, in this review I tried the green type for myself, there are three types all together. I chose the mint green version partially because I have a bit of natural redness to correct, and partially because I already use the lavender Skin Aqua Tone Up version for correcting yellow toned dullness. Incidentally, I wasn't sure if using both a purple-toned and green-toned corrector together would work, but after testing them together I can confirm it's fine, even over the same area.
If your skin has more of a yellow undertone, the purple toned option is probably going to work better for you in terms of brightening. If you have a generally cooler undertone, especially if you are quite fair, the yellow option can help brighten your skin tone up.  The yellow is also useful for milder cases where you want to brighten up a pink undertone: if green tone-correctors tend to make you look a little dull or washed out, try yellow instead. You can also use yellow as a spot corrector for blue or purple toned circles under your eyes, freckles, or dark patches.
Here is what Integrate says each type works best for:
Lavender color: Brightens skin tone and covers yellow-toned dullness and uneven tone.

Mint color: Brightens skin tone and corrects redness and acne scars.

Lemon color: Brightens skin tone and corrects spots, freckles, and under-eye circles.
---
Ingredients
Aqua, Cyclopentasiloxane, Titanium(IV) Oxide, Cyclohexasiloxane, Alcohol, Methyl Methacrylate Crosspolymer, Octinoxate, PEG-10 Dimethicone, Glycerol, DPG, Cetearyloctanoate, Disteardimonium Hectorite, Dimethicone Crosspolymer, Diphenylsiloxy Phenyl Trimethicone, Sorbitan Sesquiisostearate, Erythritol, PEG/PPG-14/7 Dimethyl Ether, PEG/PPG-17/4 Dimethyl Ether, Lavandula Angustifolia Oil, Phytosteryl/Octyldodecyl Lauroyl Glutamate, Rosmarinus Officinalis Leaf Oil, Methyl methacrylate/acrylonitrile copolymer, Aluminum Hydroxide, PEG-9 Polydimethylsiloxyethyl Dimethicone, Isostearic Acid, Stearic Acid, EDTA-3Na, Triethoxycaprylylsilane, Vinyl Dimethicone/Methicone Silsequioxane Crosspolymer, BHT, Zinc Oxide, Vitamin E, Methylpropane, Isopentane, Silica, Phenoxyethanol, Methyl Parahydroxybenzoate, Barium Sulfate, Ultramarines
Running the ingredients through CosDNA, nothing particularly stood out as an acne or irritant concern. Shiseido says that the product has been both allergy and non-comedogenic tested, so this makes sense.
Methylpropane was flagged as a safety concern in the CosDNA database, so I made a point to double-check that. The FDA classifies it as Generally Recognized as Safe (GRAS), and studies seem to focus more on potential irritation from inhalation when this is used as a propellant for aerosols. When applied to the skin, methylpropane evaporates quickly, so it's unlikely this type of diluted and brief contact will cause irritation. Personally, I had no problems with irritation or breakouts while using this product over the course of a week. Of course, if you have had issues with this or any other ingredient on this list, it's best to patch test first to be sure.
---
Packaging
Shiseido Air Feel Maker comes in fairly standard plastic outer package with the description of what kind of tone correction it provides (on the mint green it says redness and acne marks), as well as oil and shine-prevention. The box is easy to open and really there's not much more to say about that! The bottle itself I think is quite cute. All three colors have a metallic/opalescent finish that fits the airy theme and looks very nice.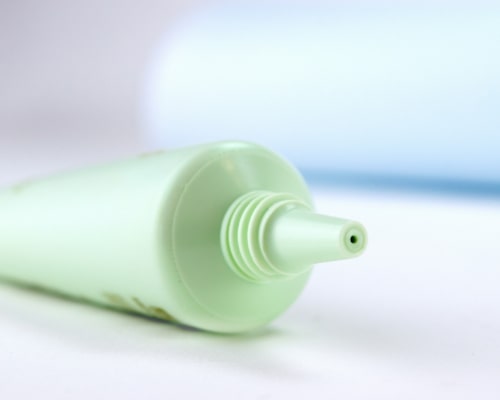 The applicator itself is a dispenser tip with a narrow, pinpoint opening that is very hygienic and precise. I personally dispensed it onto the back of my hand and then applied that way, but the product is quite thick and doesn't drip, so you could easily use the applicator nozzle to apply right to problem areas like an acne spot if you wanted to. I also didn't have any issues controlling how much product I dispensed, either, even for very small amounts.
The bottle comes with 30 grams of product, which is on the upper end of the standard size for a Japanese primer. I will say that because the Integrate Air Feel Maker dries quite quickly to a powdery texture, it doesn't spread and allow you to get as thin coverage as some more water or silicon textured primers. Because of this, I did find myself needing a little more product than I might with other types. This isn't particularly an issue for me — I have other 25 gram and 30 gram primers I probably should throw out because they've lasted me so long, and considering the price, it's not a deal breaker. I'll go into more detail about the texture in my hands-on section below.
---
How to Use Integrate Air Feel Maker
After your morning skincare, take a pearl-sized amount of product and apply with gentle rubbing motions to the skin, focussing on any areas where pores appear larger. Layer a little extra on any particular areas of concern and gently blend. Remove with make-up cleanser.
I read this official description after using the product for a few days and found it interesting that they did specify to rub it into the skin. For the sake of being gentle, I'm in the habit of patting rather than rubbing in circular motions (unless cleansing). But, after reading this I tried more of a circular motion the next time I applied, and it did seem to help create more of an even finish.
I think you can see the powdery texture quite clearly in the video above. When the model massages the product into her cheek you can see that it has a slight grip. I do think this is a feature rather than a bug, because it is supposed to dry matte and powdery to reduce shine, but it does take a little getting used to when applying.
Although the video shows the model using the product on her whole face, you could definitely use the green and yellow types just as spot-correctors if you wanted to.
---
Results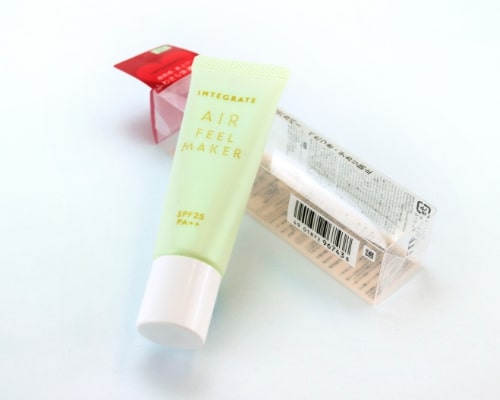 I might sound like I'm complaining a bit about the lack of spreadability, but whole point of this primer is to give a lightweight, powdery, oil-free finish, and it definitely does live up its name with an airy feel on the skin. Once it dries down, it feels like a light dusting of powder.
In terms of color correction, even though this is green toned, the whitening/lightening effect was fairly strong. I relatively fair (I'm on the lighter end of western foundations, and when it comes to Japanese cosmetics, I'm usually the lightest shade), and it really did brighten up my tone.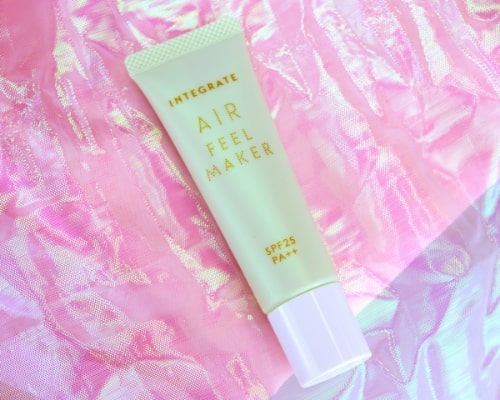 In terms of preventing oil and shine, because the primer feels so light, I wasn't really expecting it to hold up as well as it did. We're dealing with weather that's approaching 40 degrees in Kyoto at the moment, and my annual summer t-zone oiliness is off the charts, so my skin was really putting this primer through the wringer.
My criteria for success would be if it didn't actively crack and go patchy the way a lot of other primers and foundations do when my skin is this inconveniently oily. Surprisingly, though, while it couldn't completely change the qualities of my skin, I was really surprised to see that it did work to keep my makeup looking fresher than it usually does, even compared to primers that advertise themselves as extending the wear of your makeup. If you're dealing with oily skin like me, Integrate Air Feel Maker with a powder foundation has been the best combo I've found so far this summer.
---
Have you tried Integrate Air Feel Maker?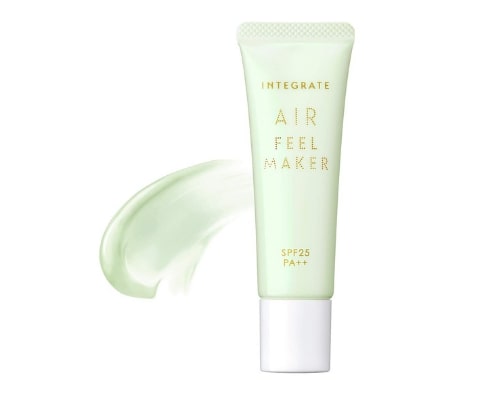 All in all, I was pretty happy with the Shiseido Integrate Air Feel Maker, and I've added it to my daily makeup routine. If you're looking for a primer that does double duty correcting color and blocking shine, this affordable primer is a great choice!
You can get Shiseido Integrate Air Feel Maker shipped fast worldwide from us at Wonect.com! If you have any questions about this primer or any Japanese makeup, get in touch with us and we'd be happy to help!