Japanese Eye Makeup to Wear With Your Mask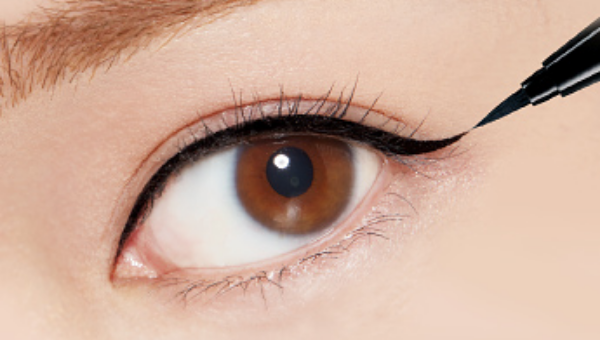 Just because we have to wear masks doesn't mean we can't still turn heads. The best way to create an appealing look this season is by enhancing your eyes. So, whether you're an eye makeup lover, or you're new to the club, we've gathered some of the best products from the most popular Japanese brands help you make a statement even with a mask on.
Our list focuses only on long lasting eye makeup to help you get through the summer heat without any panda eyes.
---
EYEBROWS
How your eyebrows appear can literally change the look of your entire face. And even now when we're wearing masks, our eyebrows are getting more and more attention.
To keep your brows in tip top shape, use a brow pencil and/or a serum.
EXCEL Powder and Pencil 3-in-1
Excel Powder and Pencil is a 3-in-1 eyebrow pencil that allows you to easily brush and fill in your brows neatly and naturally. It comes in a total of 8 shades, from apricot brown to pink brown. So even though we may not have a full face of make up on, we can still have a some fun with a little pop of color on our brows!
Check out Excel Powder Pencil here
---
ETTUSAIS Pencil Brow Liner
Suitable for sensitive and/or acne-prone skin and strong against excess sebum, sweat and water, Ettusais Pencil Brow Liner is perfect those hot summer days. Its core is just the right size to draw/fill in any type of brow. Ettusais Pencil Brow Liner comes in 5 colors (dark gray, red brown, light brown, yellow brown, and dark brown).
---
MASCARAS
Mascara is the easiest way to enhance the eyes. Just a few strokes of mascara can make your eyes appear bigger and more awake.
KISSME Heroine Make Volume Curl Mascara
Forget about the natural eye look, and go for bold instead. With Kiss Me Heroine Make Volume Curl Mascara you can achieve that bold eye look effortlessly.
Kiss Me Heroine Make Volume Curl is especially perfect for the summer time because it is super waterproof and long lasting. And, when you've arrived home and are more than ready to strip off your mask, this mascara easily slips off with just warm water!
Check out the Kissme Heroine Make Volume Curl Mascara here
---
ANGFA Scalp D Beauté Pure Free Eyelash Serum
Number 1 winner of @cosme's best cosmetics award in 2018 and the number one sold for 7 years straight, Scalp-D Beauté Pure Free Eyelash Serum is tough to beat.
It's specially formulated with a Lash D Capsule which contains various nanoized nourishing ingredients that quickly absorb into the lashes from the roots, help you maintain the lashes you already have and get the lashes you desire. We especially recommend this serum if you're into wearing falsies!
Scalp-D Beauté Pure Free Eyelash Serum doesn't contain parabens, oil, alcohol, surfactants, artificial pigments or fragrance, that why it's called Pure Free!
Check out Scalp-D Beauté range here
---
Watanabe Naomi, comedian, actress, and fashion designer, shows off the results of Scalp-D Beauté Pure Free Premium Eyelash Serum.
---
LINERS
Just two swoops of liner can change droopy looking eyes, to dramatic cat eyes.
D-UP Silky Liquid Eyeliner WP Jet Black
D-Up Liquid Eyeliner is also an undeniable favorite. Its flexible brush allows for easy smooth application and its waterproof liquid resists sweat, water, and even tears! It comes 3 colors, Jet Black, Warm Brown, and Brownish Black. Choose whichever suits your look. For a really dramatic look, we recommend trying it in Jet Black.
---
Flowfushi's Mote Liner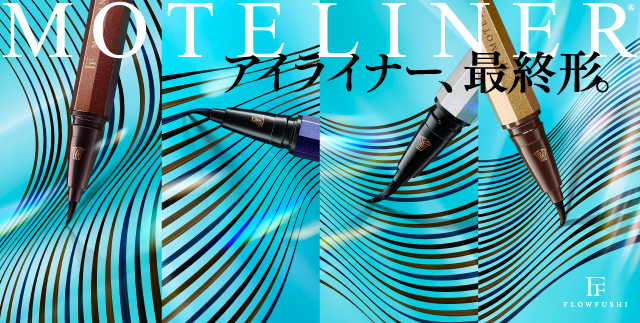 Create the line you want with Flowfushi's Mote Liner. Flowfushi with their groundbreaking technology created a liner that doesn't smudge and doesn't wear off. This is what makes this liner is perfect for the summer season. Mote Liner comes in 5 different shades (brown, brown black, black, navy black, and cherry cheek).
---
EYESHADOWS
Eyeshadows are such a fun way to spice up your look and draw attention to your eyes. With your captivating eye makeup and mask, you may even find yourself feeling like a superhero!
KOSE Visee Glossy Rich Eyes N Eyeshadow
Visee Glossy Rich Eyes N Eyeshadow is a combination of super glossy and clear colors that achieve a mature wet finish.
All palette sets contain 1 creamy base color and 3 gradation colors.
The creamy base is formulated with oil that doesn't leave your lids feeling sticky. It glides on so easily that it feels as if the colors are melting onto your lid. Plus, it doesn't get in the way of other eyeshadows you wish to apply later because it's formulated with super sheer sheet-like powder. It sticks securely to your lid acting as a base.
The 3 gradation colors are formulated with beauty serum ingredients such as hyaluronic acid and squalane. They keep your skin moisturized while you have makeup on without any film-like feeling. These colors achieves a vivid color finish and don't blur. They also contain oil which provides a brilliant glossy finish.
The wet finish you can achieve from Visee Glossy Rich Eyeshadow is perfect for those of you who want to attract just the right amount of attention.
We offer Visee Glossy Rich Eyeshadow in 8 different sets. Feel free to choose the color combination that suits your desired look.
---
KANEBO Kate Tokyo's Dark Rose Eyeshadow Palette
Add depth and dimension to your eyes with Kate Tokyo's Dark Rose Eyeshadow Palette. It's a palette with 3 sets of dark colors layered to add depth to the eyes just like the petals of a rose.
Interested in more eye make up? See our entire range of eye makeup products here.
Need a makeup remover but unsure of which to get? Check out our article comparing makeup removers!