Seasonal Skin Problems? Dr.Ci:Labo Prescribes Oxygen!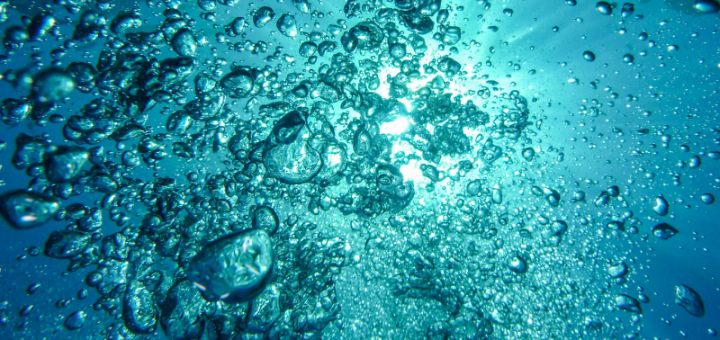 Is your skin lacking oxygen? This might not be a question you've considered before! We've been hearing about oxygen bars in San Francisco and hyberbaric oxygen tanks in Tokyo, but is it a useful skincare ingredient? Dr.Ci:Labo says yes!
---
Why Oxygen?
We're all pretty familiar with medical use of oxygen– in fact, it's believed to be the most common hospital treatment in the world. Just like medical oxygen treatments, Dr.Ci:Labo's Herbal O2 Oxygen Charge series targets a seriously wide swath of troubles, including dullness, roughness, lack of elasticity, and both dryness and oiliness! It's designed to help people whose skin reacts suddenly to changes in the environment like change of season, lack of sleep, or hormonal imbalances.
It makes sense, because so many issues with the skin stem from the same thing: skin that's lacking the basic components it needs to function. To solve this, Dr.Ci:Labo's Herbal O2 Oxygen Charge range nourishes the skin with the two most important elements on earth: water and oxygen.
The three products in this line are based around pure mineral water and a highly oxygenated water blend. In addition, these waters are balanced to maintain a ratio of two parts calcium to one part magnesium, believed to be the ideal mineral balance for the skin health.
---
Herbal Extracts
We can't forget the herbal part of this range's name! The broad spectrum nature of this line is thanks to 15 botanical extracts chosen for their different effects.
Skin health ingredients: Dokudami extract, Licorice leaf extract, Peony root extract, Wormwood leaf extract, Aloe vera leaf extract
Anti-dullness: Pearl barley seed extract, Japanese rose extract, Tachibana peel extract
Tightening: European birch bark extract, Great burnet extract, Hamamelis leaf extract
Plumping: Ashitaba leaf/stem extract, Getto leaf extract,  Camellia seed extract, Tenneka fruit extract
---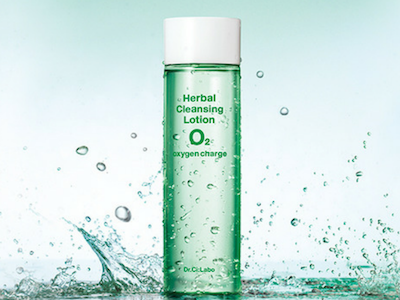 Product Lineup
Herbal Cleansing
The unique thing about this cleanser is that no (added!) water is required. Just like micellar water or similar cleansing waters, just soak a cotton pad to remove makeup, sebum, and other pollutants. Perfect for people who need to cleanse on the go, for those who want to protect their eyelash extensions!
Recommended for: Those whose skin reacts badly to the change of season, hormonal imbalances, stress, lack of sleep. Those who don't have time for cleansing. Those with eyelash extensions/treatments, and those who want to redo their makeup during the day.
---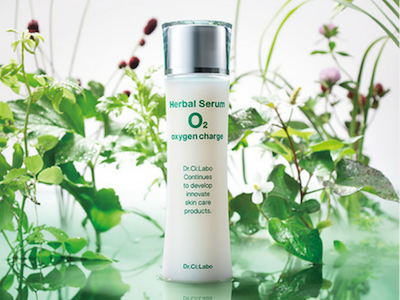 Herbal Serum
This gentle serum contains two types of collagen and hyaluronic acid to moisturise and protect the surface of the skin, and a ceramide polymer network, which improves skin elasticity. Lipidure® compound creates a moisture veil on the surface of the skin.
Recommended for: Those who want to maintain the best condition of their skin. Those whose skin reacts badly to the change of season and hormonal imbalances. For people wanting to improve dull skin.  
---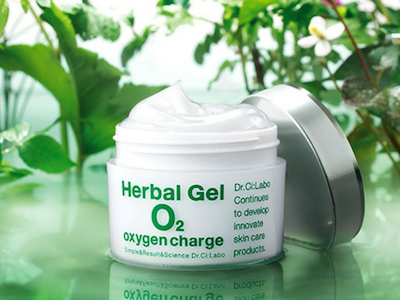 Herbal Gel
This all-in-one gel can cover the lotion, emulsion, serum, cream, and makeup base steps of your routine! It's also free from colors, fragrances, mineral oil, parabens, and is low pH!
Recommended for: Those whose skin reacts badly to the change of season. Those with hormonal skin problems and skin problems due to lack of sleep and stress. People with dry skin, and those wanting to boost skin elasticity. 
---
For more information and full ingredient lists please check out the Dr.Ci:Labo brand page on Wonect.com! We have a huge range of Dr.Ci:Labo products including the Oxygen Charge range, the vitamin-C packed Dr.Ci:Labo VC100 line, and the anti-aging Dr.Ci:Labo Enrich Lift Line.
We're planning to adding more posts and reviews of the Dr.Ci:Labo line soon! And, as always, feel free to ask the Wonect staff questions here or on the Wonect.com website 🙂