What Are The Best Japanese Enzyme Supplements?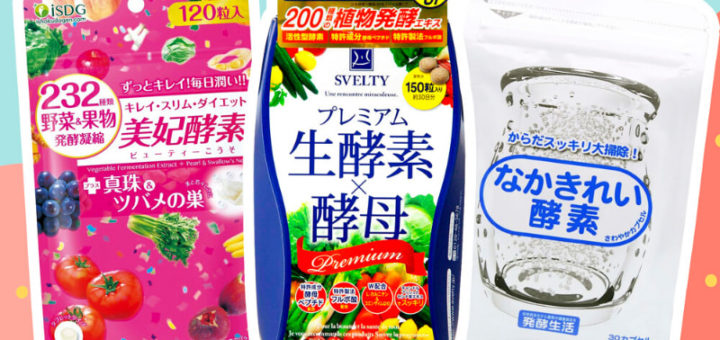 We all know the importance of maintaining a balanced diet. However, the reality is sometimes our busy lives get in the way. That's where enzyme supplements come in. Enzyme supplements give the body a boost of enzymes that we would normally receive from fruits and vegetables. These enzymes support digestion by breaking down the food we eat. Therefore, enzymes play an important role in gut health, and a healthy gut leads to overall health and beauty.
I've gathered 5 of the best Japanese enzyme supplements. Let's take a look!
---
Naka Kirei Enzyme Supplement 
Naka Kirei is one of the most popular Japanese enzyme supplements. Naka Kirei will help your body look and feel young. A key ingredient in Naka Kirei is miso. The miso contains koji "fermented rice." Koji is a probiotic that aids in digestion. It also balances bacteria in the stomach. Miso also contains many vitamins and minerals that aid in health and beauty.
Also, if you are already taking beauty supplements, Naka Kirei can help your body absorb them more easily. For more info about this supplement, check out our hands on review!
Get Naka Kirei supplements here!
---
GypsophilA Living Enzyme Supplement 
This is the best selling GypsophilA raw enzyme supplement. Take Gypsophila Living Enzyme Supplement before every meal to improve an imbalanced diet.
---
iSDG 232 Exhilarating Enzyme Supplement
If you don't eat enough vegetables, this supplement is perfect for you. ISDG 232 contains 232 vegetable/fruit enzymes and lactobacillus bifidus. Lactobacillus is a famous ingredient in many leading probiotic supplements. The iSDG product line includes a variety of popular supplements such as iSDG 232 Night Diet Enzyme. This enzyme supplement is best for people who eat late at night!
For more info about how to pick, check out our in depth article:
---
Svelty Premium Yeast Enzyme Supplement
This is the most popular supplement in the Svelty product line. It contains a combination of not only enzymes, but also fulvic acid. For those unfamiliar with fulvic acid, this acid has numerous health benefits such as anti-inflammatory effects and nutrient absorption and immune support.
Get Svelty Premium Yeast Enzyme Supplements here!
Svelty is the team behind the super-popular Svelty Pakkun range of yeast based diet supplements. For more information about Svelty weight loss products, check out our comprehensive round up here:
What Svelty Diet and Enzyme Supplement Should I Buy for Weight Loss?
---
DHC Fermented Plant Extract and Enzyme Supplement
DHC Fermented Plant Extract Enzyme supplement is produced by one of the leading health food and supplement manufacturers, DHC. This trusted brand has been conducting health research in order to provide quality products to their customers for over 35 years. DHC recommends this enzyme supplement for people who eat out often.
---
Get Japanese beauty supplements online!
If you're shopping for Japanese supplements, check out our range on Wonect! We have a range of authentic and fresh Japanese products shipped direct from Kyoto, Japan.
Japanese health and beauty products delivered worldwide at Wonect