Keana Nadeshiko Rice Mask Review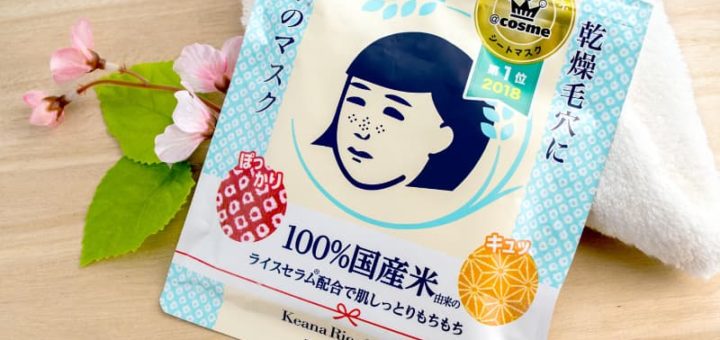 In 2019, the Keana Nadeshiko Rice Mask took the top spot for sheet masks in the @cosme Best Cosmetics Awards chart. These affordable masks are popular with locals and visitors alike. In fact, I often see tourists stocking up on multiple packs in drug stores in Kyoto. What's the secret to their success? For one, they're made in Japan from 100% Japanese-grown rice, which is a traditional skincare ingredient that is really coming back into the spotlight. If you've seen some of the sheet mask health and safety scandals coming out of other countries, the fact these are made in Japan should give you piece of mind, too.
The skincare benefits of rice are really attracting a lot of attention in Japan, and the Keana Nadeshiko line is particularly focussed on minimizing pores and refining the skin's texture. So, as someone in an endless battle with my own stubborn pores, how do these masks stack up? Read on as I test the Keana Nadeshiko Rice Masks out for myself!
---
Keana Nadeshiko Rice Mask Product Details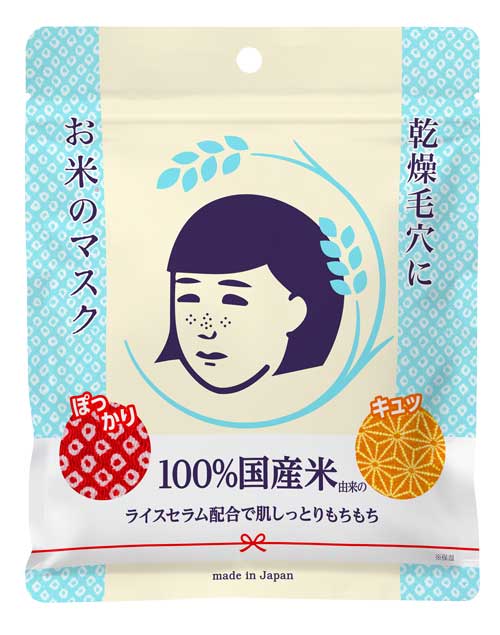 The Keana Nadeshiko Rice Mask come in a set of 10, all packaged together in an opaque zip-lock pack. This is fairly standard packaging in Japan. If you find yourself a little bothered by how wasteful individually-packaged sheet masks are, these can cut down on that plastic waste.
Ingredients
Water, Glycerin, Propylene Glycol, Alcohol, Styrene/VP Copolymer, Rice Ferment Filtrate, Rice Bran Oil, Hydrolyzed Rice Bran Extract, Rice Bran Sphingoglycolipid, Glucosyl Ceramide, Alpha-glucan, Butylene Glycol, Xanthan Gum, Polysorbate 80, Citric Acid, Sodium Citrate, Phenoxyethanol, Methylparaben
The four-ingredient rice serum in this mask is made from fermented rice essence for moisture, rice bran oil for elasticity, rice ceramides for conditioning, and rice bran extract to improve texture.
How to Use Keana Nadeshiko Rice Mask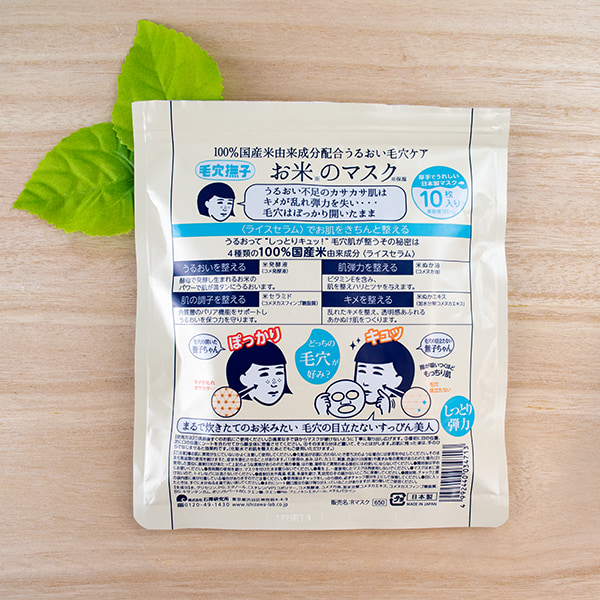 Here's a translation of the official instructions:
Use as the immediate next step after cleansing. If preferred, prep the skin with a hydrating lotion. With clean hands, carefully remove a mask from the package, taking care to ensure it does not tear. First apply around the eyes, then the mouth. Once fit, smooth the mask over the face. Leave for five minutes, then gently peel away. For best results, pat any remaining liquid into the skin and follow with your preferred skincare steps. Use daily or as a special treatment when the skin feels particularly dry or dehydrated.
Personally, I'm a believer in prepping the skin with a hydrating toner before sheet masking. This is particularly important if you're using the mask for the suggested five minutes. You'll want your skin ready to absorb as much as it can of the product in that time.
---
Mask Sizing and Fit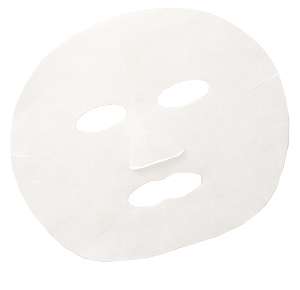 Packaging
One downside to Japanese-style bulk packaging of masks is that they can cling to the other ones in the bag. This can make them hard to remove. If you grip the mask in the wrong place, you'll end up an eye or mouth cutout twice the size it should be! Keana Nadeshiko packages the mask thoughtfully, with the delicate parts of the mask folded inwards to avoid damage. The material is also fairly solid and not overly stretchy, so even someone a little clumsy like me was fine.
Material
The Keana Nadeshiko Rice Mask product description mentions that the mask material is thick. In my experience, these aren't as thick as other brands like the Lululun Precious range, which feel almost plush. However, the Keana Nadeshiko masks are still on the thicker side of standard. It makes a good balance between being sturdy enough to resist damage while staying supple and easy to fit to the face.
Adjustability
In terms of fit, my personal preference is to have a few pre-cut notches to adjust the fit. The Keana Nadeshiko Rice Masks only have some shallow cuts at the cheekbone, but none at the chin or eye area. This isn't the end of the world, and having less notches can make the whole mask more structurally sound and less likely to warp, so for some it might be an upside.
I didn't have any issues adjusting the mask, but I did make my usual cuts at the bridge of the nose and corner of the eyes to adjust the mask to my face. (If you have a higher nose bridge and find sheet masks tend to lift away from the eye area, I recommend this little hack! I usually cut the mask once it's on my face with some small eyebrow scissors. Cutting it beforehand usually ends up with the mask stretching weirdly as you're trying to put it on. Just be careful you don't cut your eyelashes!)
---
Keana Nadeshiko Rice Mask Results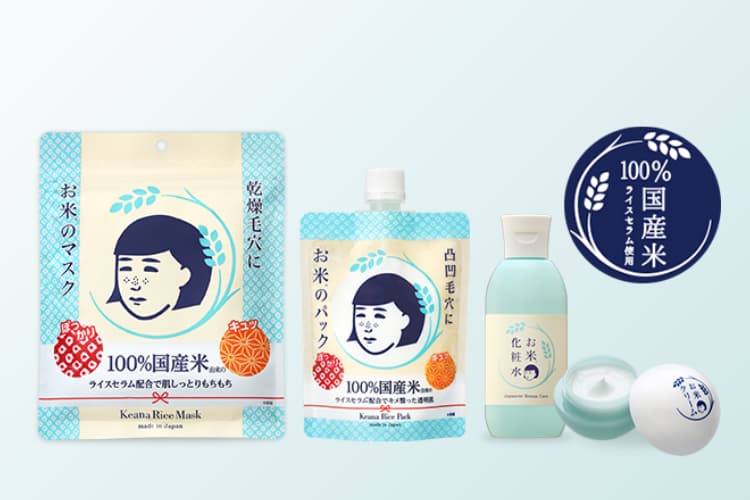 While we often associate larger looking pores with oily skin, dryness and dehydration can actually be the secret culprit. The oils and essences in the Keana Nadeshiko Rice Mask hydrate the skin, while the rice-derived ceramides help restore the skin's natural barrier so that the skin can actually retain that moisture. This stops the skin from over-producing sebum in an attempt to prevent damage. Finally, the moisturizing and elasticity-boosting ingredients in these masks all help to firm the skin. A lack of elasticity can cause the skin around the pores to droop, making them appear larger. Firm, well-hydrated skin is firmer, which helps refine its overall texture.
Personally, I've been a fan of any rice based extracts for a long time, so I was prepared to like these. But do all these ingredients actually work? I can report that after using these masks, I wake up to visibly smaller pores, so I can definitely say that these are worth trying out if pores are your concern. While I have only used up one pack so far, I plan to get a second. I really like the idea of keeping my pores under control by doing an intensive pore-minimizing treatment once or twice a week.
If you're interested in more Japanese-made skincare based on rice extracts, check out our roundup of the Kikumasamune Kome to Hakko (Rice and Fermentation) line! Made by the famous sake brand, this line consists of a super-gentle cleansing balm and an all-in-one moisturizer. They're an easy way to get skin-nourishing fermented rice in your routine.
Brand New From Cult Fave Kikumasamune! Everything You Need to Know About the Kome to Hakko Line