Anessa Perfect UV Sunscreen Milk Review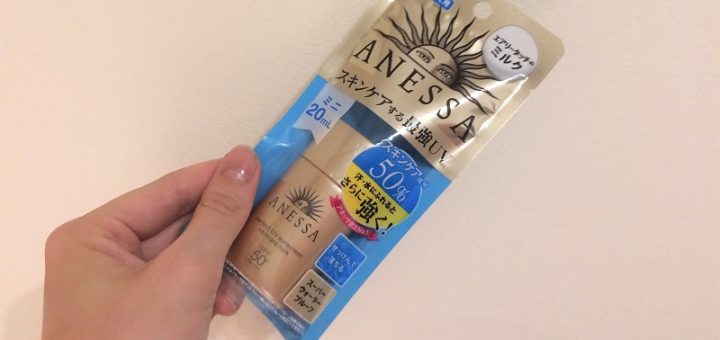 Hi everyone, it's Ina with a review of Anessa Perfect UV Sunscreen Milk. If you were watching our Youtube channel before, you might remember I reviewed a whitening sunscreen from Anessa, but this time let's take a look at their most popular!
Anessa Perfect UV Sunscreen Milk Packaging
The sunscreen is available in different sizes, but just to try it out I'm using the mini packet. I apply sunscreen every day, so I can get through this much in just one week! It's a convenient size for travel or just carrying in your handbag though. The normal size is 60ml.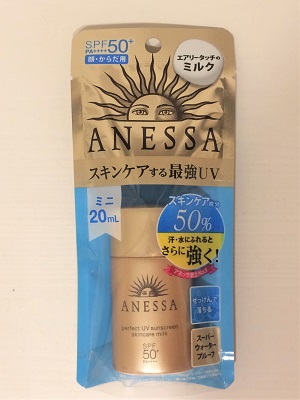 On the packet it tells you that it has an "airy touch" milky texture. It says it's super-waterproof and resistant to sweat but can be removed with soap. It contains 50% skincare ingredients. The rating is SPF 50+, PA++++. It can be used on the face and body.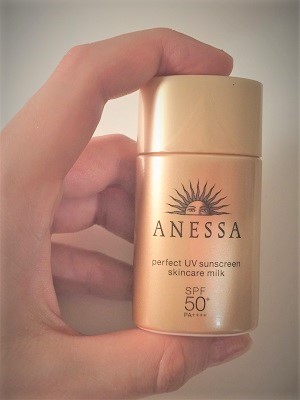 ---
Applying the sunscreen
It has a milky texture, meaning it's more liquidy than cream-type sunscreens. You need to shake the bottle before applying.
It's quite runny and I personally prefer a less liquidy texture, but it rubs in easily and doesn't feel unpleasant. I didn't notice any whiteness on the skin, but as you can see my skin is a very pale colour to start with.
The smell is fairly strong. It's actually the same scent as the other Anessa sunscreen I tried, so I'm guessing the whole range has a similar smell. It's not my favourite scent but I don't hate it either.
Summary
Liquidy texture
Rubs in easily
Strong smell but not too unpleasant
Waterproof
Price is reasonable but not the cheapest available
So far I've tried several Japanese sunscreens, but my favourite in terms of texture and moisturising is probably still the Nivea Creme Care. Unfortunately the ones that have the creamy texture I like most tend not to be as waterproof or sweat-resistant as other types. So I'm still on the hunt for one that meets all my needs. Since I wear sunscreen every day, even if one is not exactly what I want, I'll use it all up eventually!
---