Turmeric Supplements Are More Than Just For Hangovers!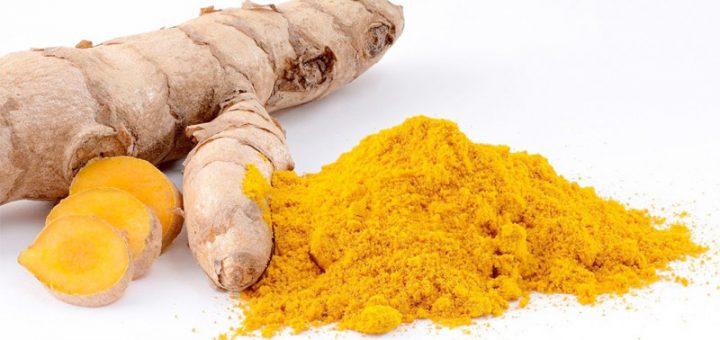 When we mention turmeric, the first thing we think about might be how effective it is against hangovers. It's not rare to see the Japanese preparing a bottle of turmeric (or ukon in Japanese) before drinking parties. But recently there has been an increase in number of health food and beauty products containing turmeric. As a result, more and more people are taking turmeric supplements!
It's easy to find turmeric products in drugstores and convenience stores, yet what method do we use to choose turmeric supplements?
---
Types of Turmeric
There are in fact more than 50 types of turmeric. In view of that, we are going to pick three of the most representative types to introduce today.
Autumn Turmeric (aka Yellow Turmeric)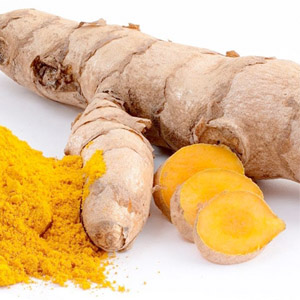 Main benefits
Prevents/eases hangovers
Strengthen liver functions
Prevents artery from harderening
We usually refer to the autumn turmeric when we use the term "turmeric". The key ingredient in turmeric is curcumin, which cleanses and strengthens our liver, and encourages the production of bile. These benefits are in addition to the prevention of hangovers.
Spring Turmeric (aka Wild Turmeric)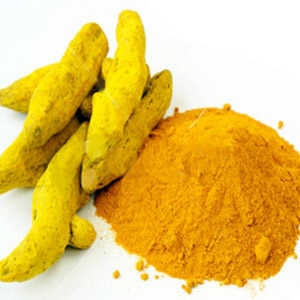 (via healthbenefitstimes.com)
Main benefits
Supports a strong stomach
Lowers blood pressure
Breaks down cholesterol
This is a very bitter and spicy turmeric that has been used in Chinese medicine since ancient times. The curcumin content in the spring turmeric is less than the autumn turmeric, but on the other hand it is packed full of essential oil and minerals. The benefits from spring turmeric is decidedly different, as the essential oil builds a strong stomach, lower blood pressure, breaks down cholesterol etc.
Purple Turmeric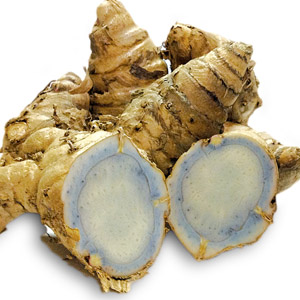 (via rakuten.com)
Main benefits
Builds a strong stomach
Detoxes for beautiful skin
Supports dieting
Unlike the autumn turmeric, the purple turmeric does not contain curcumin at all. Instead, it has a higher content of essential oil than spring turmeric, and has benefits such as breaking down of cholesterol and diet.
The purple also has a special feature: beneficial against gynecological disorders. It is an ally for ladies who are prone to chills or face hormonal imbalances.
---
When to take Turmeric Supplements?
For the purpose of preventing hangovers
Turmeric is often taken before any drinking parties to prevent hangovers and drunkenness. Generally our body absorbs nutrient in order of consumption, so turmeric would be able to handle the alcohol that comes after.
For diet purposes
The best time to take turmeric for diet purposes is to take it before meals. This way, the turmeric is able to control sugar levels from rising and prevent sugar from being absorbed. Therefore you may want to take turmeric before taking in carbohydrates and/or sugar for best effect.
Also, the body absorbs the turmeric better if divided into several consumptions (instead of all at one go).
---
Side effects and Other Important Points
Anyone with impairment of the liver
Turmeric contains a rich amount of minerals. If there is an excess of minerals, iron may accumulate in the liver and cause disorders to the liver functions. It's not just only turmeric though, as one must be also be careful not to eat too much cyrenidae or spinach due to their high iron content.
Pregnant Women
It's best for pregnant women to avoid turmeric supplements. Turmeric has the effect of flushing bodily wastes, which consequently heightens the risk of miscarriage.
Taking medication that prevents blood from solidifying
Turmeric can help to prevent blood from solidifying. In that sense, if you are already taking medication that already has that effect, turmeric can further that effect. What that means is that if you get hurt and cut, the blood is unable to solidify and cause a constant flow of blood.
Anyone taking diabetes medication
If you are taking medication that lowers your blood pressure for diabetes treatment, then you will want to avoid consuming turmeric. Turmeric is also able to lower blood pressure, and could put you in life danger if blood pressure falls too low.
---
Turmeric Supplements Introduction
Ryukyu Shugo Densetsu Turmeric Supplements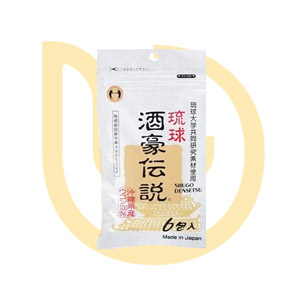 Approximate intake: 1-3 tablets
This supplement contains a blend of the three healthy turmerics (spring turmeric, white turmeric and purple turmeric).
One bag of Ryukyu Shugo Densetsu has two types of supplements – green and yellow. The green ones have ingredients such as herb and guava to help lower sugar blood levels. On the other hand, the yellow ones give the benefits of the three turmerics blended into it, including health maintenance and preventing hangovers.
---
DHC Concentrated Turmeric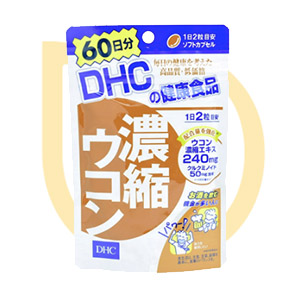 Approximate intake: 1-3 capsules
The supplement is a blend of curcumin-filled autumn turmeric, spring turmeric which has a high content of essential oil, and purple turmeric. As a result, it has multiple benefits, which includes prevention of hangovers, maintenance of healthy liver functions, and break down of cholesterol. It is also easy to drink without the unique scent and taste of turmeric as they come in soft capsules.
---
Beni Ukon Sama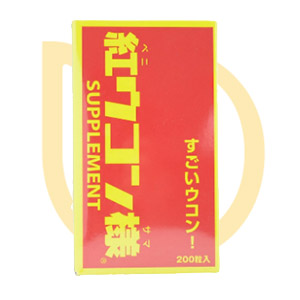 Approximate intake: 5 tablets
Beni Ukon Sama uses a special red autumn turmeric that contains 6 times more curcumin than normal autumn turmerics in its supplement.
---
Beni Ukon Sama Kyoto Limited Bottle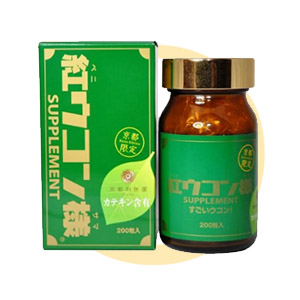 Approximate intake: 5 tablets
Same as the standard series of Beni Ukon Same, this supplement uses the special red turmeric in its formulation. This green Kyoto-limited bottle contains catechin, which acts as a support for curcumin. It gives the benefits of prevention of degeneration of the liver functions, and burning fat.
---
In Conclusion
Turmeric has a strong image as an accompaniment for drinking occasions, but it also has numerous health benefits, such as dieting, improving waking up in morning and getting better skin condition. Hope this guide will help you figure out the ingredients and benefits of turmeric supplements! In fact, we covered the differences between red and green bottles of Beni Ukon Sama if you're interested in knowing more.
---

---
| | |
| --- | --- |
| :: SUPPLEMENTS :: | :: HAIRCARE :: |
| | |