@cosme Reviews: Botanist Botanical Shampoo and Treatment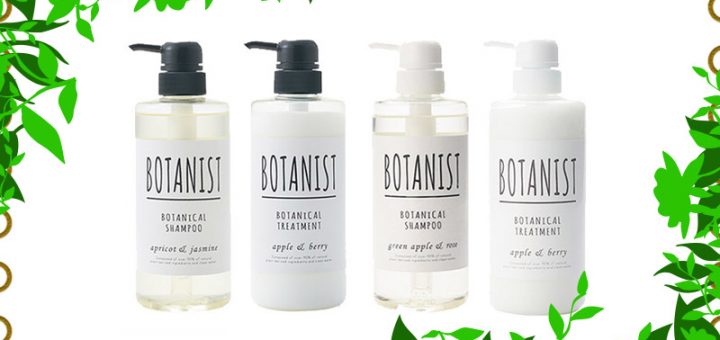 "@cosme Reviews" looks at trending Japanese beauty products in Japan, and the Japanese users' opinions about them on @cosme, arguably the best community review site in Japan. This week we take a look at the Botanist Botanical Shampoo and Treatment.
---
Moist and Smooth versions
A closer inspection will reveal that the Botanist Botanical has two types of shampoos: Moist and Smooth. You can tell them apart the colour of the cap (black and white respectively).
Botanist Botanical Shampoo and Treatment Smooth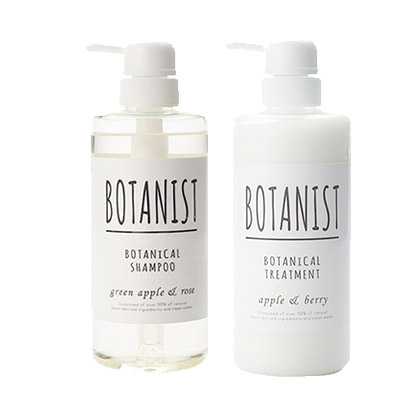 The Smooth series is identifiable by the white caps. The Botanist Botanical Shampoo Smooth will provide the hair a refreshing wash, thus giving the hair the shine it deserves. The Treatment will boost the benefits received from the shampoo for a light, silky smooth finish.
The Shampoo has a Green Apple and Rose scent, and the Treatment has an Apple and Berry fragrance.
Botanist Botanical Shampoo and Treatment Moist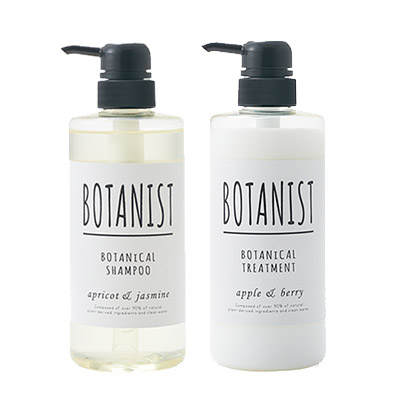 On the other hand, the caps for the Moist series are black in colour. The Botanist Botanical Shampoo Moist's high moisturising finish gives hair flexibility even if the hair is damaged. Follow this with the Botanist Treatment Moist for hair repair for a soft finish.
Both the Shampoo and Treatment's formulations include coconuts, oil palm, maize and sugar cane. The Shampoo has an Apricot and Jasmine scent, while the Treatment has an Apple and Berry scent.
---
@cosme Reviews
So what does the Japanese say about the Botanist Botanical? On @cosme, it rates 4.6 stars out of 7, as reviewed by 536 users. A good product averages a rate of 4 stars, so @cosme can be rather strict! (One reason why @cosme is such a trusted read.) Let's randomly pick a few reviews to find out what the Japanese think about the products.
Botanist Botanical Shampoo and Treatment Smooth
nqcnv, 21 years old, combination skin, 5/7 stars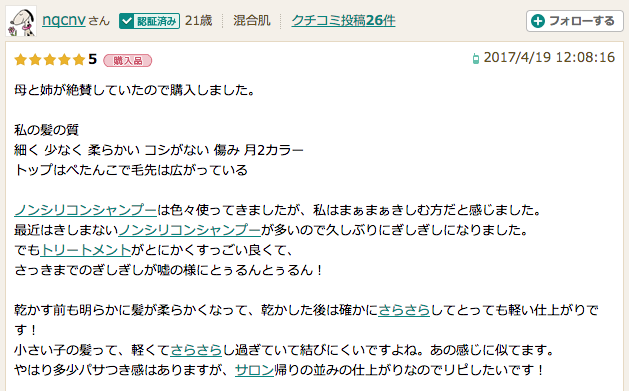 "I bought this after my mother and sister praised how good it is.
My hair is thin, soft, lacks bounce, damaged and has been coloured for 2 months. The top of my head is flattened and the ends of my hair is spread out.
I have been using various non-silicon shampoos, but they've given a somewhat squeaky feeling. Since there's an increase in number of non-silicon shampoo recently, I went ahead to try which gave me the expected squeaky finish. But the treatment was so good, it made my hair seem like it wasn't squeaky in the first place!
My hair looked softer before hair drying, and felt smooth and easy to style after drying! It is similar to a child's hair, so light and smooth that it is difficult to tie up the hair. There is still some dryness at the end, so I'll use this right after my trip to the hair salon!"
Kapiko-chan, 29 years old, dry skin, 3/7 stars

"I bought this because I was interested in this non-silicon set that claimed itself to leave no squeaky feel and has a good scent. Somehow I felt it was kinda different after using it for awhile.
Is it heaviness? Or a stickiness? It felt like my hair hasn't gone through the shower. My scalp doesn't feel refreshed too. I think it's okay to use this once in a while, but is probably not for everyday use."
Sakura-sun, 35 years old, dry skin, 6/7 stars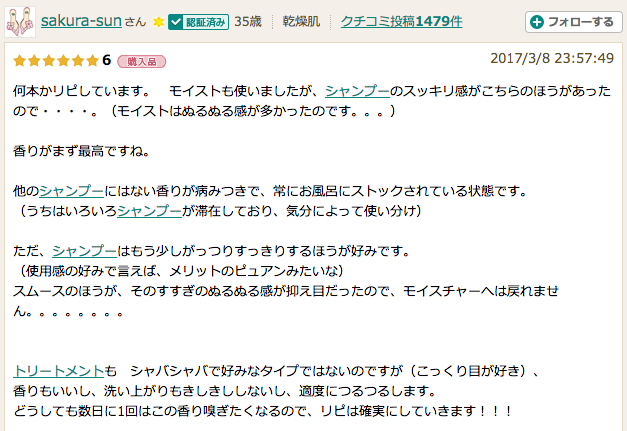 "I've already bought this series for a number of times. I have also used the Moist series, but I prefer the Smooth version for the refreshing feel over the Moist's wet feel.
The scent is fantastic.
The addictive scent is not found in other shampoos, so I'll always have this stocked in my bathroom (I have purchased a number of shampoos, and use whichever I feel like using).
That said, I prefer shampoos that gives a little firmness and thorough washing (one that's close to Kao Merit's Pyuan). The Smooth series holds back the wet finish after wash, so the moisture doesn't return… …
Even though the liquid treatment is also not my favourite type (I prefer hard, sticky treatments), the scent is good, there is no squeaky feel even after washing, and leaves suitable gleam after wash. I'd want to be exposed to the scent once every few days, so I am sure to continue purchasing these!!!"
---
Botanist Botanical Shampoo and Treatment Moist
Kisaragi Mizuki, 30 years old, dry skin, 3/7 stars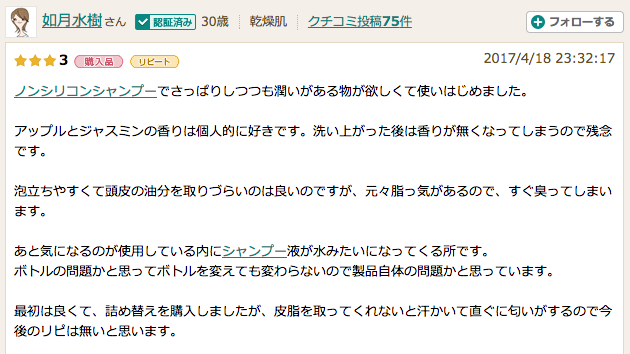 "I started using this because I was looking for a non-silicon shampoo that washes thoroughly and moistures the hair.
I personally liked the Apricot and Jasmine scent. It's a pity that the scent fades after washing.
It is good that the shampoo foams easily and doesn't remove the oil from the scalp, but I have some greasiness in my hair so it started to smell a little.
I also noticed that the texture of the shampoo eventually became like water. At first, I thought the cause was the bottle and changed the shampoo's container. But nothing changed, so I think there was something wrong with the shampoo itself.
At first I thought it was good and bought a refill pack, but since it doesn't remove sebum, and my hair starts to smell as soon as I sweat, I think I will not be purchasing this again."
Jinko-chan, 34 years old, dry skin, 5/7 stars

"The shampoo is moisturising, and my hair has a glisten, as though oil has been rubbed onto it. The treatment is also quite thorough and enhances the gleam! I have a lot of hair and bulges, and using this has made my hair much more manageable. Even though the treatment is very easy to wash off, the effectiveness is good. I like it so much that I may never use another product."
minaaa!, 22 years old, oily skin, 5/7 stars

"It got my attention because it started to be popular. I wasn't going to buy this, but the scent was what I liked, so I purchased without thinking (haha) The scent remains even after I dried my hair. Of course, my hair has moisture and feels soft.
It's not an extent where you'd think "Wow! This is amazing!" and you might even be able to find a cheaper shampoo. While the fragrance and the finish are good, the cost-performance doesn't seem good. The product itself is good, so I'll rate it 5 stars. At this point, I'm not thinking of re-purchasing (´• ω •`)"
---
TL;DR?
It seems that the Botanist Botanical shampoo is only half the process, and the treatment is going to round up the whole hair wash. Even so, it is no guarantee that it will work for everyone. This shampoo and treatment falls into the "worth giving it a shot" category if you are looking for non-silicon shampoos, because the risk of buying a mismatch product is overshadowed by having a good product that could work wonderfully for our hair and scalp. The scent is amazing too! So if you are into good-smelling shampoos, this is one of the choices you can put into your considerations~
---

---
| | |
| --- | --- |
| :: SHAMPOOS :: | :: TOP CHART :: |
| | |