Which Japanese Green Juice Should I Drink?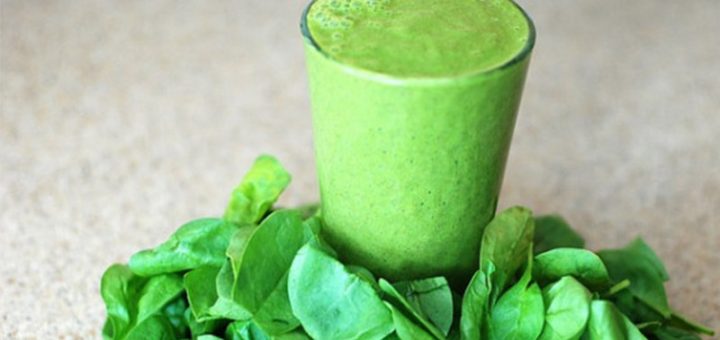 Aojiru, also known as Green Juice. It seems good for the body, but there are probably a lot people thinking, "It is hard to drink". Or maybe, "I have no idea what kind of benefits I'm receiving".
You can see numerous Green Juice products lined up at any Japanese drugstore, which hints that lots of people drink them. However, the wide variety of green juices makes it difficult to choose. We hear you, and we shall show you how to choose green juice in this article!
---
Merits to drinking green juice
1. It offers the daily amount of vegetable needed
It is often said that we need to consume a daily 350g of vegetables ideally. More accurately, we are consuming the nutrients in the vegetables, including vitamins, fibre, minerals and calcium. Thus, 350g of vegetables will be able to provide us the daily amount of these nutrients.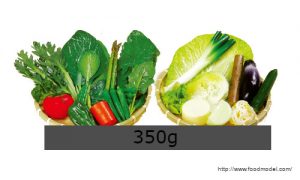 This is one day's intake. Surely it's difficult to bring ourselves to eat this much everyday?
2. Relieves constipation and prevents obesity
Green juice contains a rich amount of vegetable fibre. The fibre works to rid the waste products in the intestine. It also suppresses the absorption of fat, which helps prevent obesity.
3. Prevent lifestyle diseases
Green juice is also rich in potassium. Potassium prevents blood pressure from increasing, and consequently preventing heart attacks and strokes.
Furthermore, dietary fibre prevents blood sugar levels from rising, thus perfect for preventing high blood pressure or diabetes.
4. Prevents anaemia
A lot of females worry about anaemia. We can receive iron and folic acid from green juices too, and will be able to help prevent anaemia.
5. Benefits of anti-aging and preventing skin trouble
Green juice has a big merit of providing vitamins that are essential for beauty.
So now we know, that drinking green juices is not only about replenishing what we are missing daily, but has a wide range of benefits too!
---
The difference from Vegetable Juice
Sometimes when we find ourselves not taking enough vegetables, we may turn to vegetable juices to compensate for the required amount. What are the differences between Green Juices and Vegetable Juices then, since we take both to get the nutrients we need?
Green Juice
Merits
+ vitamins, minerals and fibre are easily absorbed
+ high in antioxidant content, good for anti-aging
+ Low in sugar content and calorie
+ Can be mixed with favourite drinks for a change in taste
Demerits
+ Unique taste present
+ Need to dissolve if in powder form
Vegetable Juice
Merits
+ Sweet and easy to drink
+ Can be drunk immediately
+ Receive nutrients from both vegetables and fruits
Demerits
+ Heat-processed during production could mean decrease in nutrients
+ Processed so that it can drunk easily, thus fibre is decreased.
+ Not necessarily low in sugar content and calories
+ Some have added scents and flavours
There are various merits and demerits to both. However, if you want something for daily consumption and have benefits other than just compensating the lack of vegetables, green juice is recommended for you.
---
The difference between Barley Grass and Kale
We will notice the differences between the various green juice products to be the type of main ingredient they use. Right now, the two mainstream ingredients used by green juices in Japan is "Kale" and "Barley Grass".
Both Kale and Barley Grass may have green leaves, but the benefits they provide are different. Let's take a closer look.
| | | |
| --- | --- | --- |
| Nutrient | Kale | Barley Grass |
| Fibre | 3 times more than cabbage | 10 times more than cabbage |
| Vitamin B6 | 8 times more than bean sprouts | 2.6 times more than bean sprouts |
| Vitamin C | 2.4 times more than mikan | 4 times more than mikan |
| Vitamin E | 5 times more than carrots | 10 times more than carrots |
| Folic acid | 4.3 times more than carrots | 1.4 times more than carrots |
Kale
Kale is also known as the king of vegetables. It is so nutritious that it is said that one can live simply on eating kale and the nutrients it provides. It is among the top for the high content of Vitamins A, C, E and minerals. Furthermore, it has a high content of fibre and proteins. It is as though kale is a health supplement on its own.
Benefits
+ Cures insomnia: Melatonin, a type of Neurohormone, helps to improve insomnia and improve sleep quality.
+ Prevents cataracts: Kale contains lutein which plays a role in maintaining the normal functions of the eyes. In fact the lack of lutein can lead to cataracts and eye diseases.
+ Prevents cancer: Vitamins A, C, E, fibre and polyphenol help prevent cancer, and kale is able to provide these three ingredients in a good balance.
Barley Grass
Barley grass refers to the new shoots of barley. They are harvested at the time when they are have the highest nutritional value.
The outstanding ingredient in barley grass is the SOD enzyme (SOD: superoxide dismutase). It breaks reactive oxygen down, which consequently gives an anti-aging effect.
Benefits
+ Prevents high blood pressure: The high potassium content in barley grass is able to remove sodium from the blood, thus help prevents high blood pressure.
+ Prevents diabetes: The SOD enzyme controls the rise of sugar blood levels, and can prevent and improve diabetes.
+ Fatigue recovery: Barley grass has a high content of Vitamin B1. The vitamin helps in fatigue recovery, making it difficult to feel tired, and improve the body's recovery rate.
+ Beauty benefits: Vitamin C is important for collagen production, and barley grass has a high content of
---
Green Juice Kale Type
FANCL
FANCL's green juice is made with 100% Japanese kale, and is free of any agricultural chemical. It doesn't use any colouring or preservatives, so even children, pregnant women and breastfeeding mothers can drink this without any concerns.
FANCL Green Juice Premium 30sticks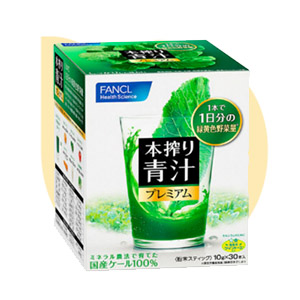 Contains 120g of kale
1 packet per day for daily serving of vegetables.
FANCL Green Juice Basic 30sticks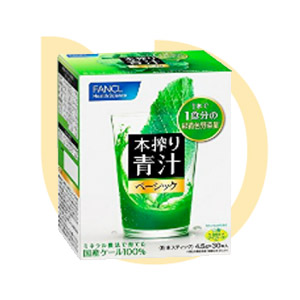 Contains 40g of kale
1 packet per day for daily serving of vegetables.
FANCL Green Juice Plus Soy Bean 30sticks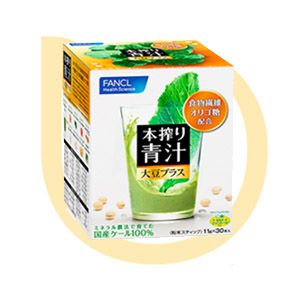 Contains 30g of kale
Formulated with organic soy bean and apple sugar. Has a slight scent of roasted soybean flour.
(via fancl.co.jp)
---
Yakult Maroyaka Kale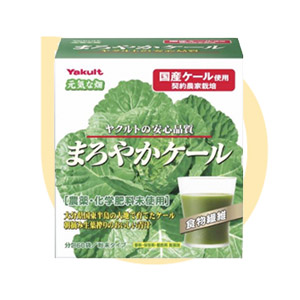 This green juice has seen a lot popularity because it is not only cheap among the various kale green juice, but also made by the trusted brand Yakult. It has a unique taste to it.
---
Green Juice Barley Grass Type
Yakult
1 to 2 packets a day is the recommended intake. It is made of 100% Japanese-produced barley grass, and does not involve any use of agricultural chemicals.
Yakult Aojiru No Meguri (Green Juice)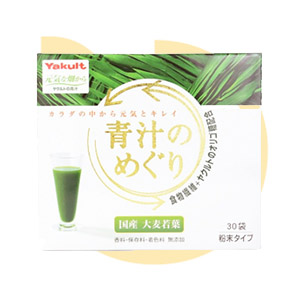 This is the bestselling green juice. The essence of barley grass is used instead of its powder.
The green juice includes apple sugar, similar to other Yakult's drinks. This green juice is recommended for anyone who wants to improve their intestinal functions.
Yakult Watashi No Aojiru (My Green Juice)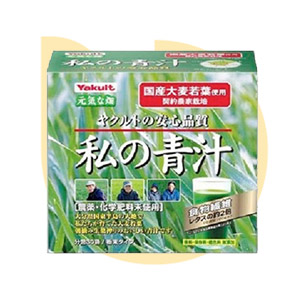 This green juice series can be bought at a reasonable price. It does not include apple sugar like its counterparts, but a little more fibre when compared to Yakult Aojiru No Meguri.
Yakult Heath Foods Morning Fruit Green Juice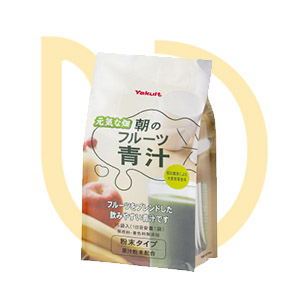 Fruits have been blended into the green juice to give a fruity taste, and provides the best of both worlds of nutrients.
(via www.yakult-hf.co.jp)
---
Yamamoto Kanpo Pharmaceutical Barley Grass Powder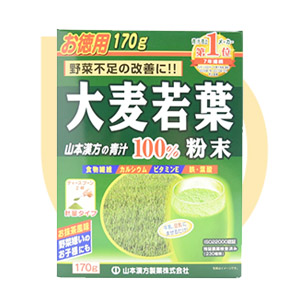 1, 2 packets each day is the recommended intake. It is popular for its matcha taste, such that it hard to get tired of the taste.
(via kanpo-yamamoto.com)
---
:: Things to note while drinking green juices ::
+ The nutrients in the green juice will decrease if it is pre-made, so it is not recommended.
+ If you are under medication, or is restricted from taking Vitamin K, it is recommended that you consult a doctor before consuming green juices.
---
In Conclusion
We have explored both the solution is compensating the lack of vegetable in our diets, and the merits of drinking green juice. Furthermore, green juices are not medical products. Continuing to drink them will allow you to reap big benefits. Once you have figured out what kind of benefit you want, you'd be able to choose a green juice that you can continue with getting bored off.
---