Your Answers to Frequently Asked Questions About the Chocola BB Series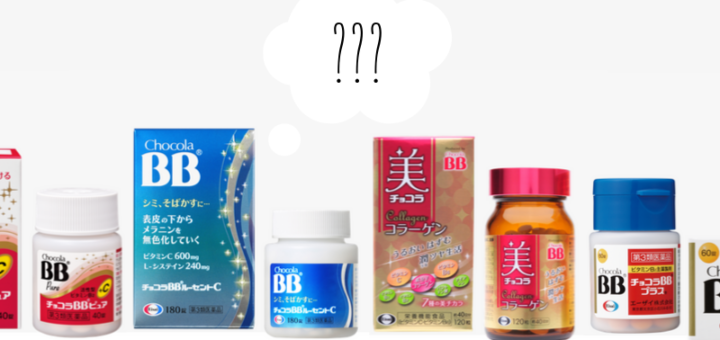 Can I take Chocola BB while pregnant?
Can I take Chocola BB Collagen and Chocola BB Lucent together? 
We get so many questions here at Wonect about the Chocola BB range, which isn't a surprise, considering that it's our best-selling product range! Whether you're dealing with acne, looking for an easy to take collagen supplement, or want a whitening supplement to beat sun or age spots, the Chocola range is a Japanese beauty supplement that's trusted by our customers around the world.
---
A Quick Intro to the Chocola BB Range
If you're not familiar with the Eisei Chocola BB Range, you might wonder what the secret to their popularity is, and what they actually do. These supplements are all based around B-group vitamins: this is where the "BB" in the name comes from. (The letter "b" is also pronounced the same as "beauty" in Japanese!) Read on for a quick breakdown of the "big five" supplements, what they do, and a link to their English product information sheet.
---
Chocola BB Lucent C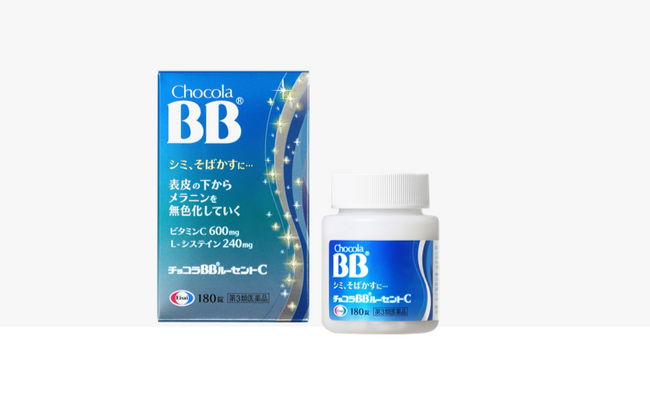 Official English Product Leaflet
Chocola BB Lucent C is our best selling product from the Chocola line. This vitamin C and L-cysteine based supplement can help uneven skin pigmentation, like sun spots, freckles, and age spots, and acne scars. This supplement also contains Vitamin C to help boost collagen production within the skin, Vitamins B2 and B6 to encourage skin renewal, and Vitamin E for skin repair.
Find out more about Chocola BB Lucent C here!
---
Chocola BB Collagen (Chocola Beauty Collagen)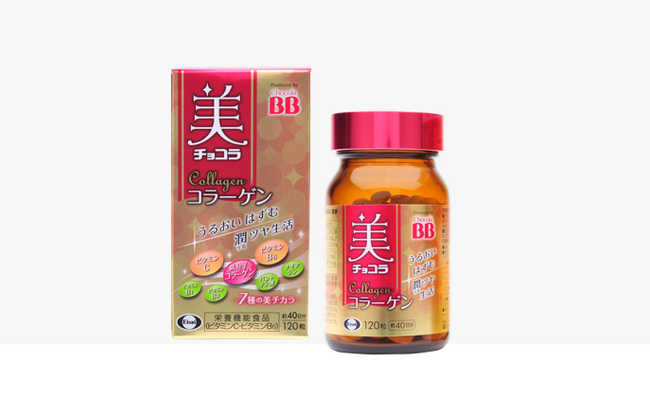 Official English Product Leaflet
Chocola BB Collagen (officially called Bi Chocola Collagen) is a tablet-form collagen supplement that also contains a good amount of vitamin C and B-group vitamins, making this a good supplement for all-round skin health and beauty. This is highly recommended for are looking for an easy and high quality alternative to collagen powders.
Find out more about Chocola BB Lucent C here!
---
Chocola BB Plus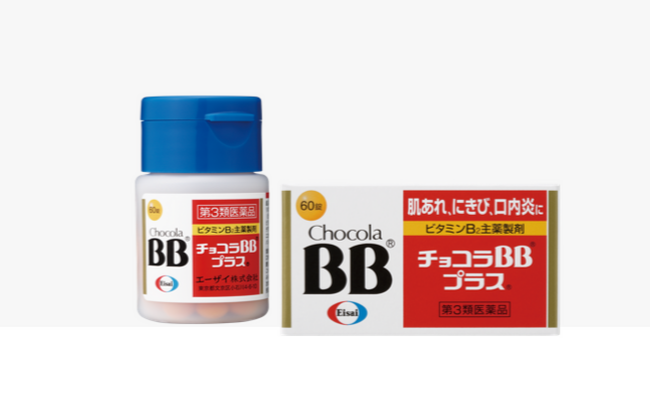 Official English Product Sheet
Chocola BB Plus can help with everything from dry skin, fatigue, mouth ulcers, cracked and inflamed lips, and acne. If you're dealing with these symptoms together, it's possible you're suffering from a vitamin B deficiency, which this supplement can help for. (Of course, its best to get a blood test to confirm.)
Find out more about Chocola BB Lucent C here!
---
Chocola BB Pure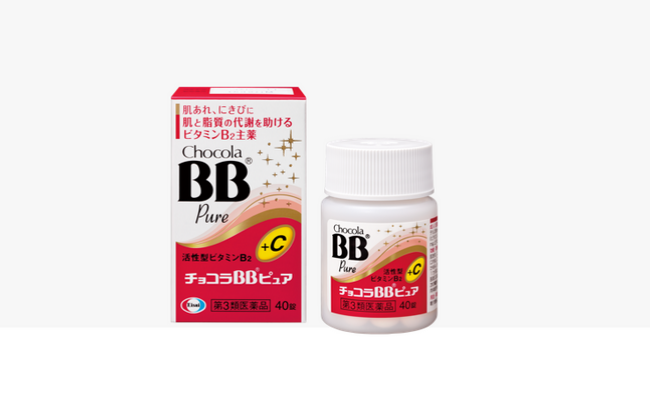 Official English Product Sheet
If you are looking for a vitamin supplement to help with acne, this is the one from the Chocola range we would recommend.  Chocola BB Pure is very similar to Chocola BB Plus, but is more focussed on skin issues such as skin roughness, dryness, and acne. This supplement also contains vitamin C to help with fading dark spots and acne scars.
Find out more about Chocola BB Pure here!
---
Chocola BB Royal T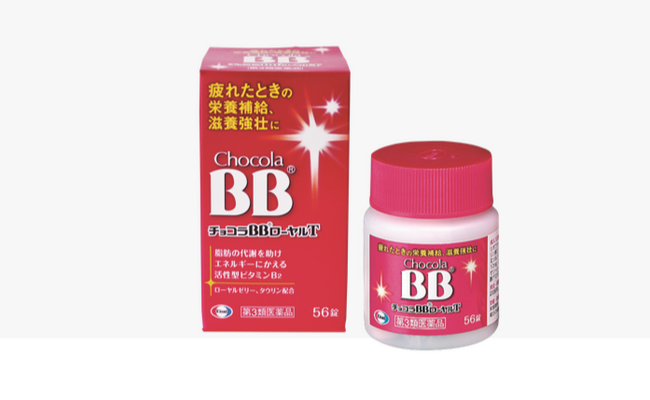 Official English Product Sheet
Chocola BB Royal T is a tonic for physical fatigue. It contains vitamin B vitamins that are the core of the range, as well as other nutritional supplements like royal jelly,  taurine, and a moderate dose of caffeine (about the same as a cup of tea) for an instant pick me up. You can take these whenever you need a pick me up, which is a much cheaper and healthier alternative to a regular Red Bull or other energy drink!
Find out more about Chocola BB Royal T here!
---
Onto The Questions!
A quick note before we start: All the products in this article are vitamin-based, over-the-counter supplements, which means they are considered safe for the general public to use without needing a prescription. However, we at Wonect are not medical professionals, and we can't give any medical advice. All the advice here is based on documentation from the product manufacturer, Eisei, or from other authorities we will link to in this article.
In general, our recommendation at Wonect is to speak with your doctor before starting supplements if you have any existing conditions, are taking medication, or are pregnant or are planning for pregnancy, or just have any other concerns you need cleared up. Information you find on the internet can be useful in a general sense, but only your doctor can look at the whole picture and give you advice specific to your individual condition. If you have questions about allergens or other issues related to the products themselves, you can also contact Eisai directly via their English language contact form.
You can also find some very useful fact sheets on vitamin supplements, including information about potential medical interactions and upper intake limits via the U.S. Department of Health & Human Services National Institutes of Health:
---
Can I take Chocola BB Collagen and Chocola BB Lucent C together?
This is probably our most commonly asked question about the line, and it makes a lot of sense why. There are many people who want supplements that provide both collagen and skin-whitening effect, it's almost a little strange that Eisai doesn't make a two-in-one!
Unfortunately, the question is tricky to answer. This is because both Chocola BB Collagen and Chocola BB Lucent C contain quite a high dose of the same B vitamins. This in and of itself isn't the end of the world, because the B vitamin group are water-soluble. This means that any excess is not stored in the body like fat-soluble vitamins are, but instead pass through our system if not needed. So, rather than being a real safety risk, taking too much vitamin B can be a bit of a waste of money.
---
Can I take Chocola BB while pregnant or breastfeeding?
Most of the Chocola BB series is OK to take during pregnancy and breastfeeding for most people, but there are two exceptions. Eisai states that Chocola BB Rich Ceramide drink has not been developed for those who are pregnant, planning to become pregnant, or who are breastfeeding, so those customers should avoid that particular drink.
Chocola AD can be taken by pregnant or breastfeeding mothers, but since it contains a Vitamin A supplement, you should consult with your doctor or healthcare provider if you are in the first three months of pregnancy or are planning to become pregnant. This is due to reports of a higher rate of birth defects in women who took more than 10,000 IU of Vitamin A daily in the three months before conception and first three months of pregnancy.
---
What time of the day should I take Chocola BB?
Our customers also ask us if there is an optimum time of the day to take Chocola products. While it's best not to take Chocola BB Royal T before bed because it contains caffeine and could keep you awake, generally speaking there are no official recommendation about what time to take supplements. Some say that taking collagen before bed gives your body more time to digest it, but this is just anecdotal.
The most important thing to keep in mind is that taking supplements is an investment in your skin's future that you really need to stick to to get great results. As they say, any product that gives "instant" effects usually are only short-term changes, and it takes time to make real changes to the fundamental makeup of your skin. Our strong advice is to find whatever routine that suits you. Some people like to take all their supplements before bed, some people find it easier to remember to take with a certain meal. It's best to find the most convenient and comfortable way for you to continue in the long term.
---
What animal is the collagen in Chocola BB Collagen from?
The collagen in Chocola BB Collagen is derived form fish (tilapia to be exact) rather than pork, so this should be suitable for halal or kosher diets, but unfortunately not vegetarian or vegans. There are also no shark-derived ingredients in this supplement.
---
How long do Chocola products last after opening? 
Chocola supplements will typically remain fresh and at their peak effectiveness for at least six months after opening, although this is a rule of thumb. To keep them as fresh as possible, keep them in a dark, dry place, avoid decanting them into any other containers, and make sure not to dispense the tablets with wet hands. If you order from Wonect, you can contact us via our website before placing your order and we can tell you the expiry date on our current stock, too.
---
Thanks for reading!
If you have any other questions about the Chocola range, get in touch on Wonect.com! We'd be happy to help.