All About Mediplus, Japan's Best-Kept Skincare Secret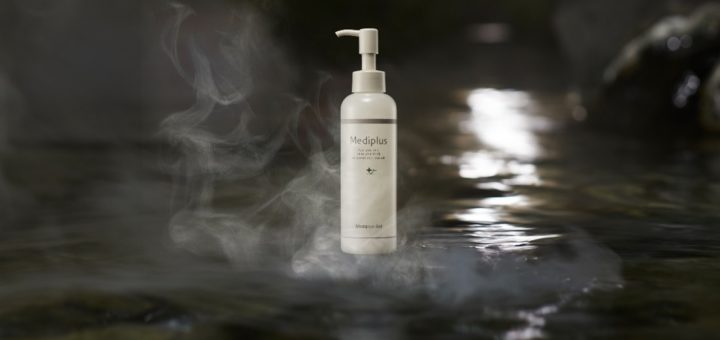 Mediplus might not have the same brand recognition as some other big Japanese names, this line has blockbuster reviews on Japanese ranking sites, and we have plenty of in-the-know customers who come back again and again for these all in one skincare staple.
If you haven't heard of Mediplus, it may be the best-kept secret you haven't heard of. Typically sold on a subscription-only basis in Japan, Mediplus products are available by the piece worldwide via Wonect.
Mediplus Gel is the core of the Mediplus line. This low-irritating, deeply moisturizing gel can replace your whole skincare routine and lock in moisture for 24 hours. It's free of all common irritants and safety hazards like parabens and silicones, and can be used on all skin types.
If you're curious about the secret behind Mediplus' success in Japan and what it can do for you, read on!
---
Mediplus Gel Features
Mediplus Gel is a low-irritating all in one moisturizing gel that can be used day or night. Free from a range of common irritants and allergy tested, it's safe to use for sensitive skin, and is designed to be deeply moisturizing enough to satisfy even those with dry skin types.
Many of our customers tell us they love using these products during pregnancy and while nursing. Many women prefer to avoid chemical-heavy skincare and strip back their routine when pregnant and while breast feeding, and Mediplus is a simple way to stay moisturized without applying a cocktail of chemicals to your skin that could transfer to baby.
This all in one item is low-hassle enough for new mothers to approve of, and its fragrance-free formulation has won many fans among those who find themselves more sensitive to strong scents during pregnancy.
Explore the Mediplus range with worldwide shipping at Wonect!
---
Mediplus Line Highlights
Here are the official product features, translated directly from Mediplus:
Feature 1: Skincare Secrets Condensed Into One Product 
Mediplus works in three steps: it helps loosen old skin cells to boost absorption, delivers long-lasting moisture into the skin, and acts as a seal, locking in moisture for 24 hours.
Feature 2: Generous Formulation of 66 Serum Ingredients 
Mediplus is generously formulated with 66 types of beauty ingredients, including staples like hyaluronic acid, ceramides, and collagen. The water component of this gel is Tamatsukuri hot spring water, known for having the ideal mineral balance for skin health. This water is readily absorbed by the skin, leaving it firm, dewy, and hydrated.
Feature 3: Non-Irritating Formula, Safe for Sensitive Skin 
Mediplus is designed with a clean formulation that's safe for all skin types.
No preservatives (Parabens, Phenoxyethanol)
Alcohol free
Petroleum-derived surfactant free
No artificial colorants
Artificial fragrance free
Mineral oil free
Silicone free
Feature 4: All in One Formulation Reduces Friction and Skin Damage 
In Japan, avoiding touching and rubbing your face is an iron-clad anti aging rule. Avoiding direct friction is also the same reasoning behind whipped and highly-foaming cleansers. Since this item can replace your hydrating toner, lotion, serum, and cream moisturizer, it's not just quicker and more convenient: it's also helps prevent friction damage. Just cleanse, apply the gel, and your skincare is done!
---
Lineup Guide
While Mediplus Gel, at the core of the line, is a one-step gel, there are some variations of the gel as well as Mediplus cleansers to choose from.
Mediplus' approach to skincare takes three stages:
Moisturizing care: Surrounding the skin in moisture to create a hydrated condition.
Reset care: Removing impurities and dead skin cells to create skin that can prevent the skin from absorbing moisture.
Make-up care: Protecting the skin from dryness and UV damage to maintain its hydrated condition.
Mediplus Gel itself comes in two types: Mediplus Gel, which is suitable for all skin types, and Mediplus Gel DX, which is a rich and more concentrated formulation best suited for very dry and mature skin, or for spot treatments on normal to oily skin.
---
Frequently Asked Questions 
What is the difference between Mediplus Gel and Mediplus Gel DX?
Mediplus Gel is the standard type in the line and is suitable for most skin types. You can use Mediplus Gel as concentrated care for particularly dry or problematic areas. It can also be used as a richer night cream, or on its own.
Is using this on its own really enough?
One application is all you need to complete your skincare routine after cleansing. Mediplus provides them oisture of a hydrating toner, the conditioning of a lotion, the nutrition of a beauty serum, and the protection of a cream moisturizer, so there is no need to use other products.
Can I use this range with other products? 
Generally speaking, you do not need to combine Mediplus with any other products. However, it's fine to use it alongside other skincare products if you prefer. In that case, Mediplus recommends you use it after your serum step. Mediplus also recommends that to ensure your skin reaps the benefit of its low-irritating formula, you do not use these products alongside fragranced or colored products.
How much should I use each time? 
For day use, one light pump is enough to cover the face, neck, and décolletage. In the evenings, use two pumps and gently pat in until completely absorbed.
How should I store Mediplus Gel, and how long does it last? 
Store in a cool, dry place away from direct sunlight. The product will last two years if stored at room temperature unopened. As Mediplus does not contain preservatives, please use within 3 months of opening.
Explore the Mediplus range with worldwide shipping at Wonect!
For more about Japanese all in one products, check out our in depth article here: