Japanese All-In-Ones vs Specialised Products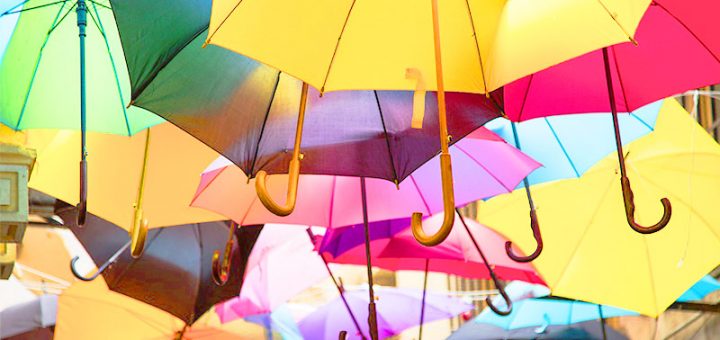 There is always the eternal conflict between using specialised products versus all-in-one products. The same questions come up again and again: are specialised products are better because they provide focused care? Are all-in-one products enough as an alternative? And does adding the adjective "Japanese" make them any better? Wonect explores these questions about Japanese all-in-one products in this article!
---
Should we use Japanese All-In-One Products for Beauty?
The reason why we are asking this question is because in recent times we have seen the rise in popularity of Japanese all-in-one products, with above than average ratings. Since these products are being used with positive feedback, are past concerns about specialised products versus all-in-one products still valid? Or have times seen an advancement in beauty technology?
Specialised products
Well, the answer is both yes and no. Specialised products are still better in most cases, because they are focused on fixing or maintaining skin beauty. These products are formulated specifically to tackle a concern, which means the ingredients used are catered towards that, with few additional benefits. On the other hand, all-in-one products, where they have a wide range of benefits, but may not have enough potency to overcome bigger concerns.
For example, it will be difficult to overcome sagging pores with an all-in-one product that is only highly moisturising. We'd want lotions or essences that directly improves sagging pores, or might even want to use anti-wrinkle quasi drugs.
All-in-One products
But that doesn't rule out using all-in-one products! Japanese all-in-one products these days have very high functionality. Of course, we are ruling out fake products from brands you've never of. Otherwise, they are highly enriched to ensure provide the benefits stated on the packaging, and thus fulfilling their promise as an all-in-one product. They are still not as good as Japanese specialised products, but they are still able to do their work.
In fact, all-in-one products have a benefit, and that is providing the minimum amount of beauty ingredients, while allowing the skin to develop itself to be stronger by itself. Instead of an reliance on beauty products, many Japanese all-in-one products replenish nutrients and protect the skin, allowing an environment for the skin to better stronger.
Other factors in choosing Japanese All-in-one Products
Other than the convenience and effectiveness considerations, there are other important factors too, such as cost! Not all, but some all-in-one products can seem costly. However, if you compare buying one all-in-one product to buying several individual products for the same benefits, then it is going to more economical buying the former.
Also, we need to think how an all-in-one can fit into our current routine. For example, some all-in-one products are highly moisturising, so there is a chance that it contains high oil content. We'd want to avoid applying more cream or milk products after applying the all-in-one product, so as not to over expose our skin.
---
Tip for choosing Japanese All-in-one Products
Just like any beauty products (especially skin care products), we want products that have high skin penetration, thus allowing our skin to absorb beauty ingredients easily and more effectively. To ensure that with all-in-one products, we can reapply, which is a little like applying sunscreen:
1) Apply as we normally would, ensuring we've applied properly and uniformly.
2) Apply a thin second layer.
3) Press softly using both palms (a short 10 sec will do). The heat from the palms will help the penetration of the beauty ingredients.
---
Product Introduction
Naturie Job's Tears Skin Conditioning Gel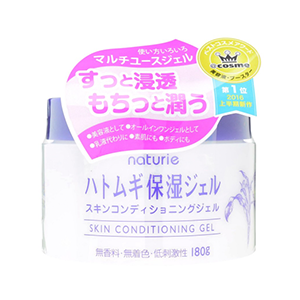 Some of you may be familiar with Naturie's Skin Conditioning, which is in lotion form. This is the same product in gel form! In fact, this was awarded the Best @cosme Award Serum/booster category in mid-year 2016. This year, it comes in TOP in the Best All-in-One Product category!
Filled full of moisture, but applies onto the skin easily and absorbed just the same. It also leaves no sticky sensation while holding the moisture for a long period of time. Therefore Naturie's Skin Conditioning Gel is suitable for various uses, be it as a beauty moisturiser, or for use on the body, or an alternative to milk products before applying makeup. Even our Wonect Starlets sang its praises! The relatively cheap price makes this one of the favourite purchases among the Japanese.
---
SANA Nameraka Soybean Isoflavone All In One High Moist Gel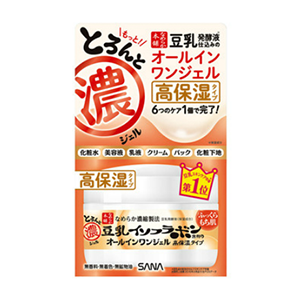 The Nameraka Soybean Isoflavone Gel is another gel product that can as a six-in-one: lotion, beauty serum, milky lotion, cream, pack, and makeup foundation!
It uses fermented soy milk, which contains three soybean-derived components. In addition, brand SANA formulated this gel with 20% more beauty oil than its standard version, which creates a moisture veil to protect the loss of moisture from the skin. It's also great that it leaves no sticky sensation after use.
By the way, refills packs are available for the Nameraka Soybean Isoflavone Gel.
---
QUALITY 1ST All In One Sheet Mask The Best 30 Sheets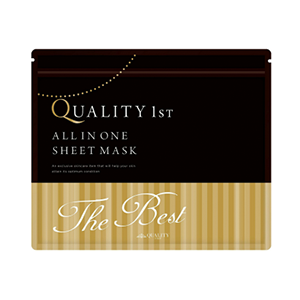 This mask is highly enriched with 63 varieties of beauty ingredients! Although this mask is considered one of the pinnacles of anti-aging care, users like this mask for increasing the turnover of the skin and increase the moisture content and bounce in the skin. Like many of the better quality masks, these masks have stretchability. This lets the mask to be as close to the face, which allows better absorption, and even have a lift up benefit too.
---
SHISEIDO AQUALABEL Special Gel Cream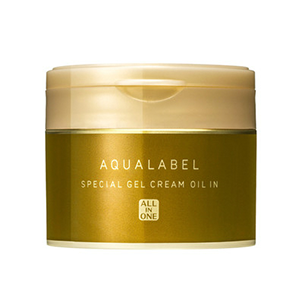 The Shiseido AQUALABEL Special Gel Cream contains organic oil, squalane, collagen, hyaluronic acid, and amino acid. This item is for skin types that are very dry. It uses the oil-in-capsule gel cream to take back the youthfulness of the skin, so its very effective for anti-aging. This cream plays five different roles of lotion, milky lotion, cream, mask, and beauty serum.
It is recommended as a mask to maximise the moisturising effect. To do so, use about the size of an almond, spread it on the face and let it rest for 3 minutes. It also has a light rose scent.
---
In conclusion
If we are able to use "high functioning" Japanese all-in-one products, we do not have to be concerned about their strengths shadowed by specialised products. The best use is to include both, especially when we have particular skin concerns that all-in-one's may not be able to approach.
In fact, if you are looking for more moisturising solutions, you may want to take a look at the 11 recommendations we have over here. Or perhaps you are looking for more specialised products? Then a better understanding of quasi drugs will help you choose the kind of product best for you!
---