Recommended Drugstores in Kyoto – With Maps!
So you've seen the videos on our Youtube channel. But now you are wondering, where exactly are these featured drugstores in Kyoto located??
This is an accompanying article for the videos to show you where these drugstores are, including maps will help you locate the drugstores in Kyoto more easily. That said, NOT ALL drugstores are listed! Event though it is not difficult to find drugstores in Kyoto, Wonect has handpicked these drugstores either because they are worth the visit, for convenience for trip planning, or for shopping tips!
And of course, the maps are not drawn to scale… m(__)m
---
KYOTO STATION Drugstores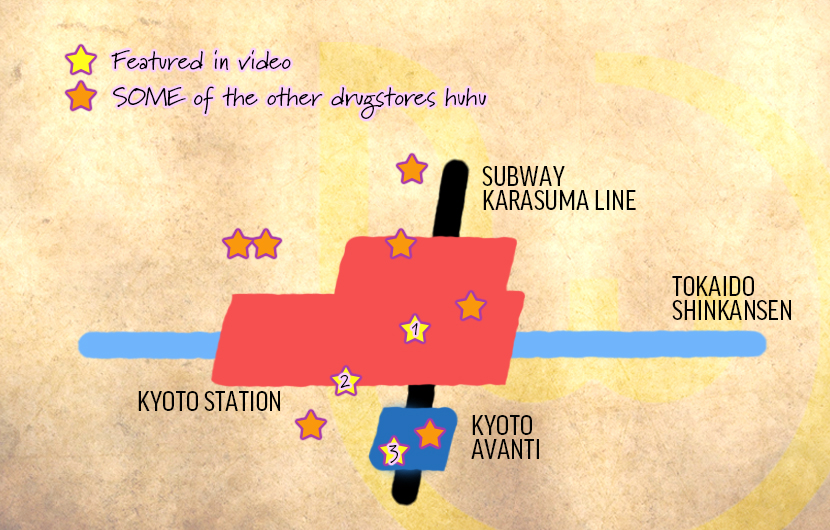 1) Kokumin Drugstore, The Cube, Kyoto Station North Side (B1)
2) Matsumoto Kiyoshi, Kyoto Station South Side (1F)
3) Don Quixote, Kyoto Avanti (2F)
Check out the video for how to get there!
---
SHIJO DORI Drugstores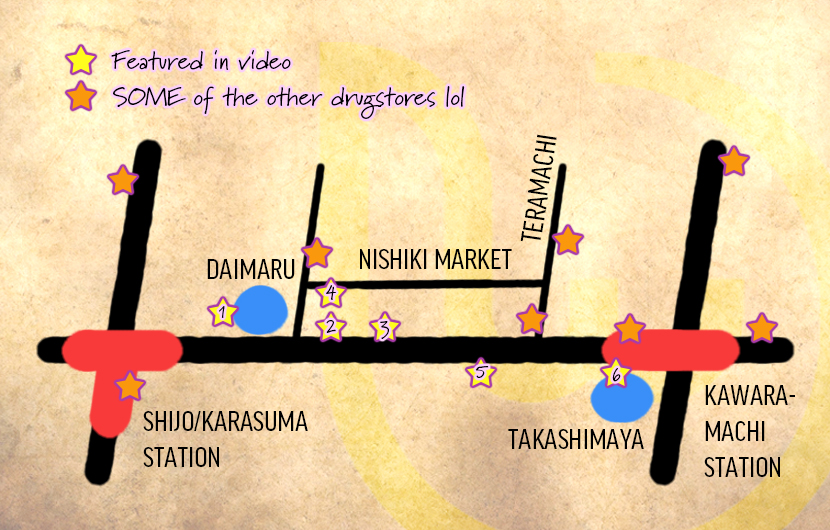 1) Cocokara FINE, West Entrance of Daimaru
2) Kirindo, East of Daimaru
3) Cocokara FINE, East of Daimaru
4) Daikoku Drugstore, West Entrance to Nishiki Market
5) Matsumoto Kiyoshi, Nearby Entrance to Teramachi Shopping Street
6) OS Drugstore, Bus stop Outside of Takashimaya
Video below on how to get there!
---
TERMACHI / SHINKYOGOKU / KAWARMACHI Drugstores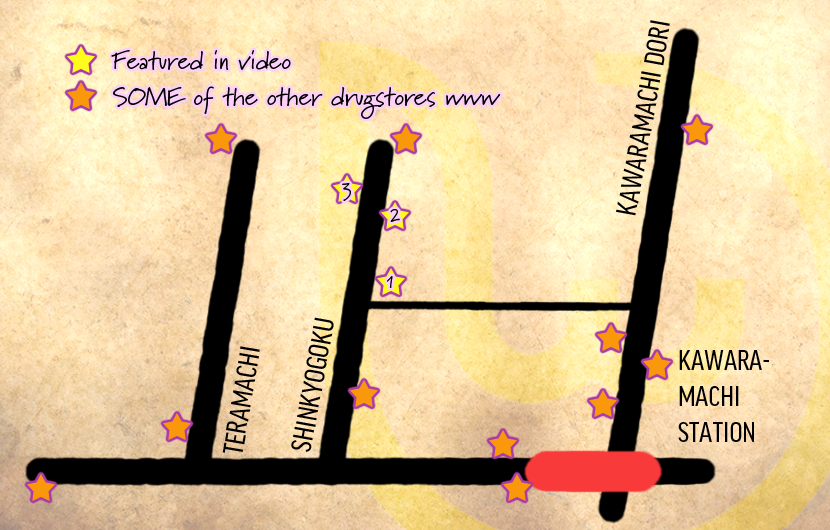 1) Matsumoto Kiyoshi, about 100m north from exit 9 of Kawaramachi station
2) Sugi Drug about 20m away from MatsuKiyo
3) Sun Drug, just opposite Sugi Drug
These three drugstores lay in the midst of this wonderful shopping district, and their proximity makes beauty product shopping very convenient! Plus, they are located in the heart of this shopping area, so it can fit into your shopping plans easily! Transport options for bus and trains are also available too, with Gion just opposite the river.
Video below on how to get there!
---
Of course, they are many other drugstores in Kyoto!
As you can tell from the maps, there are many drugstores that we have not mentioned. However, that does not mean they are not good to visit! This purpose of this guide is to show you the options you have. Happy shopping!
---