Six Japanese Selections to Eliminate Back Acne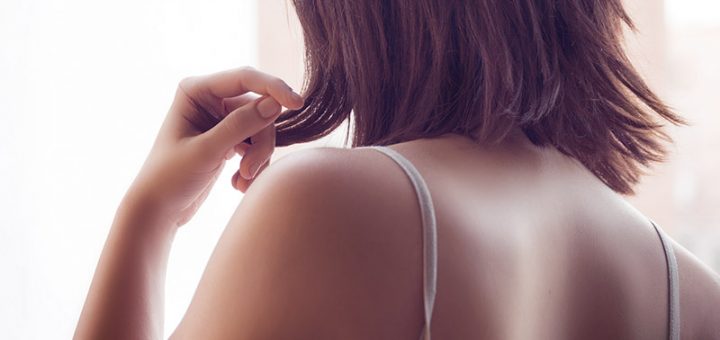 Do you have confidence in your back? Our backs are usually covered by the clothing, thus easier to neglect back care than our face care. Neglected back care can lead to back acne, since that is where there are lots of sebaceous lines,
It is even possible that back acne will worsen because self-care is particularly difficult. It is hard to reach with the hands too. Subsequently those acne reoccur at the same spot once they have started.
Today, we're going to share with you the ways we can solve our back acne worries!
---
Your back is attracting attention
A certain beauty survey was conducted, "Do you think you have done enough body care?" About 76% of the respondees replied that they thought it wasn't enough, or that they needed to do better.
In fact, there was another question, "How often do you look at others' bodies?" 29% of the respondees replied "very often", while 44% replied "sometimes".
The interesting things we can learn from the survey are: on one hand, there is an increase in the number of people who think that they are not doing enough body care. On the other hand, they are concerned with others' looks. Looks like we are comparing ourselves with others daily, huh?
---
Back Acne
Back acne doesn't seem to heal naturally. Even so, there are products available for acne care that can help improve back acne.
Acne occurs on the back easily
Most people wash their faces and carry out skincare more than once a day. What about the back?
Of course, we would do be able to wash our back when we enter the shower, but we can't actually see it, and it may be hard to reach it. As a result, most people are not able to wash their backs properly.
Causes of back acne
Overproduction of sebum
The back ranks second in the area where the amount of sebum produced on our bodies (following number one, our face). Acne is likely the result if we don't remove sebum, especially excess sebum, properly.
Testosterone increase due to lack of sleep or stress also leads to excess production of sebum. Pores can get clogged the sebum is not washed off and gets mixed with keratin.
Food and beverages that has high sugar or carbohydrate content, and animal that has high fat content will increase the amount of sebum produced. You may want to relook at your diet if you are prone to getting acne.
Soap residue on the back
Surprisingly, there could be soap residue left, even though our intention is to do thorough wash. Furthermore, the residue can also come from shampoo and hair rinse.
If the acne is stubborn on the back, try to pay closer attention while using shampoos and rinses.
---
Strategy versus back acne
We can't ignore it just because it is hidden by our clothing.
Generally, give moisture care
It's not just limited to back acne, but moisture care is something every acne case should receive. It's not enough to ensure our backs are clean. Our back needs moisturising too, just like how we have lotions and emulsions to moisturise the skin. We should to apply moisturising cream or mist to our backs, and take proper care not to let sebum clog our pores.
Using products meant for the back
Can our back use the same products we use for our face? Actually, the skin on our back is thicker than the skin on our face. As such, acne medication for the face may not be effective when applied to the back. We should use products meant for the back in such cases if we can help it.
---
Six Selections to Remove Back Acne
Kobayashi Pharmaceutical Eaude Muge Medicated Lotion
(via kobayashi.co.jp)
The medicated Eaude Mugen is a series that assists when there is skin trouble, especially when skin swelling or acne begins. It is also recommended when you want to give extra moisture to the skin, because it is formulated with hyaluronic acid. In fact, you can use this for the rest of the body if you want.
ORBIS Clear Body Lotion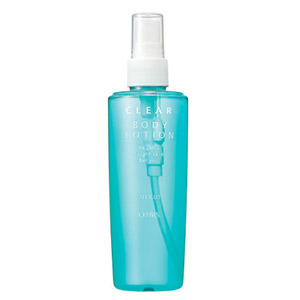 (via orbis.co.jp)
This is a spray-type, medicated lotion that easily reaches the back. The plant-derived medicated ingredients prevents acne from occurring. In addition, the lotion is formulated with white mulberry skin extract and peach extract for moisturizing, which also makes this item gentle on sensitive skin.
The ORBIS Clear Body Lotion is oil-free, scent-free, colourant-free and disinfectant-free.
Naturie Hatomugi Skin Conditioning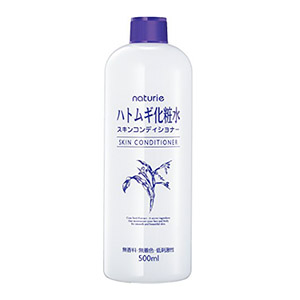 (via imju.jp)
While the Naturie Hatomugi Skin Conditioning is not a product that is specially made for acne care, this item is highly recommended because it can be used freely on the face and body in large amounts. You can place it in a spray bottle to easily reach the back.
Pelican Soap for Back Gel Mist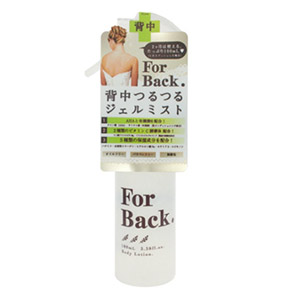 This medicated spray contains gel that focuses on back acne. The acne prevention formulation contains 8 types of moisturizing ingredients, including Vitamin C Phosphate Mg, Vitamin C 2-glucoside, Hyaluronic Acid Na-2, Soluble Collagen (F), Ceramide2, honey, Hydrogenated soybean phospholipid and Ubidecarenone.
Furthermore, it also has AHA which is often used in exfoliators. Therefore this item can soften keratin, making the skin surface look smooth.
The Pelican Soap for Back Gel Mist is oil-free, paraben-free and colourant-free.
Chezmoi Charming Back Premium Beauty Moisture Water
The Charming Back Premium is a medicated spray that helps with concerns with issues like acne, skin spots and discolouration. It gives a slippery skin by using its 7 types of plant extracts as ingredients.
In addition to that, it contains the skin whitening ingredient placenta extract, which controls the production of melanin that comes from exposure to the sun.
Kobayashi Pharmaceutical Sena-Cure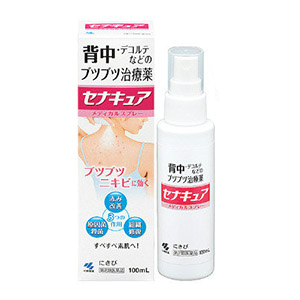 Kobayashi Pharmaceutical's Sena-Cure is a medication for back acne and decollete acne. It is formulated with salicylic acid, ethanol and allantoin, which improves inflammation of acne. Ethanol attacks acne bacteria effectively. On the other hand, it does not give enough moisture, so we'll need to have extra moisture care when using salicylic acid.
---
Showing a back you are proud of
We don't really want to have our faces perfected with skincare and cosmetics, only to have a back full of pimples, right?
It's easy to neglect the back, so it's time we took this chance to evaluate our back care. Let's create a back that we are not afraid to show others.
---

---
| | |
| --- | --- |
| :: BODY CARE :: | :: HEALTH :: |
| | |