New release! Suqqu Nude Wear Liquid Foundation
One thing that I've come to understand as I get older is that good quality make-up really makes a difference. When I was younger, whether I was using a cheaper or more expensive product, I didn't feel like it mattered that much. But recently I can really tell the difference in quality, especially when it comes to foundation, the most basic make-up step. So, this time let's talk about a more pricey product that's garnered a lot of attention recently: the Suqqu Nude Wear Liquid Foundation.
Suqqu Nude Wear Liquid Foundation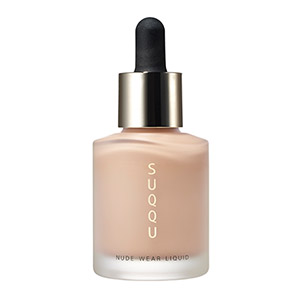 The packaging is pretty simple. The bottle is cute but classy! That makes me interested to try it. The bottle contains 30ml.
For the name, they've gone for this season's trend of "nude". You can imagine that they're going for a subtle, no make-up look. You can choose from 7 different shades by looking at the chart below and comparing to your skin. On the left of the chart is pink-toned and the right is yellow-toned skin. The top is light and the bottom is darker skin. For me I think 202 would be best?
They're aiming for a creamy moisturising texture to give you a clean, glowing tone. It's easy to understand, and also super-moisturising! I'm happy about that. Especially in the summer, it's easy for your skin to dry out. It contains the following:
Beauty-enhancing ingredients from Japanese plant extracts (olive leaf, ashitaba, shell ginger leaf, okura)
Moisturising beauty oils (evening primrose oil, camellia oil, squalane oil from rice, rosehip oil)
Suqqu Light Solution Essence – a complex with plant oils that moisturises and prevents redness.
Just looking at that list, you can imagine the softening and moisturising effects. The foundation has a SPF19, PA++ rating, in line with other recent foundations and BB creams which usually have some UV protection.
How to use
Make sure to shake the bottle well before application. Using a drop with a diameter of around 20mm, start from the centre of your face and spread the liquid outwards with your fingertips or a sponge.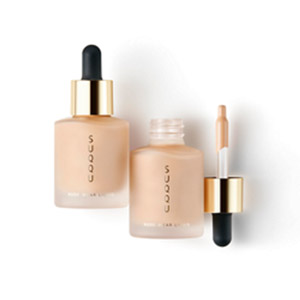 The applicator is useful for putting on the foundation without getting the liquid all over the bottle or your hands.
(images via onlineshop.suqqu.com)
☆TIP for applying foundation
I saw this the other day in a magazine, but when you're putting on foundation, if you mainly apply it to the "beauty zone" on your face, it won't look like your make-up is too thick and it'll seem more natural. What is the "beauty zone"? It's the area from under your eyes (where dark circles tend to form) to the highest part of your cheekbones, and outwards to the hairline by your temples.
How to apply:
Use a generous amount of foundation on the "beauty zone". Using a thick sponge, spread out the foundation and gently pat it with the sponge until it is even. Spread the remaining liquid on the sponge out to other areas of the face.
(via InRed magazine 2018 Issue 4)
To sum up the Suqqu Nude Wear Liquid Foundation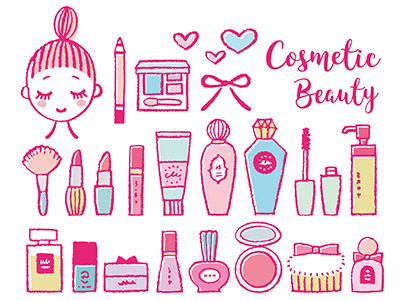 I've been using Domohorn Wrinkle as a base make-up for years now. But when I first started to use it, I applied it in the same way as other bases, and the result wasn't great. Then I watched an instructional video about how to put it on, and I realised I'd been doing it wrong. I tried again while referring to the video, and it worked so much better. That's why I'm still using it now. The Suqqu foundation isn't cheap, and it would be a shame to splurge on it and not get the best result. I really recommend looking at the maker's instructions and watching videos when using these kind of products for the most beautiful finish.
---