Tomarina: Anti-Aging Treatment for Gums and Healthy Teeth
More than 20 years ago, there was an advertising slogan in Japan. Translated into English, it would be something like "In the entertainment industry, your teeth are your life". It's a cool slogan, right? You certainly can't overlook your teeth when it comes to maintaining beauty.
But in recent years it's become clear that the health of your teeth is connected to the health of your body. It's not just models and musicians whose teeth are tied to their fate in life. Gum disease in particular can be linked to health problems such as diabetes, osteoporosis, pneumonia, diseased arteries, and infective endocarditis.
I'm the kind of person who really tries to take care of my teeth. Well, not just me, but Koreans in general (I'm Korean not Japanese remember!) have a tradition of really valuing their teeth. Add to that more modern attitudes, and we're very concerned about having straight, white teeth and about the implications of ageing.
So this time I'm going introduce two toothpastes to you over two articles. First, here's a toothpaste for people worried about receding gums.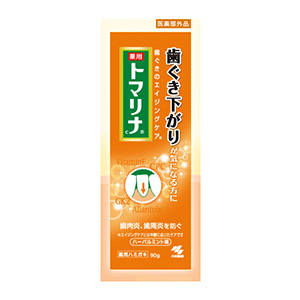 Tomarina: prevents symptoms of ageing in gums
90g, non-prescription toothpaste. Did you know that your gums are 60% collagen? Collagen comes up a lot in my blog posts, doesn't it… Of course, if you have symptoms of gum disease, you should go to the dentist as soon as possible. But in order to prevent receding gums or gum disease, it's necessary to reduce the loss of collagen. Collagen keeps your gums firm and healthy.
Tomarina toothpaste repairs gum damage and promotes blood flow, which prevents inflammation. Let's take a closer look at this product.
1. Flavours
Tomarina comes in two flavours, herbal mint and cool herb mint.
2. Effects
Prevents inflammation of the gums (gingivitis)
Acts against gum disease (periodontitis)
Removes plaque and kills bacteria, preventing cavities
Freshens breath
Whitens teeth
Makes the whole mouth feel fresh and clean
3. Active ingredients
Vitamin E promotes blood flow
Allantoin repairs damage to the gum structure
GK2 (dipotassium glycyrrhizate) is an anti-inflammatory
CPC (cetylpyridinium chloride) kills bacteria
4. Antioxidants
Pycnogel® (pine extract) contains around 40 flavonoids which are a type of antioxidant chemical found in plants.
L-ascorbic acid 2-glucoside is derived from Vitamin C
5. Ingredients to firm the gums
Extract of touki (Angelica acutiloba)
Extract of Chinese peony (Paeonia lactiflora)
6. Other points
Doesn't foam up too much, making it easier to brush your teeth properly for the correct amount of time without foam building up in your mouth.
So as not to harm your gums, the gel-type toothpaste is gentle and non-abrasive
At the moment, the one I have to hand is Tomarina Cool. Here are some pictures so you can see the size etc.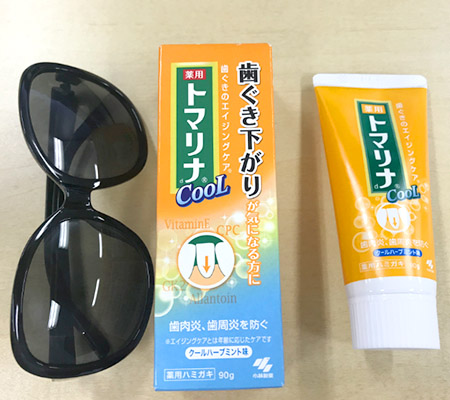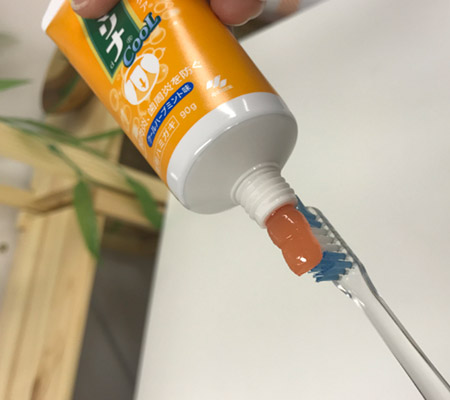 Taking action against ageing effects
Tomarina is fine to use as a normal everyday toothpaste. However, I generally prefer a toothpaste with more foam and more of a minty fresh feeling (the Tomarina Cool version is better in this aspect), so I use it in combination with other toothpastes.
When I got to about 40, I went for a check-up at the dentist and was surprised to find out that my gums were receding. The causes were a) brushing my teeth too hard and b) ageing. At the moment, thankfully, my gums have stopped receding. Maybe it's because I've been taking collagen supplements, but I feel like compared to when I was 40, my gums have moved back up. I'm going to continue my efforts.
If any of my readers are worried about their gums, I recommend this toothpaste. But of course, the effects won't be immediate. When it comes to dental care, it's important to keep up your routine over time.
In the next post, I'll tell you about another toothpaste I recommend. It's designed to give you beautiful white teeth. For everyone out there, your teeth are your life!
---