Shiseido Elixir Reflet Balancing Oyasumi Mask Review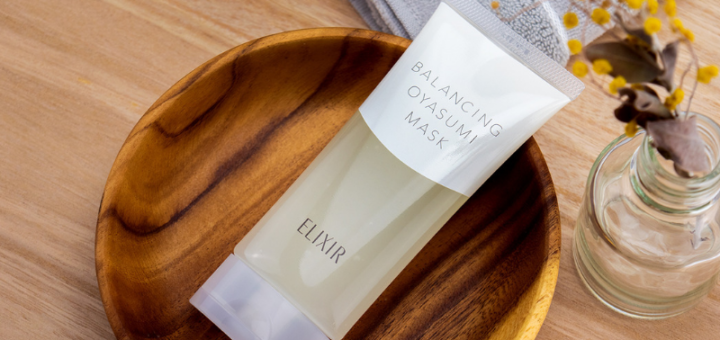 In today's review I will be looking at the newest addition to Shiseido's Elixir Reflet line, the Balancing Oyasumi Mask. If you're not familiar with the Elixir Reflet range, this is a sub-branch of the anti-aging Elixir line. The Elixir Reflet line is aimed at younger customers, such as those in their late 20s and 30s, who are starting to see the first signs of aging like skin dehydration and enlarged pores. All the products in the line have the word "balancing" in their name; this is because these products are designed to balance the ratio between oil and moisture in the skin.
The range so far has been well-reviewed, and the Elixir Reflet Oshiroi Balancing Milk, the line's sunscreen and brightening primer, was voted the third best sunscreen in 2018 on @cosme rankings. The topic of today's review, the new Balancing Oyasumi Mask, has been advertised as a sheet mask you can wear to bed.
How does it stack up as a newcomer to the line? I've been trying it out all week, so read on to find out how to use it, how it feels, and how it performs!
---
Product Information
Aqua, DPG, Butylene Glycol, Glycerol, Glycyl Glycine, Lysine HCL, Scutellaria Baicalensis Root Extract, PCA-Na, Prunus Persica Kernel Extract, Kaempferia Galanga Root Extract, Saxifraga Sarmentosa Extract, Tea Extract, Soluble Collagen, Silica, PEG/PPG-14/7 Dimethyl Ether, PEG-20, PEG-240/HDI Copolymer Bis-Decyltetradeceth-20 Ether, Carbomer, KOH, EDTA-2Na, Alcohol, Sodium Pyrosulfite, BHT, Rosmarinus Officinalis Leaf Extract, Phenoxyethanol, Methyl Parahydroxybenzoate, Parfum, CI 47005
This ingredient list is very low on known irritants and acne triggers, and the packaging does say it's allergy tested and non-comedogenic tested. I think this would fine for most skin types, but if your skin is very sensitive to alcohol or fragrances you might want to avoid this one and instead use a night cream like the Curel Intensive Moisture Cream.
---
How to Use Shiseido Elixir Reflet Balancing Oyasumi Mask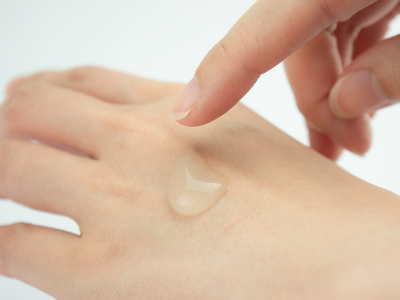 Here is a translation of the official directions from Shiseido.
Use two or three times a week as the final step of your skincare routine. Can be used nightly if required.
Take a 2cm circle of product in the palm of the hand and apply first using circular motions to areas with noticeable pores. After, spread over the whole face.
Do not rub the product in entirely. Instead, let it sit on the skin like a mask; the gel will sink naturally into your skin.
---
First Impressions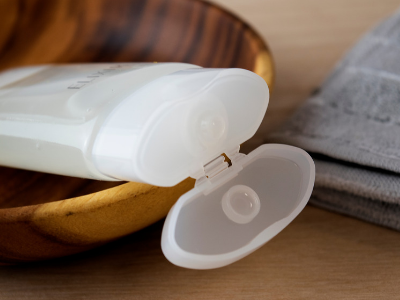 Shiseido Elixir Reflet Oyasumi Mask comes in a 90g squeeze bottle in the minimalist white and grey design typical of the Elixir Reflet line. While not completely sealed from air like a airtight pump pack, it's hygienic and easy to use. For comparison, the popular Sleeping Gel Pack in the Elixir Superieur range, which is pretty similar in function to this mask, comes in a jar with a spatula.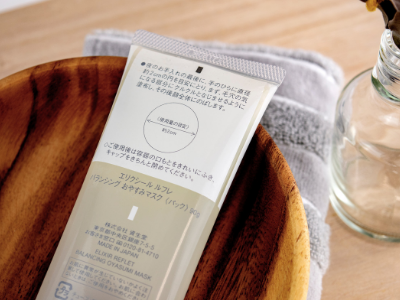 The bottle is mostly transparent, so you can see at all times how much product is left. There is also a guide image on the back that gives you a sense of how much product you should use each time.
In the bottle, the mask looks like a milky, translucent cream color, but it applies completely clear. There is a mild fragrance, which Shiseido describes as "fresh bouquet" fragrance. It smells a little like soap to me, in the sense that the fragrance is pretty unobtrusive and fresh, so unless you are extremely sensitive to any scent at all, I wouldn't worry about this one bothering you.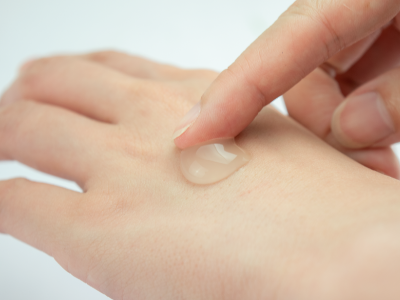 My first impression of the gel when we got it here in the office was that it was extremely spreadable and watery feeling. The texture gives you the sense that it's going to instantly disappear into your skin, but instead it kind of spreads around for longer than feels normal. This gives you time to do the two step application the instructions suggest, plus the mask is designed to dry down on your skin as a protective layer rather than immediately disappearing.
While I appreciated the light texture, when I first tried the mask on the back of my hand in the office, I could definitely feel a slight tackiness even as it dried down. I've mentioned on this blog how much I hate products that leave a residue, especially when the weather is warmer, so I was a tiny bit concerned about this part.
---
Hands On Test
To give a bit of background, I'm currently suffering from combination skin in a bad way. Somehow my skin is exceptionally oily, but somehow in some places like my forehead it feels both oily and dry at the same time. Basically, it's dehydrated and nothing is working to fix it. Since the Elixir Reflet range is based around balancing the skin, I was hoping this might be able to help.
For my first night, I tried the mask alongside the Shiseido Elixir Reflet Balancing Water and Milk so get a sense of how all three of moisturizing products in the line work when used together. As I expected, the mask itself spread very smoothly, and actually dried down much faster than it did on my back of hand experiment, which I appreciated.
What really surprised me was how nice it actually felt once it had set. It did leave a residue, but not dry, tight, or sticky. It reminded me of a thin coat of a silicon-type primer, but I couldn't really feel it unless I touched my face.
What surprised me the next morning was that, for one, it managed to stay in place all night. I am really not sure how it didn't rub off over the pillow, but it was still on my face, and what's more, my current disaster level oiliness was not entirely gone, but significantly better. For one night's worth of treatment, I was pretty impressed.
Since my skin is in a bad state at the moment, another night I did my regular "safe" routine: a couple of layers of Muji Light Toning Water, plus Naturie Hatomugi Skin Conditioner and Gel, and finally, Mario Badescu Buttermilk Moisturizer.
This time, I actually set a timer to see how long it takes for the mask to set enough to be able to go to bed, but even at around 30 minutes it still felt a little wet to the touch. This was very different from when I had used only Elixir Reflet products, where it had disappeared in a matter of minutes.
I think the creamier texture of my final moisturizer may have hindered it drying down as quickly. Again, my results the next morning were good, but I did notice that the mask hadn't held up as well overnight. From this test, I'd recommend sticking to light, quickly absorbed products the night you're using the mask. If you need to use a heavier moisturizer, give the mask enough time to set before going to bed.
---
Conclusions
All in all, I'm a real fan of the Elixir Reflet line. If you're around your late 20s to early 30s, you be like me in feeling that there are not a lot of products addressing your exact needs right out of the box. People of our age have some concerns that regular anti-aging products address, like lack of elasticity, but also can be still prone to acne, oiliness, and other issues that can be worsened by heavier products designed for more mature skin.
I know a lot of people my age who deal with this in-between stage by getting very into researching what different ingredients do. In other words, trying to build a routine that actually works for them from the ground up.
Honestly, though, as fun as that can be, this series is simple, affordable, and functional. (The fact that I love the packaging doesn't hurt, either.) If you're busy, or just want an elegant, capsule-style collection that you know is going to deal with your issues, this is a great choice.
The Oyasumi Mask is a great way to try out the Elixir Reflet range before committing to more products– since it's so unique, you may not have a product like this already. So, if you're not sure where to start, I recommend trying it out!