Senka White Beauty Serum In CC: Hands On Review!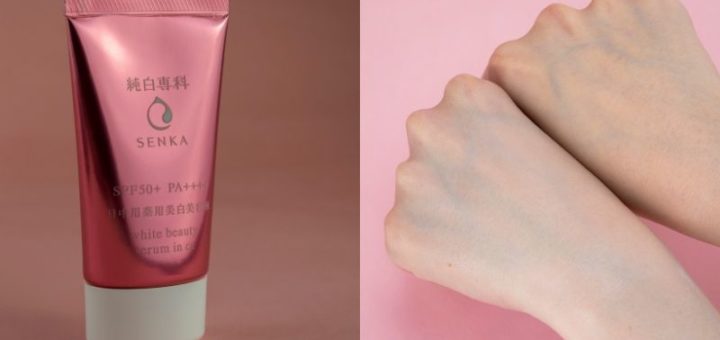 The weather is getting steadily warmer here in Japan, and since we're coming into summer, it's time to start thinking serious about sunscreen!
My recent fave has been the Skin Aqua Tone Up sunscreen. This one has a lavender tone to correct yellow-toned skin dullness. This may or may not be a bonus for you depending on what you like, but it has a slightly denser feel to the really watery and light sunscreens I usually use (like the Anessa or the Biore ranges), which means I've been using it as an ad-hoc primer, too.
This is all preamble for this hands-on review with the Senka White Beauty Serum In CC, which has the sunscreen meets primer feature officially built in! Just like my Skin Aqua Tone Up and similar products, it comes with a color-correcting base, but this time it's pink.
You might also see this product called the Suppin Morning Snow Serum, or some variation on that title. (Its full name on the box is Junpaku Senka Bare Skin Morning Snow Serum: Medicated Whitening Serum for Day Use. For obvious reasons, I'll just call it by the English name on the bottle.)
Confusing name aside, this is a medicated whitening primer, sunscreen, and CC cream in one. It's made by the Shiseido brand Senka, the same makers of the very popular Perfect Whip series of cleansers (read my review here!)
This is a pretty feature-packed little tube, so let's get right into it!
---
Senka White Beauty Serum In CC Whitening Ingredients
First things first, what's in the bottle?
The active ingredient in this one is m-Tranexamic acid, the same ingredient found in many Japanese whitening products. This is the same ingredient in the popular Transino CC series, which you can read my review for here!
This ingredient works to treat spots by suppressing the formation of the extra melanin in the skin that forms dark sun spots and freckles.
The second whitening ingredient is a SPF 50 PA++++ sunscreen, which is the highest rating for Japanese sunscreens. Of course, a good sunscreen you can wear every day is the key to really succeeding at beating sun damage and spots.
This is why I was immediately attracted to the Senka White Beauty In CC Serum– since it has three functions in one, it's no hassle at all make sure you're putting down a good SPF base.
---
Senka White Beauty Serum In CC Ingredients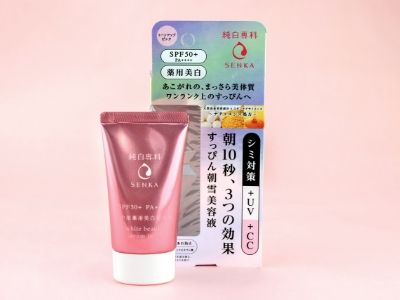 There are three main beauty ingredients included in this serum. These are all naturally-derived extracts that were inspired by traditional Japanese skincare: honey, rice bran, and silk cocoon extract.
Honey is an anti-bacterial and rich in antioxidents and nutrients, all of which help prevent acne, moisturize, and ensure the overall health of your skin. Rice extracts have long been favored in Japan for their skin and haircare benefits. They're packed full of minerals and vitamins, and help to clarify the pores as well. (Incidentally, this is why the rice-etxract packed Keana Nadeshiko Sheet Masks are constantly the best reviewed masks in Japan!)
Finally, silk cocoon extract is a true wonder ingredient. It can help cell regeneration, boost collagen production, and help fade scars and wrinkles. If you're dealing with spots from acne scarring, this is an ingredient definitely worth looking into.
Finally, like all the other ingredients, double-hyaluronic acid helps hydrate and lock moisture into your skin. What is "double" hyaluronic acid? This means there are two formulations: Sodium Hyaluronate, and Acetylated Sodium Hyaluronate. The second type is patented by Shiseido, Senka's parent company, and is twice as water-retentive as regular hyaluronic acid.
---
Brightening Test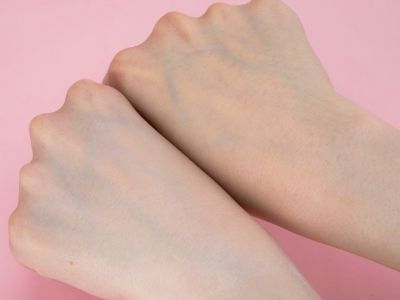 We've touched on the skin-whitening and skincare ingredients in this serum, so for my first test, I decided to test out the final feature of this serum: the CC cream. This has been designed to give you an instant brighter glow, and help correct any dullness or unevenness in your skin tone.
I asked my coworker Ho to try the cream on one of her hands so I could take a comparison shot. You can see the hand with the cream applied on the left/lower hand. While Ho is extremely fair-skinned to begin with, to me the difference was really distinct. What I thought was interesting was how well the cream softened the look of veins. If the cream did such a good job there, I imagine it would be great for dark under eyes too, too.
After we tried it on her hand, I asked Ho what her impressions of the texture was. Was it smooth, or sticky? She said it didn't feel like anything at all, which is probably the best answer you can get!
---
Make Up Wear Test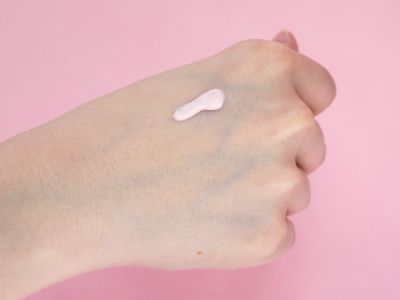 Next, I decided to test how the product performs under makeup. I switched out my regular sunscreen and primer for the Senka White Beauty In CC Serum, then applied makeup as normal. (For the record, on top of the serum I used The Saem Cover Perfection Liquid Concealer, Cezanne UV Foundation, and Canmake Tokyo Marshmallow Finish Powder.)
It is advertised as unscented, but I did detect a slightly sweet, slightly sunscreen-y smell. It was very subtle, and if you're sensitive to artificial scents I think this will be fine for you.
The instructions say to take a pearl-sized amount and apply to your whole face. My first impression was that a little went a long way. It definitely has a watery feel and decent slip. It gets thicker and dries down fairly quickly, so I would recommend applying in sections.
The box says that it's formulated with a "smooth powder", which I personally didn't experience. It let it dry down for a minute or two, but it had a very slightly tacky feel. It wasn't sticky, but not powdery smooth, either. Because I wondered if my oily skin was contributing, I double checked the texture by applying it to the back of my hand. It never dried down to a powdery finish, so I suppose that's not a feature.
Personally, I don't mind this– I actually prefer a slight grip to help the makeup adhere to the skin, but if you're sensitive, keep that in mind.
---
Final Thoughts
Finally, the look! I was pleased enough with the final look, considering I went from this straight from this serum to powder foundation (with the exception of concealer under my eyes). It brightened my skin and gave some color correction, and helped improve the finish of my foundation on the drier areas of my forehead.
My one note is that I did notice after about an hour my makeup started to settle in my pores a little more than normal. Once I pressed it down with a little finishing powder, it was fine. In other words, if you generally wear some kind of pore-concealing primer, this serum is probably not going to replace it. (Well, it can't do everything…) This plus a little pore-concealing primer like the Fancl Pore Cover Base on problem areas would be a good combo. If you have drier skin, I think this would work really well as a smoothing primer for you.
It would take me a while to comment on the skin-whitening properties, but tranexamic acid is a fairly reliable whitening ingredient. If you're looking to add it to your routine, I do like the idea of having it as a base under your makeup every day, especially if you combined it with a tranexamic acid-based moisturizer at night like the Transino Whitening Repair Cream. It's very affordable, especially considering you're getting a perfectly functional serum, sunscreen, and CC cream in one.
What do you think? Have you tried the Senka White Beauty Serum In CC yet? If you're looking for more details, click the button below to visit our website!