POLA Bright Link Beauty, A Luxury Lash Growing Supplement from Japan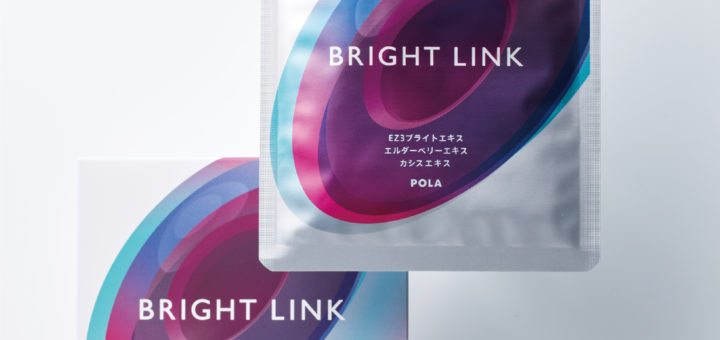 High tech Japanese beauty brand POLA is back with some more luxury beauty supplements! If you're looking to step up your supplement game or are looking for a unique gift for anyone who believes beauty comes from the inside, look no further than POLA Bright Link!
With unique ingredients and the rigorous attention to quality and safety, POLA Bright Link supplements aren't the cheapest. However, they are an investment in the future of your eyes and skin. The new Bright Link supplement targets lash growth and the brightness and firmness of the eye area.
Read on for all you need to know about what to expect from the latest supplement from the POLA labs!
---
About POLA Bright Link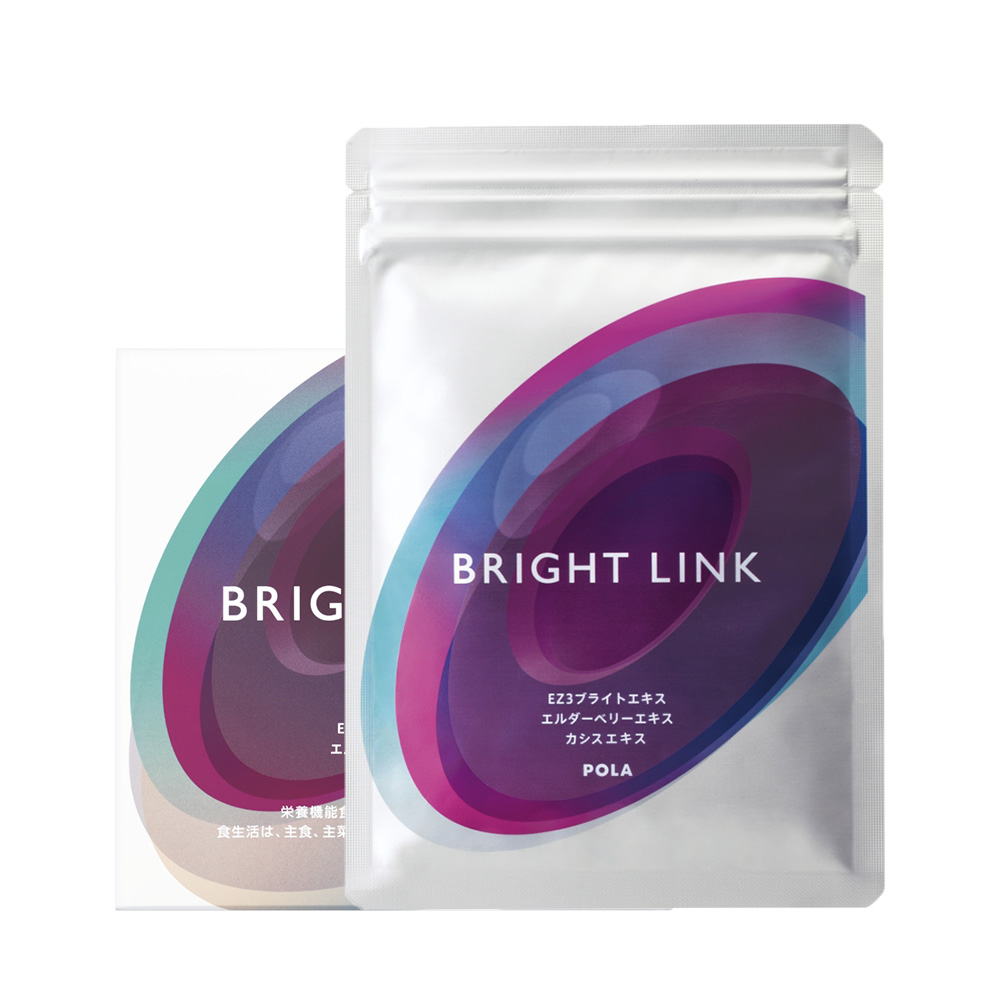 POLA Bright Link is a beauty supplement for the eyes and lashes. It's formulated with a blend of safflower, rice germ-derived polyamino acids, elderberry, and blackberry extract. It also contains an original POLA ingredient called EZ3 Bright Extract, which is isolated from scarlet-purple chrysanthemum extract. Finally, a boost of B and C vitamins to add clarity and firmness to the skin.
The big feature of Bright Link, as you might guess from its eye-themed packaging, is the eye beauty-boosting effects. POLA's studies into eye inflammation and damage lead to them to two discoveries. The first was identifying a protein called RAGE in the eye. This protein has an effect on the structure and function of the eye area, and can lead to redness, loss of eyelashes, dark circles, swelling, and a lowering and barrier function around the eyes.
Their second discovery was that POLA's proprietary formulation of safflower, rice germ-derived polyamino acids, and scarlet-purple chrysanthemum extract can help lower the negative effects that the damage protein RAGE has on the eye area.
---
What is RAGE?
RAGE is a naturally occurring protein in the body that is believed to play a part in inflammatory diseases such as complications from diabetes, Alzheimers, and even some cancers. Futhermore, RAGE can increase in response to inflammation in the body. Aging, obesity, poor diet, and irritation in response to external irritants (including UV exposure and allergic responses to pollen and dust) can all cause an increase of RAGE. Luckily, POLA's lab testing found that the ingredients in Bright Link both inhibited RAGE and lead to growth in hair cells.
---
POLA Bright Link Ingredients
POLA Bright Link comes in two package sizes. Choose from a 60 tablet pack (one-month supply) and an economy-sized 180 tablet pack that provides a three-month supply. As you can see in the above image, the tablets themselves are similar in size to a typical aspirin. They come in a unique purple color that reflects the scarlet-purple chrysanthemum extract inside!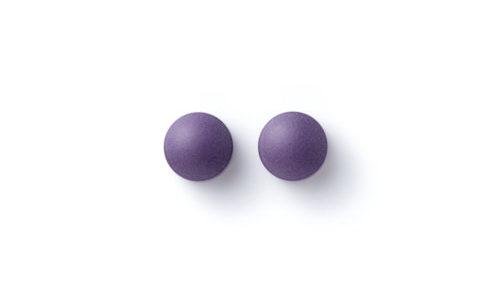 ---
POLA Bright Link Ingredients List
Carthamus tinctorius flower extract, Violet crystheanthenum powder, Cellulose, Rice germ extract (contains polyamino acids), Elderberry extract, Blackberry extract, Hydroxypropyl methylcellulose, Calcium stearate, Hydrated silica, Citric acid, Coloring (titanium oxide, gardenia jasminoides), Talc, Powder, Gum arabic, Glycerol, Biopeiderm, Maltitol, Shellac
Energy: 2.2 kcal
Vitamin A: 231~600μg / Vitamin B1: 20 mg / Vitamin B2: 1.4 mg / Vitamin B6: 1.3 mg / Vitamin C: 50 mg
Biotin: 400 μg
Elderberry extract: 20 mg
Blackberry extract: 3 mg
Scarlet-purple chrysanthemum: 50 mg
Safflower extract: 40 mg
Rice germ extract: 15 mg
---
About POLA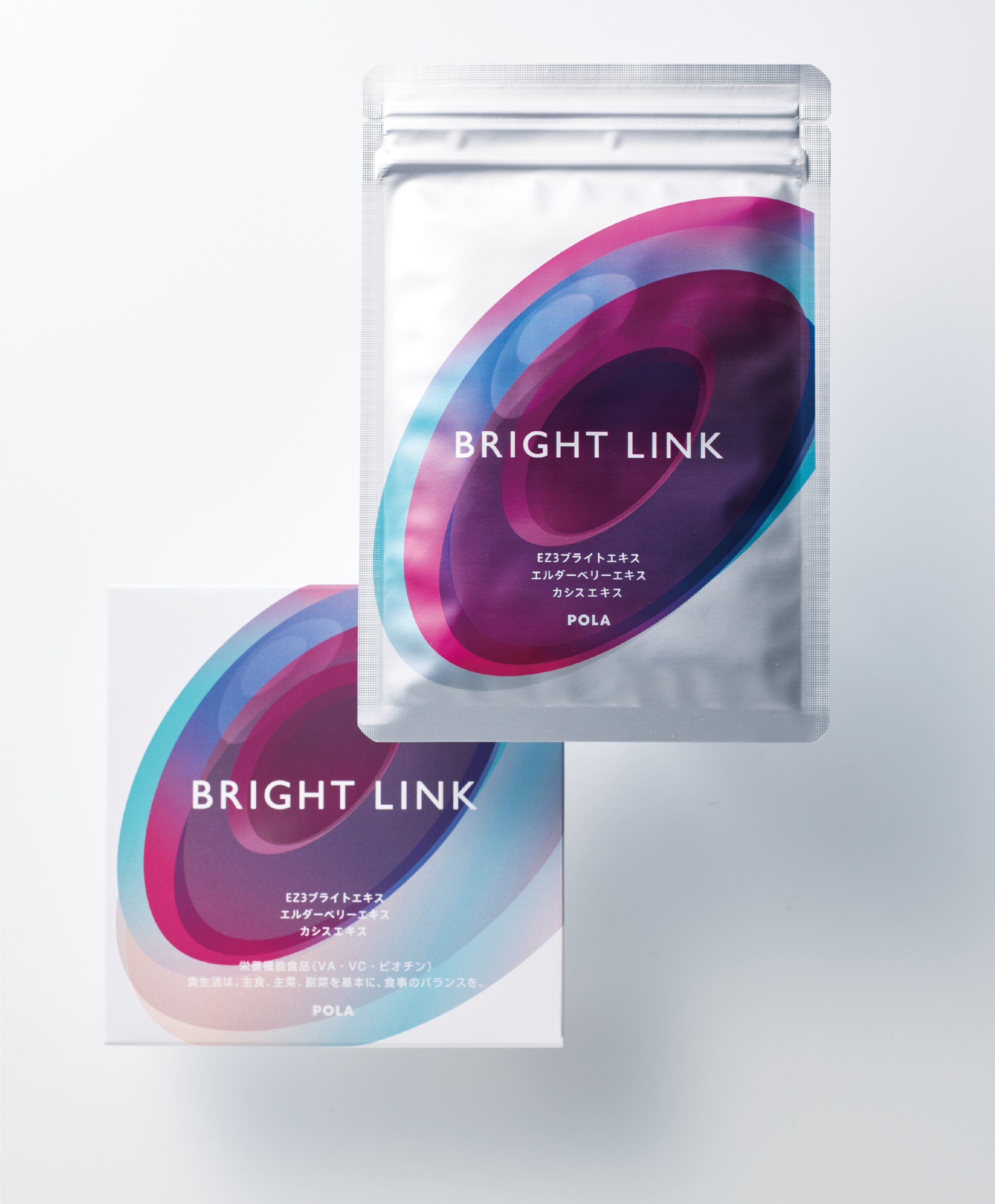 If you're interested in trying POLA Bright Link for yourself, you can get it anywhere in the world with free fast shipping at Wonect! Otherwise, if you want to read more about luxury supplements from POLA, check out our roundup of some of the most popular in the range!